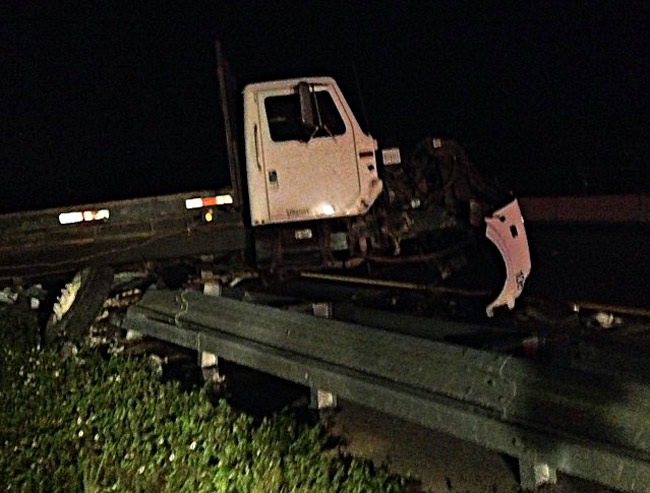 A segment of I-95 south at State Road 100 in Palm Coast was closed for over six hours from 10:30 p.m. Wednesday to 4:30 Thursday morning following a wreck involving three trucks, one of which was on another's flatbed.
One of the two drivers, Walter Stargell, 48, of College Park, Ga., was injured, and only a little. He was at the wheel of a 2002 Freightliner Truck that sustained $20,000 in damages. Santiago Cruz, 50, of Labelle, Fla., was at the wheel of a 1994 International truck, which sustained $10,000 in damages.
John's Towing, the Bunnell wrecker, brought in four units to remove the wreckage, and did so swiftly, but because oil had spilled on the southbound lanes, the DDepartment of Environmental Protection had to be called in, and all three lanes had to be kept closed until cleanup was complete. Traffic was diverted off the exit ramp at SR100, and back to the on ramp, bypassing the bridge and keeping delays to a minimum.
According to the Florida Highway Patrol, Stargell was driving his trailer on the outside lane of I-95 when Cruz, whose flatbed carried the third truck, traveled directly in front of Stargell at a slower speed. Stargell tried to change lane to avoid a collision. He was not successful. The passenger side of his truck struck the driver's side rear of Cruz's truck, catapulting Cruz's truck against the outside barrier wall of the highway. Cruz's truck then bounced back onto the center guardrail, causing the truck that was being towed to slide off the flatbed and come to rest on top of the guardrail. Stargell's truck ended up in the middle of the southbound lanes.
Cruz was cited with careless driving. Both drivers wore their seat belts. Alcohol was not involved.