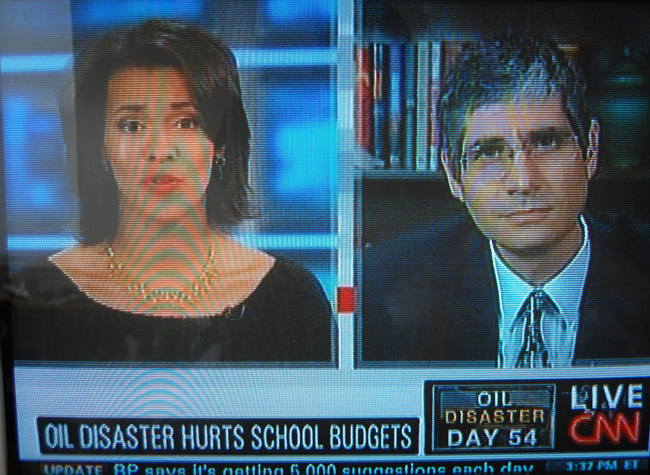 I got the call from CNN Friday afternoon, about half-way through the South Korea-Greece match from South Africa. The producer had read the FlaglerLive article about the oil slick's impending effects on local school budgets and wanted me on Fredricka Whitfield's show the next day. You know those dreams you get about being back in high school or at work, naked? That's pretty much how I feel when I'm on the air. Radio isn't as bad. At least the nakedness is fig-leafed. Especially with a good host tendering the leaf. Television is terrible, particularly for dweebish writers with less on-air presence than an ampersand. I grew up in front of the camera when my mother had a kids' TV show back in Lebanon. But I was tiny and didn't know better back then, and the Bill O'Reillization of television hadn't yet fouled the medium.
---
The Live Column
---
---
Still, I have felt slighted by American networks. Al-Jazeera had me on (for a nice, long, 30-minute show with someone from The New Yorker and someone from its equivalent in Amman, Jordan, when they couldn't find anyone else to bash Obama's appointment of Hillary Clinton as his secretary of state). O'Reilly tried to have me on once. I'm not sure if I was polite when I declined. Nothing else since. If FlaglerLive could catch CNN's attention after less than three months on our air, I figured a bit more exposure couldn't hurt, especially given the subject: they actually wanted to talk about something that matters.
To be more sure-footed I asked Bill Delbrugge, the school superintendent, to give me an hour's briefing on key issues we thought worth bringing up, not knowing how the next day's interview would unfold.
It wasn't good: CNN sent a driver to pick me up and take me to the Jacksonville studio for the satellite link-up. He'd been given the wrong directions in Jacksonville. His manifest read Clark Street. We were supposed to go to Park Street. I would have normally been there with 20 minutes to spare. I was engrossed in my notes. By the time I realized the mistake, we were in a weird, bedraggled neighborhood in western Jacksonville (so bedraggled that even a strip joint was shuttered), eight miles from the actual destination, 10 minutes from air. No way we'd make it. What a fantastic way to make an impression, first time out. The driver had no idea where to go next.
I called home, had Cheryl look up the information I'd gotten, and luckily had an email from the producer with the name of the studio. I called CNN to let them know we might as well have been in South Africa. They were grateful for the call. They'd rearrange the hour and try to make it work. But there's nothing worse for broadcasters than having to juggle set plays. We get back on I-10, get into Downtown Jacksonville, the driver's GPS had us getting to the studio by 3:15, an eternity of lateness. It was all going fine until we hit I don't know what street, and saw train gates coming down in front of us. You couldn't script this more freakishly for some nightmare on Elm Street. The gates were down two minutes before the train showed up. And it wasn't one of those fast-moving Johnny Cash trains. The thing went by at 10 miles an hour. Nor was it just metaphorically a mile long. It was a mile long. The producer called, wondering where we were. I gave him yet another ETA. The train looked ready to stall. So did my heart.
By now whatever calm and concentration I'd mustered for the interview was out the window. I kept my composure outwardly. No need to take it out on the driver. He had nothing to do with it. Inwardly I was rewriting the Thesaurus of obscenity. In three languages.
---
The Clip, If You Must[media id=62 width=250 height=250]
It's now several years later. The train gates lift. The driver lumbers his Cadillac over the tracks and resumes his search. Let me tell you, and cover your ears if this offends you but even now I can't contain myself: his GPS wasn't worth a shit. Again, not the driver's fault. But give me hand-written directions any day over that crap. I called the studio. Terrific director at the other end tells me she's out in the street ready to wave us in like those airport guys guiding jets to the terminal. She tells us where to turn, with a few choice words of her own for the GPS on board. We finally see her. Mighty Aphrodite, the sequel. I'm too terrified to look at my watch by then. I'd welcome being bumped off the air, but not in these circumstances. This makes my site look bad, and it cheats what I consider to be a pretty important local budget crisis of much-needed awareness. But it's Saturday, and nothing else is going on but the US-England game in South Africa, the recovery in Arkansas, the 56th-day (or was it 59?) of our spill-baby-spill gusher in the Gulf.
I'm out of the car, in the studio and in my chair beneath floodlights in 30 seconds, ready to go. CNN pipes in my ear. We're all set, aside from my ticker reminding me that my dad died at my age of a heart attack. And just my luck: Mike Beebe, the governor of Arkansas, decides to hold his latest press conference on the flooding disaster. I hear Beebe in my ear. CNN pipes in: "We'll let you know when you're on." At that point I'm composing an email in my head to Stephen Hawking about the entirely provable theory that the longest hour in the history of the post-war universe is also the shortest hour. But the chatter in my ear interferes with one last nightmare come to life: Back home I'd set the recorder not to CNN, but to the US-England match, and sworn everyone I knew to secrecy about the score until 6 p.m. Leave it to CNN to scoop my plan. We're at commercial. Here's Fredricka Whitfield cheering it up with her director about the US-England match (for good reason), which is just about done by then. I want to remove the earpiece, but it's jack-hammered in there because I'd had trouble hearing the feed. More re-drafting the Thesaurus of obscenities. More mental rattles. If I had any collected thoughts about Florida's tax structure and the oil slick's relationship to local budgets, they might as well have been their own Deepwater Horizon blowout by then.
With that, the producer's voice twitters in my ear that I'm about to go on. I'm really not sure what happened next. Those blurs you hear about when you're in a wreck? That's about it. All I know is that it lasted about as long as it takes me to write one sentence, and when I do, I usually re-write it four times. In this case, no re-writes allowed. The earpiece was useless. I barely heard Fredricka when she spoke. I remember her saying something about too much information, as if I'd revealed an uncomfortably intimate secret, and I remember remembering not to squint too much beneath those floodlights. Cue the bug-eyes, the first thing my daughter noted.
On top of that they identify me as FlaglerLive's editor, but still with the old newspaper. It's the most and best exposure the News-Journal has had in three months, and they have to get it from a guy they fired. Next thing I know I'm back in Palm Coast, trying to relax with my children and hearing Cheryl, trusty assignment editor that she is, alert me to a fatal wreck on U.S. 1. I was still in my CNN clothes, and that's how I went to the terrible wreck. Too bad that bookend to the day wasn't just metaphorical.
The day's final irony? More readers flooded to the site after the wreck story posted (Channel 9 picked it up with generous credit, ran our stills and our account, since FlaglerLive alone covered it) than after the CNN thing. So it goes. I haven't watched the CNN Newsroom clip and don't intend to, but from what I'm told, at least Charles de Gaulle's eyebrows got their own tribute yesterday.