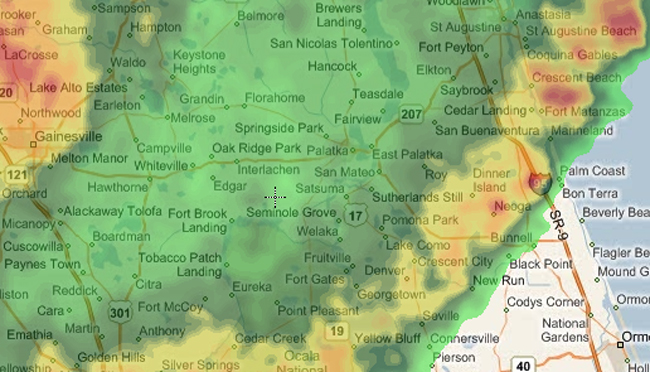 Last Updated: 10:13 a.m.
The tornado watch for Flagler and St. Johns counties was lifted after 10 a.m. Tuesday. Rain and thunderstorms are expected to continue through the morning and into early afternoon, with some severe thunderstorms and westerly winds at 20 to 30 miles per hour.
The National Weather Service had issued a tornado watch for Flagler and St. Johns counties, among seven northeast Florida counties, in effect until 10 a.m. Tuesday (April 5).
At 8 a.m., a wide band of storms extended from St. Petersburg and Clearwater in southwest Florida to Palm Coast, moving east-southeast at 15 to 20 miles per hour.
Jacksonville's Channel 4 reported that the worst of the weather reached Lake City about 5:30 a.m., with winds gusts to 50 mph, intense rainfall and some lightning. The front continued east, entering the Jacksonville area just before 7 a.m.
Monday was a record day for storms, at least this year, according to the Weather Channel, with more than 900 storms reported by 7:45 a.m. this morning. Six people have been killed in Georgia, Tennessee and Mississippi as a result of those storms, including a father and a son killed by a falling tree in Butts County, Ga. Tornadoes have touched down in Kentucky and Tennessee.
"Half a dozen states were reporting widespread structure damage as well as power outages," the Weather Channel reports. Greg Forbes says "most of the damage has been from high winds, though there have been at least 13 reported tornadoes. That number could go even higher overnight as storms head into Atlanta, Tallahassee, and Charlotte."
Just six days ago a violent storm blew through the area and much of central and northern Florida, downing trees and power lines and cutting off power for up to 11,000 customers at one time in Flagler County, and more in Brevard and Volusia.