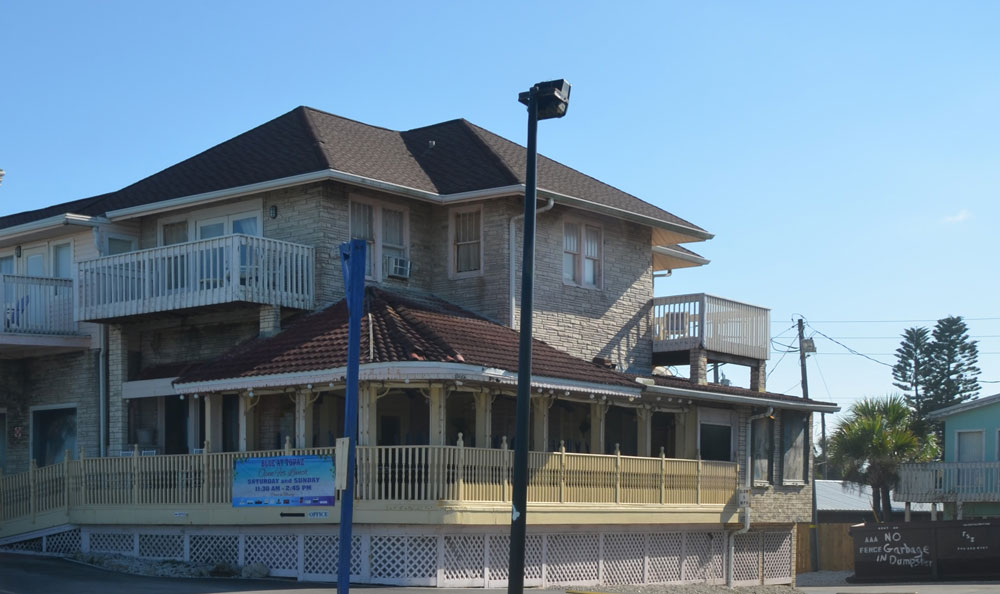 Douglas S. lives in St Augustine. He has been having mental health challenges. On Nov. 9, a friend suggested he spends some time at the Topaz Motel in Flagler Beach to clear his head. He booked and took possession of Room 214 that afternoon. The room faces State Road A1A.




By evening, the 35-year-old man was at the Flagler County jail on $75,500 bond, facing half a dozen felony charges after repeatedly firing a gun through the door and windows at the motel "onto a busy street, with reckless indifference to consequences and with the knowledge that damage would likely be done to persons and property," his arrest report states. He had run through private yards and climbed up a resident's home to a deck before a Flagler Beach police officer apprehended him.
Douglas claimed assassins with AR-15's were chasing him and were about to kill him. He was eventually taken to Daytona Beach for a mental health evaluation under a Baker Act. (his last name is being withheld as this is a mental health issue)
As soon as he had taken possession of the motel room, he told an officer, he heard knocking at his door. He told the officer he'd been trailed for a long time, and that the people trailing him were now at his door. He yelled through the door, telling them he'd count to three, giving them time to leave. He said he heard them speak with each other about shooting him, so he retrieved a handgun, counted to three, then deliberately fired five shots through the front door of the room–in A1A's direction.




He could still hear the people talking. He retreated into the room, flipped a mattress, and fired 12 more rounds at the door. He then fled, running west. He claimed he could still see his alleged assailants, so he fired two more rounds. His magazine emptied, he discarded the gun and continued running toward South Flagler Avenue.
He cut through the property at 1228 South Central, prompting the property owner there to call 911 to report a suspicious person (shirtless, with a tattoo on his back left shoulder, board shorts). He knocked at the door of 1231 South Flagler and told the resident there that he was being chased, then headed to 1308 South Flagler, whose resident also called 911 to report that a strange man was attempting to get in.
By the time a police officer arrived at that address, Douglas had scaled the locked fence surrounding the backyard, then used a ladder to climb up to an upper deck of the house. The police officer could not see him, but he could hear him. The officer went upstairs through the house to gain access to the upper deck. The officer drew his gun and held Douglas at gunpoint, but soon secured him in handcuffs without incidents. Douglas "was breathing heavily, sweating profusely, and was covered in dirt and shallow scratches as if from thorny underbrush," the officer reported.
He had an empty bottle of Clonazepam properly prescribed to him. The medicine is used to control seizures, but its side effects include paranoia and impaired judgment, among other  efects. Douglas told the officer that he suffers from severe anxiety and "borderline schizophrenia." He was "paranoid and in a state of intense fear" of men chasing him with rifles, the officer reported. Douglas continued to be fearful once placed in a patrol car.




"Did I at least hit any of them?" Douglas asked the officer as they drove back toward the Topaz, before telling the officer where he'd dropped the gun, supposedly "between two palm trees near a spiky bush." He asked the officer to be let out of the patrol car so the people chasing him could "just shoot him" and not "make a mess."
A cell phone was found, but not the gun. A motel attendant–the owner's nephew–reported to police that Room 214 was riddled with bullet holes, with empty shell casings scattered in the room. Rounds had been fired through both the door and the window, all in the direction of the roadway," the arrest report states. A police officer and the attendant estimated that the damage was around $3,000.
The arresting officer described Douglas as "suffering from a complete psychotic break." He was charged with shooting a deadly missile, firing a gun in public, criminal mischief, and drug charges: a search of his belongings in the motel room later revealed he was allegedly in possession of Alprazolam, methamphetamine and fentanyl. "Let it be known that based on my training and experience as a law enforcement officer, Douglas's bizarre behavior and extreme paranoia and psychosis are consistent with the abuse of these controlled substances," the arresting officer reported.