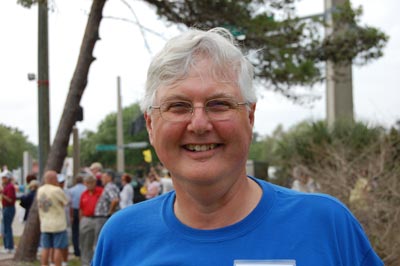 Tom Lawrence, chairman of the Flagler County Tea Party Movement (FCTPM), summed up what he termed the "four values" of the movement as it conceives itself locally, and its aims in the next six months. Lawrence spoke to FlaglerLive during the Tea Party's Tax Day rally in Palm Coast on April 15. You can hear a fuller, 12-minute interview with Lawrence here.

First of all, we value fiscal sanity. And we look at what's happening in Washington and we think spending is out of control, we think we have fiscal insanity. Second thing we value is limited federal government. And we think it's getting too big, and we think it's not following the Constitution. We also value strong national defense, and we think we're getting weak on national defense. And our fourth value is the private sector. We think what has caused this country to grow and become an exceptional country is the capitalistic system, and we think what's happening is beginning to tear away at it. And eat away at it.
So those are our values, and what we're hoping to do over the next six months is to find–is to vet all the candidates, all the candidates running for local office, and federal office that we can vote for here." That includes school board members, county commission members, city council members. "We're going to send everybody a questionnaire and ask them to answer it, and we're going to look at them and see how their answers stack up against our values.
And then we're going to send out a scorecard and say, OK, these are the people that we think best will walk the talk about our core values, and try and get people to go out and support them. And I think it's important to note that we are not partisan, you know, we're not going to go out and support R's or D's or I's. We're going to just support the most conservative candidate who supports our values.

To learn more about Palm Coast's Tea Party or to join: The group meets every third Tuesday of every month at the Flagler Palm Coast High School cafeteria (on State Road 100), at 6:30 p.m. Meetings last about an hour to an hour and a half. The group's Web site isn't up yet, but for additional information, call Chairman Tom Lawrence at 931-3255.

The following is provided by the Flagler County Tea Party Movement:
Mission Statement

The Flagler County Tea Party Movement (FCTPM) is a grassroots, non-partisan group of individuals. Our mission is to attract, educate, organize, and mobilize fellow citizens to support:

Public policy consistent with our United States Constitution
Our core values which are: Constitutionally Limited Government, Fiscal Responsibility, Strong National Defense, and Free Markets
Our objectives relating to public servants

Core Values

Constitutionally Limited Government: The FCTPM is inspired by the Nation's founding documents and regard the United States Constitution to be the supreme law of the land.

Fiscal Responsibility: The FCTPM believes a constitutionally limited government, designed to protect the blessings of liberty, must be fiscally responsible to prevent subjecting its citizenry to high levels of taxation.

Strong National Defense: The FCTPM stands up for a strong National Defense, secure National borders, and pro-American foreign policy.

Free Markets: The FCTPM supports a return to the free market principles on which our nation was founded.

Objectives

Elect public servants committed to uphold the United States Constitution
Champion our objective to enact Term Limits for Congress