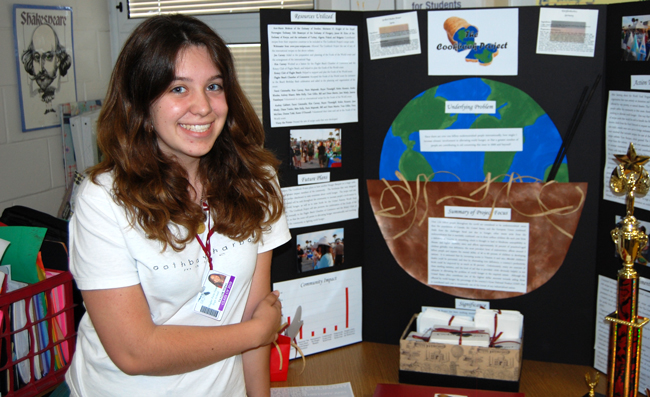 Taylor Tofal, Flagler Palm Coast High School's salutatorian, is part of the squad representing the school and the county at the annual international competition of the Future Problem Solvers, held this year at the University of Wisconsin-Lacrosse from June 9-13. Just 3 percent of the 50,000 or so participants in Problem Solvers around the world make it to the final round. It's a World Cup of sorts for the nimblest thinkers.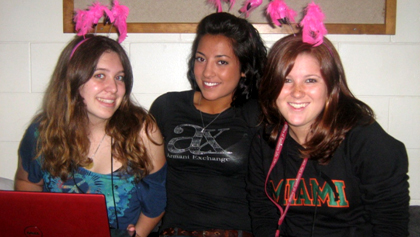 Teacher Diane Tomko's problem solvers at FPC made history this year: The competition never takes more than two teams from any given school. Three teams from FPC made it into the competition, as two were tied for the second qualifying spot, their scores too close to call. Competition organizers made an exception and accepted both, in addition to FPC's top qualifying team. Taylor, who's part of one team, is also competing in an individual category with her "Cookbook Project," an exploration of world hunger for students who've never been aware of food disparities. To our great delight, Taylor is contributing a journal, with pictures, of the international competition. She filed this first report at 2 a.m. this morning.

Today (Thursday) is our second day at the University of Wisconsin-Lacrosse for the Future Problem Solving Program's International Conference.  Yesterday was mostly a day of travel and arrival, with opening ceremony not being until 7:45 tonight.
Wednesday
We left from Jacksonville International early Wednesday morning, meeting at 4:30 for our 6.00 a.m. flight.
---
Click On:
Watch Taylor Explain Her Project on a Palm Coast TV Video (23 minutes in)
---
---
With most of our competitors being just-graduated high school students, extremely practiced in the art of procrastination, many of our teams had not slept at all in the nights prior to our airport meeting, making the trip through the terminal to the gate one of grumpy teenagers and a very long Starbucks line.  We were surprised, or at least as surprised as we could manage considering the lack of sleep and, therefore, emotions in general, that the plane that arrived for us was quite small, despite the cross-country, 3 hour and 22 minute trip to St. Paul, Minn.
With bags in tow, our group trekked across the tarmac and onto the airplane, where we made up a good majority of the passengers.  The ride was quicker than expected, and many of us ended up sprawled across armrests and leaning on both windows and each other, alternating between snoring softly and being jolted awake by infrequent but strong turbulence.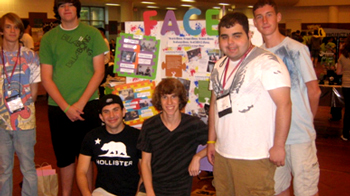 Once at our destination airport, we found yet another Starbucks and settled in to wait for the shuttle that would bring us to the university in Wisconsin.  Having arrived early, we waited around two hours for the large Lamers bus to arrive, and dragged our suitcases once again to be loaded for the ride.  What we had thought was an hour and a half bus ride across state lines was reported then as a three hour trip; four hours later, at around 3 p.m., we arrived at the University of Wisconsin.
Cheese Hats and Zippy Marts
After twelve hours of travel, we were all quite tired and even hungrier, having mostly survived on coffee and cat naps throughout the day.  We checked into our dorm rooms, which were set up for our arrival, on the third floor of Angell Hall—they are quite nice, though the pillows provided to us appear to made of some strange plastic hybrid material that doesn't respond well to being laid on—and some of our group collapsed into tired heaps on the dorm beds.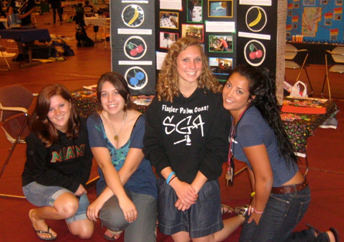 Others broke off into small groups to explore the surrounding town of Lacrosse (population: around 51,000) and the small campus we will be occupying in the upcoming few days.  My own group roamed the campus, found the Zippy Store, which has a strange and frankly rather puzzling combination of every single possible item that a logo can be applied to, all of which display the Future Problem Solving name, went back to our dorm, ventured back to the Zippy Store, where we purchased bright blue t-shirts and admired the Frisbees, pens, playing cards, yo-yos, sweatshirts, mugs, erasers, and sandals that occupied the room.
We all grabbed a quick dinner at the university's dining hall, then went as a group into downtown Lacrosse, about a ten minute walk from our dorm, for a short look at the area, which has a great many bars, a small selection of shops, and the option to buy cheese hats, which everyone wanted but none were willing to pay the $20 price tag for.  We then walked, slowly and tiredly, back to our housing assignments to finish some last minute project work before climbing early into bed.
Thursday
This morning was early as well, though obviously not as much so as the morning before. We went to breakfast around eight before returning to our dorms to get ready for the day.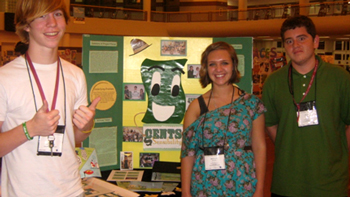 Many of the teams from other areas were arriving on campus today; our team, Project BOOST, spent the day in mostly in the dorm room working on our presentation before setting up our backboards, scrapbooks, and tables in the Community Problem Solving fair area from three to five.  Our entire group of teams grabbed sporadic lunches throughout the day, but met up again at the fair areas and attended a fast and crowded dinner before heading to the exchange mixer.
The mixer took place in a large field, which quickly filled with huge amounts of brightly dressed students from elementary to high school age, all loaded with large bags of the often appealing, always strange trinkets they had brought from their hometowns to trade with other groups from around the world (cheese hats were featured, as well as several large blow-up cows).  There, we met a girl from Australia who provided us with koala key-chains, a young boy from Malaysia who wished to trade for nothing except refrigerator magnets and a large group from Nebraska who gave us a t-shirt featuring a moose.  We collected a great number of pins from around the country and around the world, several pencils, a cowboy hat, a few flags, and some foam footballs.  The fare we had brought to trade, mainly Flagler pins and headbands topped with bobbing plastic flamingos, went quickly, and we soon made it to opening ceremony.
Preparing for Their Own World Cup
The ceremony, which lasted from 7:50 to 9 p.m. began, as usual, with the procession of flags from the states and countries in attendance, followed by the national anthems of the seven attending nations—Australia, New Zealand, Singapore, Korea, Great Britain, Malaysia, and the United States.
---
Audio: Taylor's Address at FPC's 2010 Commencement[media id=40 width=250 height=100]
The main speaker was a former Future Problem Solver who now works as a Hollywood screenwriter for shows such as "90210"; the surprise guest was a large eagle, the mascot of the University of Wisconsin, that ran into the room, high-fived those sitting in the stands, and then performed, with much coaxing, his trick of turning his head all the way around.
After the opening ceremony, many of the us rushed back to finish preparing our Community Problem Solving projects prior to the 10:30 deadline and then relaxed into our dorms, where I currently am now.  Future Problem Solving booklet competition begins early Friday morning—I am unhappily setting my alarm for 6:30, and everyone is working to get a good night's sleep before competition really and truly begins.  So good night.