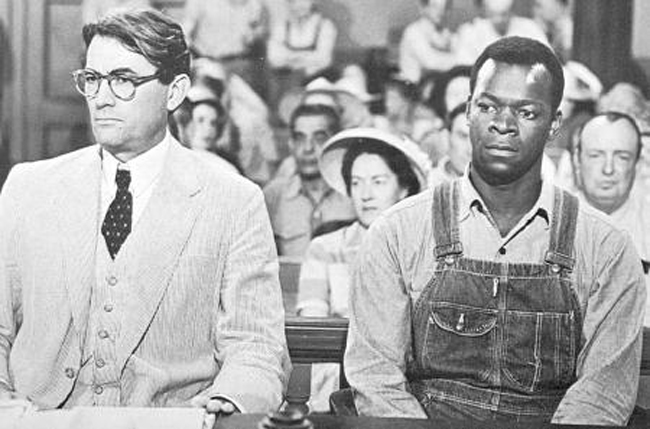 Fearing unspecified repercussions over the use of the word "nigger" in a student stage production of Harper Lee's To Kill a Mockingbird, Flagler Palm Coast High School Principal Jacob Oliva and Superintendent Janet Valentine canceled the play outright last week. No students or faculty had complained about the production. Valentine cited only one person by name who had voiced "concern" that the play was going to be performed—Holsey Moorman, a black member of the Palm Coast City Council member better known for his humor on the council than for his influence.
John Winston, who leads a mentorship program for the district, had also raised some concerns, but was willing to support the district's decision either way. He offered to preface each performance with context and history for audiences. He was just as supportive of the decision to cancel the play. "There was no censorship," Winston said. "This was done for the good of the order." Winston, who spends a lot of time at the high school, said racial tensions are high and could be exacerbated depending on how the play was put on.
Yet Valentine and Oliva said they knew of no such tensions, and Oliva said he prided himself on running a diverse campus. Nevertheless they cited "students' safety" as their first concern. "We don't want students to be ridiculed or be put in a position to be in a debate, or in a situation that's out of control," Oliva said. He would not specify what he meant by ridicule or what an out-of-control situation might mean, even when asked what the worst possible scenario might be. Nor would Valentine.
In an interview Friday, Moorman said he had never contacted the school district and didn't know about the play until he had a brief conversation about it in a hallway with Winston. Moorman said he didn't know how his position made its way into the superintendent's email since he had no contact with school officials about the matter—and only fleetingly discussed it with Winston. Moorman says he has no issues with the play, which he admires and has seen several times, including one version on Broadway, but he said the timing of a performance right now might not be a good idea because of racially charged antagonisms he senses in the community. Moorman's involvement in the controversy, however, appears to have been inflated.
The vagueness—and contradiction—of the administrators' position was reflected in emails each sent on Oct. 21, once the decision was made to cancel the play. In her email to school board members, Valentine said the drama teacher, Ed Koczergo, had not cleared the script with Oliva before starting rehearsals, as is the custom "when any questionable materials may be introduced." Koczergo, who's been teaching drama for 40 years, three of them at FPC, agrees: he said knowing the book and the movie have been on freshman English lists for years at FPC, it did not rank as a controversial work, or as a questionable work that was just being introduced.
Protocol as Pretext
But the district is using the protocol issue as a pretext: Even after the principal and the district were made aware of the script, they tried to get the publisher of the play's approval to change the word "nigger" to "negro" (the publisher objected, though Koczergo was willing to use all sorts of substitute words), which is to say that the protocol matter was not, by then, a concern. The district then received those "calls voicing concern from the Vice Mayor of Palm Coast, Mr. Winston and several others," according to Valentine's email to board members. How those "voices" heard about the play's content, or why they would object to its stage version before paying audiences as opposed to its mandatory uses before captive student audiences is also unexplained.
Oliva's email to the FPC faculty the same day said nothing about protocol or prior approval. "I have determined that it is in the best interest of maintaining the security and safety of our students to not perform this production," Oliva wrote. "A presentation of the material in a community setting does not provide the same opportunity for instruction as a classroom setting. This decision was reached only after extensive consideration and discussion of all factors involved. It would be unfair to put our students into the middle of a highly charged debate that places them in a position where they may be targeted unnecessarily for their participation in the production."
There is no "highly-charged debate" taking place: Oliva's and Velentine's decision are suppressing what debate the play might have triggered, though whether it was going to be "charged" is speculative. It is equally puzzling how students would be targeted over roles on stage, or by whom, since the play was not to be a free event or an imposition on a captive audience (tickets were $12 for adults and $8 for students except on a half-price student and faculty evening).
"Are You Kidding Me?"
The decision stunned other leading members of the black community, if there are such things as "black" or "white" communities, including Jim Guines, a black resident who served on the school board for more than a decade and pre-dates the civil rights era.
"Bullshit," was Guines' first reaction to the cancellation. "That play is a classic. I hate that. That's not what we ought to be doing, period. Not as a school system, not in this county," Guines said. "In the context, 'nigger''s got to be in there. That's what it's all about. You can't take it out of its time and you can't take it out of its purpose."
Sid Nowell, the long-time attorney and one of two black candidates for Kim C. Hammond's circuit court judge seat until his defeat in August, was equally struck by the decision.
"Are you kidding me?" he said. "I'm extremely disappointed because the only way you address race is by talking about it. You don't stick your head in the sand and hope it goes away." Nowell said he didn't begrudge the administration's concerns, but thought the decision to cancel the play was misplaced. "I'm shocked that somebody would feel that way in this day and age," he said.
Harper Lee published To Kill a Mockingbird in 1960. The novel, which won the Pulitzer Prize that year and has been on middle school and freshman English reading lists since, explores a variety of themes—race, class, gender—through the eyes of a young girl in 1930s Alabama. The trial of a black man unjustly accused of raping a white woman is the only plotline in an otherwise loose coming-of-age story, though the trial enables Lee to flesh out the humanism of Atticus Finch, the white lawyer and moral center of the book (and the narrator's father), who defends the accused. The book has no moral ambiguities: It is clear who the bigots and idiots are, and just as clear who the morally just characters are, which is partly why Flannery O'Connor referred to it as "a children's book." Lee's aim is also unambiguous: demolishing the vague fears and baseless assumptions that fertilize bigotry and injustice—precisely the sort of vague fears and baseless assumptions brought to bear against the staging of the play by FPC's students.
While not itself heavy on irony, To Kill a Mockingbird has triggered numerous ironic controversies: FPC and the Flagler school districts aren't the first to suppress it at what appears to be slight and vague, if politically titled, pressure. The book has been a regular victim of library and school bans, just as it continues to be widely read, studied and staged. Harper Lee, who was awarded the Presidential Medal of Freedom by George W. Bush in 2007, hasn't written a book since.
20 Years of Teaching Mockingbird at FPC
Delphine Williamson, who's taught To Kill a Mockingbird and shown the movie at FPC for 20 years to 9th graders, and who is African-American, says she's "never had an issue with this. Ever—with showing the movie or teaching the text." Williamson puts the book in its historical context and uses it to teach students about the Jim Crow era in the South. "I was elated that we were doing the play this year because I've taught the book for so many years, and to find out that they'd canceled the play—I was disappointed."
Roger Tangney, director of FPC's International Baccalaureate, put it more bluntly to Oliva, the school's principal. "I did tell him in an email I thought it was a dark day for education," Tangney said. "I thought we were well beyond this." In an interview, Tangney said "students are far more understanding, resilient and accepting of controversial topics than parents or organizations."
The production, led by veteran drama teacher Ed Koczergo, had been in rehearsals three weeks when it was ordered canceled last Thursday (Oct. 21). It was scheduled for four performances at the Flagler Auditorium the weekend of November 12-14, with Eddie Green in the role of Atticus Finch, Patrick Farris in the role of Tom Robinson, the black man accused of rape, and 21 other student actors. It's being replaced by three one-act plays based on Aesop's fables.
The Drama Teacher's History
Koczergo had taught high school drama for 25 years in Indiana, staging innumerable plays before he was demoted to teach middle school English at the end of a year when he faced another controversy. He had opted to stage "Bat Boy," a musical wose themes include racism and duplicity. Koczergo's principal objected and asked for another. Koczergo agreed. He suggested two choices: "Urinetown," a staire on modern society whose only objectionable line is its title, and "Cabaret," by far a more daring play for high school students. His principal chose "Cabaret" over "Urinetown." The play was staged, and Koczergo was sent off to middle school the last day of the year. He retired from the Indiana school system two years later, and was hired in Flagler by Nancy Willis when she was principal at FPC. The issues with his principal in Indiana never came up.
Unquestionably forceful and opinionated (he's a regular contributor to letters-to-the-editor pages going back to his Indiana days), but just as unquestionably experienced and immersed in theater, Koczergo now fears for his job, and said he was willing to accommodate whatever the district decided. "Having gone down that road before, I didn't want to go down it again, and I can't believe it has gotten to this point," he said. "I don't know where the objections came from in the community as far as Mockingbird is concerned. But apparently they were strong enough that it warranted the play being cancelled, based on the safety issue of the students. And I can't argue with that."
Oliva and Valentine said that other than the protocol issue, the matter had nothing to do with Koczergo, and Koczergo himself said the principal assured him his job was not in jeopardy.
Koczergo was part of the improvised committee Valentine summoned to discuss the matter. Other members in the committee, which met in Oliva's conference room last week, included Kevin McCarthy (assistant principal at FPC), Lynette Shott, Lorna Moschetti, Diane Tomko and Diane Dyer.
"We have teachers that believe this is unwarranted censorship and may want that addressed by me or the board," Valentine wrote board members. "We will see how this unfolds from here, but the final decision was that the play is canceled." Oliva described the suppression to his faculty as "a teachable moment."
The School Board's Reaction
The school board was not involved in the decision, though two board members contacted—Colleen Conklin and Andy Dance—were as supportive of the superintendent's decision as they were uncomfortable with leaving it at that.
"This was a hard call to make, an extremely hard call to make," Conklin said, adding that she wasn't sure the community was ready for the play, or what it might trigger. There was no question in her mind, however, as to why the play was canceled. Oliva and Valentine claim the 23 uses of the word "nigger" had nothing to do with it. "The decision was made to pull it because of the term that was used repetitively throughout it," Conklin said. "It is definitely a word that's been banned in my household, but it could be an opportunity for great learning, for showing a great work of art and building tolerance."
Conklin and Dance both intend to use the suppression of the play as the beginning of a debate rather than an end point. Both are open to the idea of staging the play in spring, with better preparation.
"If we have members of the black community that are split on this then maybe we advance this discussion in the community so we can get to the point where the play can be shown, so it's a healthy discussion," Dance said. We should get to the point where everybody is comfortable with it as a literary piece, a time-sensitive piece." He added: "Let's not make the cancellation of the play the final word. Let's get everybody together and plan a re-enactment."