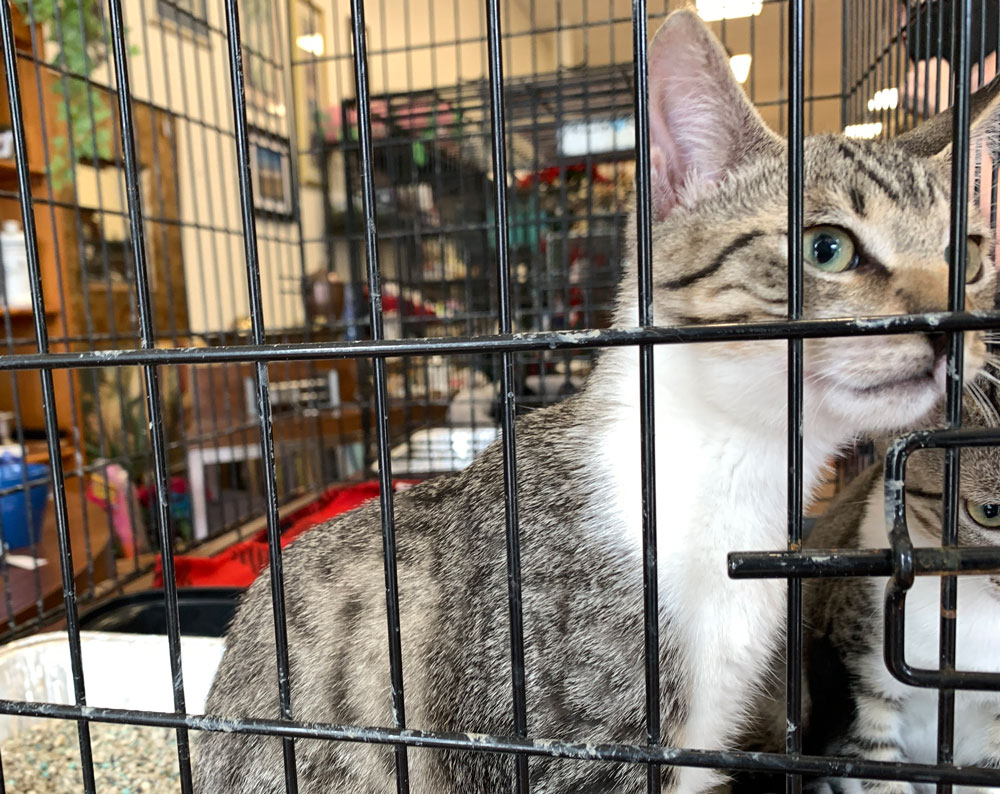 Toward the beginning of a staff presentation Tuesday to the Palm Coast City Council on Community Cats and its trap, neuter and release program known as TNR, a slide flashed up, purporting to illustrate "Challenges with Free Roaming Cats."
It's a familiar pyramid, used by scores, if not hundreds or thousands of pet-friendly websites, vets, humane societies and the like. A similarly inaccurate chart greets readers on the front page of Community Cats' website. It claims that if an unspayed female cat produced two litters a year, with 2.8 surviving kittens per litter, that would generate 67 cats after two years, 2,107 cats after four years, 370,000 cats after seven years, and 11.6 million cats after nine years. It's a startling assertion, often  used in support of spaying and neutering programs.




It is also grossly wrong.
It has been repeatedly debunked for more than a decade by fact-checkers as rigorous as the Wall Street Journal, the San Francisco Chronicle and Politifacts. A more reasonable estimate for feral cats, Politifacts reported, would be "perhaps 49 cats alive after five years," not 11,801, as Palm Coast's illustration claims. Forty-nine cats is not a small number. Still, the false figures continue to proliferate almost at the rate of those mythically multiplying cats, and finding their way before policymakers, as was the case Tuesday.
So it's probably best to take that presentation to the council with a few grains of salt, especially since the debate around TNR is not entirely settled. The science is. The desired outcomes less so, as a peer-reviewed 2020 University of Florida study of studies on the subject concludes.
That sort of nuanced perspective was also largely absent from the presentation to the council on Tuesday, rating as "myths" numerous claims that cannot fairly be called that. But debates over TNR can at times seem like ideological posturing, with sides more likely to be entrenched than compromising.  It took a while–if not a struggle–for Palm Cost to adopt TNR, but once it did, the program locally appears to have achieved its aims of containing and in some areas lowering or eliminating the feral cat population, thanks to Community Cats volunteers. Residents' complaints  about roaming, spraying and rutting cats are few, too.




The council in mid-July had requested a presentation on Community Cats, the non-profit that's led the way on TNR in the county and takes care of feral, stray, discarded and abandoned cats, according to Eva Rodriguez, a code enforcement technician, and Heather Priestap, an animal control officer, who presented the matter to the council. (An incident involving the alleged destruction in June of a feral cat feeding station by Peter Michael Johnson, now a candidate for mayor in the city, had prompted the request. The Sheriff's Office documented the incident. Johnson is not a fan of TNR or feeding stations.)
"Caretakers and volunteers trap the cats, transport them to be spayed, neutered, and vaccinated. Getting the cats fixed and vaccinated reduces the cat population and spread of diseases," Rodriguez said. The cats are ear-notched and returned to their original area, where the cats are fed and cleaned daily by caretaker-volunteers.
"TNR prevents overpopulation and caregivers are making sure the community cats are well taken care of and the colony does not become a nuisance ," Rodriguez said. "Neutered males make better neighbors." When she made that statement, the room erupted in titters and some applause before she could continue to explain: "because there's  less yowling, fighting and spraying." The cats are not a public health threat, generally avoid contact with humans, and therefore have smaller chances of transmitting disease. "You are much more likely to catch an infectious disease from someone standing in line with you at the grocery store than from a cat," Rodriguez said.
Before TNR, cats would be trapped and removed to the Humane Society, but not returned, creating what Rodriguez described as a "vacuum effect": new cats would move in, repeating the cycle. TNR has halved the city's costs, she said, with 651 cats trapped and taken to the Humane Society by Palm Coast Animal Control, 458 of them adopted, and 119 released back to the area where they were picked up after being spayed or neutered, leaving 39 waiting for adoption. (35 cats were euthanized.)




Priestap, who carries out a large portion of the trapping and so interacts with the cats firsthand, said the TNR approach lowers euthanasia rates and "provides vaccinations which will assist with a healthier cat population in our communities, it has less of an impact on wildlife and it lowers the intakes in cost to the city."
The UF study disagrees, concluding that "cats usually experience a painful death and suffer from various diseases and injuries during their lifetimes. Additionally, feral cat colonies are a source of public and wildlife health risk." Priestap had a list of "myths versus fact," and listed the assertion that feral cats have harsh lives in the "myth" column. "Feral cats are fed by kind people. Others find food for themselves," she said. "The average lifespan of a feral cat is estimated to be around 10 years." She added: "While a few of them lead hard lives most of them are Pleasantly plump and healthy. Most feral cats we see are full of life and eager to return to their homes when released." (A University of Nebraska brief on feral cat management places the average life expectancy of feral cats at "3 to 5 years, compared top 15 years for owned cats.")
PETA, the militant animal rights organization, has in all but the most controlled circumstances declared itself against TNR, finding it inhumane: "We have seen firsthand and have received countless reports that cats suffer and die gruesome deaths because they are abandoned to fend for themselves outdoors," the organization states, but without more rigorous, empirical evidence.




Priestap said a typical colony will consist of two to six cats, who are "likely eliminated" after four to seven years. She did not specify by what means, but feral cats don;t usually have nine lives. If reducing the number of feral cats was the goal, local figures suggesting that TNR has been effective: one colony that had 100 cats in 2016 is down to five today. Colonies at Publix on belle Terre Parkway, and at Staples, have dwindled to nothing, suggesting that "trap neuter return is a proven successful method of controlling and reducing the population of free roaming cats."
The council had few questions, among them an inquiry about the number of nuisance complaints generated by feral cats. Barbara Grossman, the code enforcement manager, said there's only been three complaints this year. But cats don't usually roam, especially when they are fed by caretakers.
Council member Theresa Pontieri picked up on the claim during the presentation that human beings, not cats, are more responsible for wildlife decline. "Do we know if there is any contribution to wildlife decline, and if there's any data on that in Palm Coast specifically– because obviously we care very much about wildlife here–whether or not the feral cats do contribute to any type of decline in our wildlife here." (The American Bird Conservancy opposes TNR, claiming that outdoor cats are the leading threat to birds.)
Grossman said caretakers ensure that colonies are fed precisely to prevent cats from having to hunt for wildlife. "It's been a successful program and we would like to keep it a successful program," Grossman said.

community-cats-2023