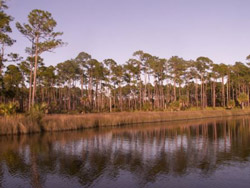 Faver-Dykes State Park will host Timucua, a Native American program, on Saturday, March 31.
This unique, hands-on Native America experience will let visitors discover the life ways of the Timucuan Indians and their relationship to the land that they loved. Explore with an expert guide and enjoy stories about the Timucuans and the important role the river, forest and ocean played in their everyday lives. See a 1500s Timucuan Camp and experience the food, clothing and shelter of these amazing people first hand. Try your hand at throwing an atlatl or starting a fire using a bow and drill.
The program will be held at the Faver Dykes State Park picnic area. The program will be included in the regular park entrance fee of $5 per vehicle. For more information contact Melissa Kafel at 386-446-6783, or email [email protected].
Event vitals:
2:00 p.m. – 4:00 p.m.
March 31, 2012
Faver Dykes State Park
1000 Faver Dykes Road
St. Augustine, Fla.