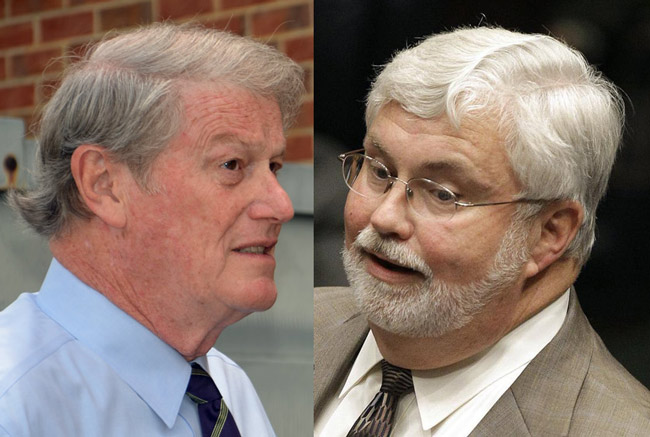 On the same day Sen. John Thrasher made it official that he will not run for the Senate presidency in 2016, Sen. Jack Latvala said he believes he has rounded up enough support to claim the office barring too many losses in this year's elections.
Latvala, R-Clearwater, did not specify how many pledge cards he had collected from members of the Senate's GOP caucus, which will decide who will serve as president unless Democrats seize control of the chamber in this year's elections, 2014 or 2016.
"I believe I have enough to be the president, and have had enough. … I think it's already decided," Latvala said.
With Thrasher, R-St. Augustine, officially saying he will instead back Sen. Joe Negron, R-Stuart, the race seems to be down to Latvala and Negron. Thrasher and Negron had cooperated in a palace coup that attempted to replace Senate Majority Leader Andy Gardiner, an Orlando Republican scheduled to take over in 2014, with Thrasher. Negron would then have succeeded Thrasher in 2016.
Latvala said it was his understanding that Thrasher wasn't ever running for the office in four years, despite comments to the media that some interpreted to mean that Thrasher might still seek the position after Gardiner effectively wrapped up the needed votes for 2014.
"As far as I know, [Thrasher] was never in the race for 2016," Latvala said.
And Thrasher's comments to The Florida Times-Union in an item published Friday made it sound as if he hadn't gotten deeply involved.
"I don't have a pledge card," Thrasher told the paper. "I have not been going out and trying to get support."
For his part, Negron told the News Service of Florida that he believes the fight over the future of the chamber is far from over.
"This election cycle will go a long way in determining the future of the Florida Senate and the Senate presidency in 2016," Negron said.
For example, Negron and Thrasher have supported former Rep. Aaron Bean in a race for a Jacksonville-area Senate seat, while Latvala is believed to be working to line up support for Rep. Mike Weinstein in the GOP primary between the two. Another Latvala supporter, Sen. Ellyn Bogdanoff of Fort Lauderdale, faces a difficult general election battle.
–Brandon Larrabee, News Service of Florida