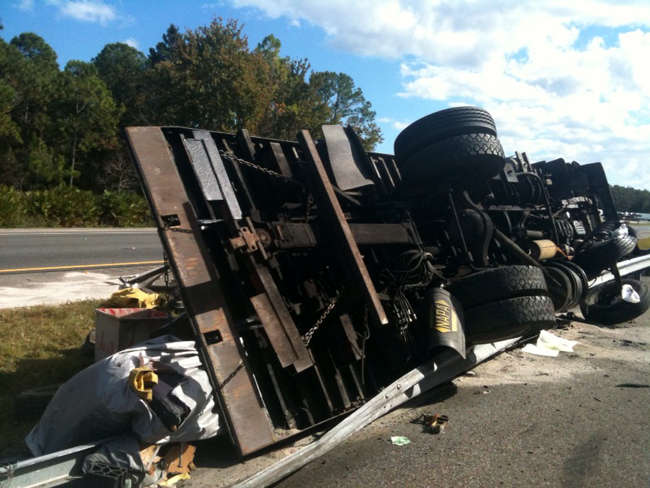 Terry Kilcoyne, a 71-year-old licensed dealer who lived in DeLand and had a business in Maryland, was returning from Maryland before noon on Thanksgiving when his truck's left-front tire shredded, sending the truck careening and overturning on I-95's center guard rail, and killing Kilcoyne.
Kilcoyne's 1988 Chevy flatbed wrecker's truck was in the center lane of I-95, just north of the Flagler-St. Johns County line (some three miles south of State Road 206), when the tire blew. Kilcoyne lost control, veered into the outside lane and hit a 2005 Dodge Durango driven by Sandra Scott, 62, of Callahan, Fla. Scott was driving with Marian Scott, 25, Crystal Mutchler, 20, and Matthew Scott, 20, all of Jacksonville. None of them was injured.
After the collision, which sent the Durango onto the shoulder, Kilcoyne's truck veered back onto the middle, then the inside lane of the Interstate, then hit the guardrail and overturned. The truck came to a rest in the center median on top of the guardrail, facing south. The flatbed was carrying a forklift, which had been strapped toward the front of the bed. A Florida Highway Patrol report does not say whether Kilcoyne was wearing a seatbelt. A passenger in his truck, Robin Olson, 43, who was not wearing a seatbelt, suffered minor injuries and was treated at Florida Hospital Flagler.
Kilcoyne himself was taken to Shands Hospital in Jacksonville, where he was pronounced dead.
Kilcoyne was reportedly a Vietnam veteran who had a life of adventure and was partial to telling stories. He lived and worked in Codova, Md., where he owned a business called American Outboard Motors & Salvage. The truck he was driving on I-95 was embossed with his company's name.
In 1994, the Washington times reported that Kilcoyne, a convicted felon, was arrested and charged with illegal possession of firearms after a traffic stop near his Cordova home revealed an illegal pistol. A search of his home produced 15 handguns, 16 rifles and 5,000 rounds of ammunition, according to the Times.