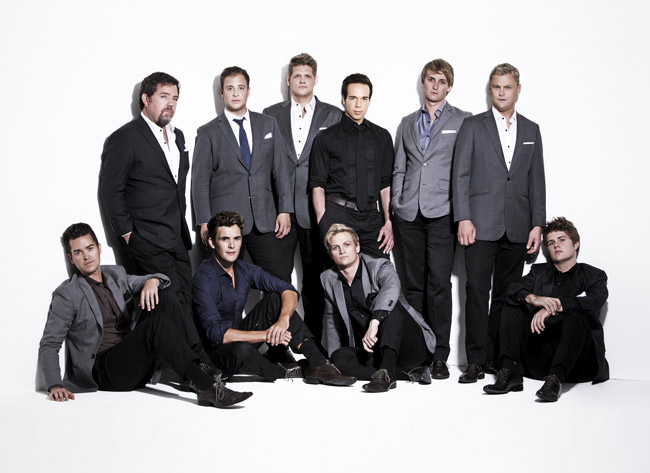 In music parlance, a tenor is the highest male voice in the modal register, a bass the lowest. But there's just something about the tenor voice that puts it on a higher shelf that other types of voices can only aspire to reach, according to the Ten Tenors, whose love affair with Flagler goes back a few years, and who'll be performing at the Flagler Auditorium tonight and tomorrow night (Feb. 11 and 12). They're among the rare exceptions in the Auditorium's schedule that command more than a single performance.
At the Flagler Auditorium
---
The Ten Tenors on Broadway at the Flagler Auditorium for two back-to-back performances, Saturday April 5, at 3 and 7:30 p.m. Tickets are $42 for adults and $32 for students. For more information, visit the auditorium's website or call 386/437.7547.
Click On:
---
Two years ago the Ten were in town for a two-night stint, only to have their first-ever postponement-by-tornado: a wicked rainstorm tore through Flagler County, and the Flagler Auditorium's roof, triggering leaks that forced the postponement of the group's scheduled shows. But they were very good natured about it: they just pushed their dates to subsequent evenings, and filled the auditorium anyway. So it's been with this group.
The Ten Tenors perform everything from Queen, the famed 70s British Rock group, singing their hit songs like "Bohemian Rhapsody" and "The Show Must Go On," to Meat Loaf and ACDC, before venturing back to their classical operatic roots and their literal roots with native Australian folk tunes, like "I Still Call Australia Home."
"I've been to cities that never close down…From New York to Rio and old London town…But no matter how far…Or how wide I roam…I still call Australia home." Now imagine that sung in male tenor voice. And multiply that by 10.
"We try to choose songs from singers who inspire us and will inspire our fans," says Scott Muller, one of the ten. "Sometimes that just means getting them to their feet.  Queen and Meat Loaf are two artists whose songs really lend themselves to a group like ours.  This year we've introduced Elton John and Michael Jackson into the mix for the same reason."
The group is often described as a Rock Opera. Asked if that's a fair label, Muller says, "We've successfully turned opera into a rock concert and vice versa, if that's what you mean.  There's definitely something for everyone.  Even the purists, on both ends of the spectrum.
When it comes to historical tenors who've influenced the whole group, another member of the Aussie troupe, Jared Newall, says: "Ten tenors, ten different answers."
While a tenor has a very specific role, or at least is associated with a very specific type of music, the ten have somewhat muddied those lines. Muller won't say outright that they've pushed the classical boundaries. "I guess," he says, "that depends on your definition of a tenor. Luciano Pavarotti, Steven Tyler, Freddie Mercury, Andrea Bocelli—they are all tenors. We've just brought them all together in one show.  I suppose we just push the idea that you don't have to be boxed into one genre."
When asked how they compare with some of those names and other leading tenors out there today, another tenor, Keane Fletcher, is also succinct: "I think about nine out of ten."
"Traditionally speaking, there has always been a special value placed on the tenor voice," Muller says.  "Perhaps it's the rarity, perhaps it's the sound to the ear. Whatever the reason, people love it." The Ten Tenors have made it less rare, so to speak.  "There's something even more powerful about putting ten of these voices together as one," he says.
Could a group of baritones, who fall between tenors and bass in terms of how high they sing, do the same thing?  "Of course!" says Sebastian Maclaine, another member of the ensemble. "They just couldn't sing as high!"
While all that might sound technical for those of us not vocally inclined, the story behind the world-touring Australian musical ensemble is quite simple, or at least the story of how they originally got together is: beer. Well, beer money, actually, at least according to their website. That is, the tenors originally joined forces back when they were university friends at Brisbane's Queensland Conservatorium of Music and needed funds to accommodate a raucous free-drinking Aussie life-style.
Australians have a knack for not beating around the bush, it seems, and Muller underscores that when, after being asked why he originally wanted to be in the group, he says, "See the world and all that it has to offer, while singing with a great bunch of blokes."
The group has certainly evolved since the years when they were a bunch of college buddies scrounging together spare change for libations. The word "tenor" itself is derived from the Latin word meaning "to hold" and in Medieval and Renaissance polyphony was the foundation from which all other voices and instrumentals branched off of.  Certainly, the the group's origin has been a strong enough glue, albeit with a revolving door for incoming and outgoing male Aussie singers, to sustain the group heading into their 15th year. Now, however, that door involves more than being able to slam mugs down on the bar.
"Nowadays, if someone leaves, we take referrals or we search for the type of tenor we need, depending on the repertoire that the group is doing at the time," says Muller, who once played Gaston in a "Beauty and the Beast" production.
While the group is nothing if not informal, at least in this interview, the task of finding the right Aussie man—one who can hit the right notes and fill the right barstool— is anything but. "Each guy brings a unique and valuable sound to the vocal blend.  This is what enables us to pull off the variety of genres we cover.  Obviously, touring as much as we do, it's also very important that the personalities blend."
There're always new voices, as the Ten line-up changes often, as each member has his own musical career. It doesn't particularly impact the group as a whole, Newall says. "We just buy a lot of suits."
The group always has fun—with "crazy stories to challenge any deviant touring rock band," says their bio—but also works hard, touring across seven different continents, performing an average of 250 shows a year. They've appeared on Oprah's Ultimate Australian Adventure, a highlight of their experiences. Now they're coming back to the Flagler Auditorium for the second time.
To be sure, the show has changed since the last time the Tenors dropped in on Flagler: though Muller is somehow both specific and general at the same time regarding how: "New songs, new set, new lights, new sound, and even a couple of new voices. We're bringing a whole new show while still holding on to some classic fan favorites."

The Ten Tenors at the Flagler Auditorium Feb. 11 and 12 at 7:30 p.m. Tickets are $42 for adults and $28 for youths. For more information, go to the Flagler Auditorium website or call 386/437-7547.