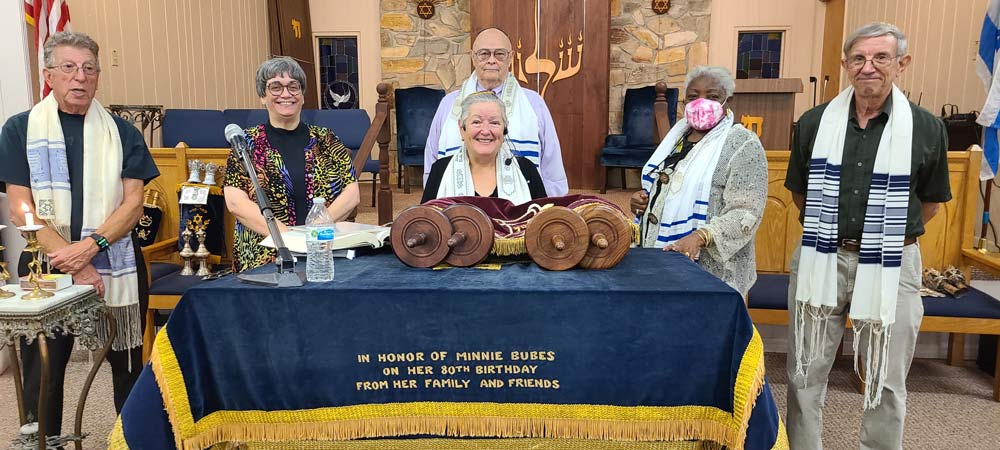 It began with very little fanfare or attention, just a bunch of like-minded people wanting to have a place to call their own.
Eighteen Jewish families who found themselves living in Flagler County in the early 1970s, discovered each other and discovered they had no place of worship to call their own.




So "The little Shul in the Woods," as it has been called by its members, was created.
This small building on Palm Coast's Wellington Drive has seen a lot over a half century, and this weekend it is celebrating its 50th anniversary with a dinner on Sunday at Pine Lakes Golf Club. Jane Alexander, one of the earliest members of the synagogue, will be coming to the celebration, as will the mayor of Palm Coast, David Alfin.
Beth Shalom, which bills itself not as a Conservative or a Reform temple, but rather an egalitarian, independent house of worship, has seen joyous celebrations like weddings and bar and bat mitzvahs, and sorrowful ones like funerals.
The size of the congregation has stayed roughly the same for decades, with around 80 families making up the entirety of the membership.




"We've been so fortunate to have such wonderful people here right from the very start," said synagogue president Robert Arkin, Beth Shalom's leader for the past eight years. "What any synagogue or group comes down to is the people, and we've had such great folks here right from the start."
Temple Beth Shalom began just as Palm Coast was emerging, still decades from being a city, in the early 1970s. According to a history of the temple compiled by congregant Marylynne Newmark, while the first homeowners in Palm Coast arrived in 1972, by 1973 there were 18 Jewish families. They had all met through various means, and it was Dave and Anita Barber who began hosting "welcoming committees" to make Jewish families new to Flagler County feel welcome.
It was at one of these gatherings, Newmark recalled, that someone said "we can start a shul! (shul is a Yiddish word for temple)
Original members at the founding included President Bert Goldstein; Mr. and Mrs. David Barber; Mr. and Mrs. David Seigel; Mr. and Mrs. Sid Kempner; Mr. and Mrs. Bob Laks; Mr. and Mrs. Sam Kern; Mr. and Mrs. William Loeb; Mr. and Mrs. Harold Nelson; Mr. and Mrs. Morris Steinberg; Mr. and Mrs. Sol Edelman; Dr. and Mrs. Jack Dunn; Mr. and Mrs. Ben Sachs; Mr. and Mrs. Joseph Zlotshewer; Mr. and Mrs. Manny Zuckerman; Mr. and Mrs. George Jones, and Mr. and Mrs. Nat Levenson.




In the beginning (as they might say in the Torah), there was no building in which the Beth Shalom congregants could worship. The temple had no official building for the first seven years, with gatherings at various locations, including the Palm Coast Emergency Services Building.
Finally, in 1978, the first Saturday morning services were held at the Wellington Drive site, under the trees. The building finally opened in March 1980.
"There were always a lot of characters, very lively people, and everyone looked out for each other," Newmark said. "And it became a very welcoming place for newcomers."
Through the years the temple membership grew and religious school began, along with youth group services, adult Hebrew classes and more. Another Jewish house of worship, Chabad of Palm Coast, came along as well in recent years.
As with most synagogues, there has been a procession of different Rabbis leading prayers; the current Rabbi is Rose Eberle, who has been at Beth Shalom for six years.
"To stay the course and have these roots is very important, for any people," Eberle said. "They've become part of the community of Palm Coast, and I'd be happy to be a leader of them for any reason."
For Eberle, watching local Jewish people "achieve their spiritual goals, and their personal goals, is a wonderful thing."




There have been some losses among the eldest members of the Beth Shalom congregation recently; 98-year-old Gertrude Kempner, one of the original founders, passed away this year, as well as 101-year-old Blanche Borish, who was lost in 2022.
"This congregation is truly one big family, and when we say that, we mean it," said Rabbi Eberle. "It really is remarkable how they all care for one another, and want to contribute to our temple family.
"You bloom where you're planted, and this is where this community has bloomed."
Of course, the Beth Shalom golden anniversary takes place amid the awful war going on in Israel right now, started by the Oct. 7 terrorist act by Hamas.
Both Arkin and Eberle said that the war and the atrocities committed against Israel's citizens have been heavy on the minds of the Beth Shalom congregation the last two weeks, but that there was no consensus on how to solve what they characterize as this thousands of years old problem.
"The old saw is that if you have two Jews, you get seven opinions," Eberle said with a chuckle. "I try to remind everyone that wherever you fall on the spectrum of opinion about this, baseless hatred is always wrong."
"We gather together and say our prayers and blessings, because we know there's a lot of suffering going on," Arkin said. "We're suffering and hurting very much, knowing what's happening in Israel. The fires of hate always get ignited against us, but we continue to believe in peace, fellowship and humanity."