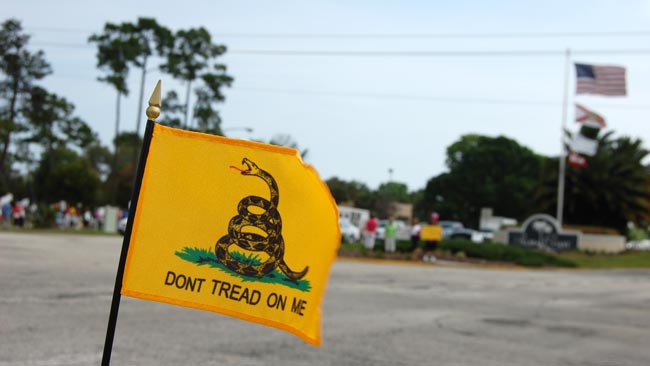 They came, they brandished, they chanted, they waved, they cheered, they occasionally jeered, and they left: for two hours on Thursday at the monumentally busy intersection of Old Kings Road and Palm Coast Parkway, members and supporters of Palm Coast's chapter of the Tea Party held their Tax Day demonstration to the many honks and occasional thumbs-down of passing vehicles: The larger the vehicles, the louder the mutual calls and responses.
The atmosphere was jazzy, joyful and universally civil–more July 4-festive than tax-day furious, more self-assured than lashing, a reflection of the distance the Tea Party movement has traveled in its bare year of existence. Some 250 people protested various, standard-issue conservative mantras–taxes are too high, debts fattening too fast, health care is being "rammed down our throats," and so on–but with a voice more aware of its growing influence on elections and, like it or not, more commanding of public perceptions. (See a photo gallery of the event here.)
It isn't an organization so much as a movement, protesters were heard saying. The protest's make-up proved it: there was no one handing out prepared signs from the trunk of a car, no one choreographing what could and could not be said, which — agree with them or not — underscored the authenticity of the messages being said. The signs were almost all home-made, and the occasional "You can't fix stupid" aside (a reference to President Barack Obama), almost all respectful, sometimes witty, always making a point rather than slinging insults. Vulgarity was not part of this rally. (The most that was heard along those lines was an errant "shit," uttered by a pre-Medicare age woman upset that the wind had knocked the American flag she was waving out of her hand. She was quick to pick up the flag and put her hand to her mouth, apologetic.)
In sum, while the messages themselves were nothing new in the scheme of anti-Obama, anti-liberal circles, there was nothing canned, nothing contrived about the event–a key distinction that sets such rallies apart from Democratic or Republican party rallies. If the Tea Party movement is occasionally criticized for not having a single voice, a focused message, it's because the variety of its membership (as displayed along Palm Coast Parkway today) doesn't hew to a single agenda: the movement's weakness is also its strength.
---
Tom Lawrence Interview (12 mn)[media id=7 width=250 height=100]
As Tom Lawrence, the 68-year-old chairman of the Palm Coast Tea Party chapter (and a former Palm Coast City Council member, for two years), put it: "It's a non-partisan, grassroots movement that is growing exponentially. I'm actually amazed by how many people who used to be silent majority, I think, who are finally waking up. paying a lot of attention to what's happening not only in Washington but locally, and wanting to get involved and wanting to making their voice heard. So we are a conduit to letting them come out do that."
The views were varied, at least within the scope of conservative ideology, but the make-up of the protesters was not diverse. That, too, is a key distinction that describes one of the many paradoxes of the movement. The crowd at Palm Coast's rally was virtually all white, overwhelmingly enrolled in (and protective of) Medicare, the single-payer government insurance plan run, strictly speaking, along socialist principles (government pays for all enrolled by redistributing taxes all, the un-enrolled included, paid), and, based on some two dozen interviews by FlaglerLive, almost all well educated, with many retired from professional jobs. This was not a crowd feeling the hardships of low wages, lack of health insurance coverage or — another bane of the Tea Party movement — job displacement caused by undocumented immigrants.
But it was a crowd that had children or grandchildren or younger relatives suffering through unemployment, loss of health coverage, and anxiety about the future.
---
Hear Delraine Kowalsky[media id=8 width=250 height=100]
Take Delraine Kowalsky ("everybody calls me Mimi"), 65, originally from Minnesota and Manhattan–posh 76th Street and the East River, no less–who's lived in Flagler County with her husband, Joseph, since 1970. She organized the rally. "We're tired of being taxed. We know we're going to be taxed. Maybe not us. Some of us won't be around, but our children," she said. "I have children here that want to go to work after school. What jobs can they get?"
Kowalsky's daughter, Denise Metts, of DeLand, was across the parkway, waving signs of her own in her third Tea Party rally since last year. Her children's future is what brings her out every time. "My daughter is 10, my youngest is five. It's crazy the taxes that they're putting on things, and their future," Metts said. "This is going to affect their future. We're spending trillions and trillions of dollars. Who's going to pay for those trillions and trillions of dollars? I'm not, but my children are. I mean, they're going to start with me, but it's going to be passed on to my children and children. How are they going to support themselves? You can't support yourself on $10 an hour. There's no way. People aren't doing it now. They're losing their homes, they're losing everything. And now you're going to say, OK, well, you can't afford health care, but, you know, now we're going to fine you for not paying for health care. That's crazy."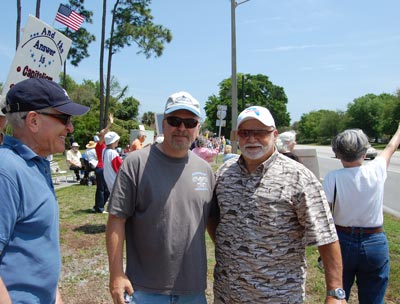 Fear of the future was a running theme, and an ironic one for a crowd that mostly has its past before it. As Bill Lodico, a 68-year-old Palm Coast resident, put it, "They're running the nation debt up so much, that I'm worried about—not my future, I'm set, I don't have to worry, but I have seven kids and 14 grandchildren. I want to know what's going to happen to them. If this nation goes into debt and we lose our credit ratings, I have a number of sons, one of them is laid off, and another one just received notice two hours ago, here's a police officer, that he's being laid off. He's up in Atlantic City, N.J. You start looking at things like that and say, OK, why are we losing so many jobs, and what's going on?"
Lodico was hanging out late in the second hour of the rally with Jim Booth, 55, and Ken Carter, 70, both of Palm Coast, who had no patience for the stereotypical take on tea party rallies.
"If you watch the news you'd think that we're all racists, bigots, that we hate Obama, Booth said. "Quite frankly, I mean, yeah, there might be some that don't like Obama, but I think that, a lot of people, me, I'm mostly mad at Congeress' spending. Now that might be driven by Obama some, but Congress is the one that really puts the bills together, and they put the bills together that's going to put us out of business. The country can't afford what we're doing anymore. I think if you look around and look at the signs, that's what the signs reflect."
"Any organization," Carter added, "is going to have different layers of concern and anger and hate, just as there are in any group there are bigots, whether it's liberals or conservatives. The problem is, where does the mainstream point their cameras in a tea party rally? It would be at that one sign that might say Obama sucks. They'll say, oh, that's typical. You can have thousands of people with reasoned opinions, and that's what they focus on, and then whoever reads the New York Times says, oh well, we don't need to know anymore."
As soon as the clock struck one, signs went down, lawn chairs clasped, cheers died and the rally disbanded, leaving only a few hard-core tea enthusiasts to to brew up a few more roars at the unrelenting traffic. And Carter, one of the more soft-spoken and unassuming men of the day's bunch, let drop a few last words like a sapper leaving a mine behind: "I worked for John Kennedy when I was in college. Why is it that older people get more conservative? It could be a mental defect. It could also be a learning curve."
---
Hear Thomas Truscello[media id=9 width=250 height=100]
But there was still Thomas Truscello. An air conditioning repairman who'd heard and watched some of the rally as he worked on the roof of the McDonald's joint at the parkway's intersection with Old Kings Road couldn't resist, as he eyed a reporter walking by, raining down a few opinions from the rooftop–and readily accepting to share them from eye level. Truscello wasn't too thrilled with the second booster that fueled the tea party movement's ascent–its vilification of health care reform.
"I don't know if the health care bill that passed is the exact right bill, but at least it's trying to rein in the insurance companies, and by the protesters out here, I guess they figure that the insurance companies, the oil companies, pharmaceutical companies—they should be running the countries, not the Democrats. I'm not sure whether the Democrats or the Republicans should be running the country. I think probably our best bet would be to get rid of all incumbents and get fresh people in there every time, and this way we'd have fresh ideas and we'd lose the earmarks and the porks that seems to be big in government."
Truscello continued, "I wouldn't want anybody to be without health care. I'm a self-employed person. So for me health care is hard. And the fact that now there's a chance where I can get it where they can't turn me down because I have a pre-existing condition, now I'll have a chance to get insurance like everybody else. But the tea party movement seems to not want that. They want big business to be in control."