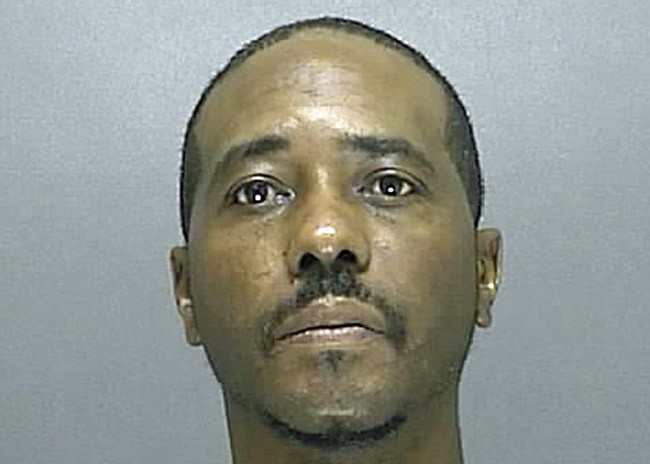 James Mabry, a 53-year-old resident of Palm Coast's W-Section who drove an Alliance Taxi, was arrested in his Taxi on Nov. 5 as he weaved across the Palm Coast Parkway bridge over I-95, and found in possession of several prescription drugs, controlled substances and marijuana, which were stored in the cab, according to his arrest report.
Mabry had told a Flagler County Sheriff's informant that he had been a drug trafficker in New York, and had researched Palm Coast for a year before deciding to launch his "enterprise" in town. He did not explain to the informant–at least not according to the arrest report–why he found Palm Coast conducive to drug trafficking.
The encounter with the informant took place in early September, after Flagler sheriff's detectives had carried out a controlled phone call–that is, a recorded call involving their informant–with Mabry. Mabry and the informant arranged for a cocaine transaction at the Palm Coast Walmart, for $75 a gram. The transaction was to take place in mid-morning. The informant went to Walmart, with sheriff's detectives observing the location from a distance, but just before the transaction was to take place, the informant and Mabry had another phone conversation, and Mabry changed the location of the encounter to the Kangaroo convenience store on Cypress Point Parkway.
Minutes later the informant and Mabry met at the Kangaroo, while a sheriff's detective was able to identify Mabry based on Mabry's prior criminal history. During the encounter, Mabry insisted that he sell 2 grams of cocaine to the informant, for $150. "$150 baby, I need it, I gotta try to find me a place," Mabry told the informant, explaining that he needed to find himself a new place because his neighbors were getting suspicious about his activities. The informant finally gave Mabry $75 in exchange for two zip-lock bags containing what proved to be 1.3 grams, when a detective later weighed the substance.
The detectives then cleared the informant (searching him or her to ensure that he or she wasn't carrying any contraband), and asserted that the sale had taken place within 1,000 feet of a convenience store, which stiffens potential penalties. Circuit Judge J. David Walsh subsequently signed the warrant for Mabry's arrest.
A deputy saw Mabry driving his Taxi across Palm Coast Parkway just after 9 p.m. on Nov. 5. The vehicle was not maintaining its lane. A traffic stop was initiated after a deputy ascertained that Mabry was at the wheel, a fact Mabry soon confirmed. When asked if he had any weapons or drugs on him, Mabry conceded to having some "powder," the street term for cocaine. A search of the car revealed dozens of pills of various substances, kept in a cooler in the taxi next to the driver's seat, including hydrocodone pills totaling 47.5 grams. A glass jar with marijuana residue was also found in the car, along with "multiple clear baggies consistent with the sale and packaging of narcotics, and a black digital scale," suggesting that the alleged drug transactions were conducted with the taxi as a mobile dispenser.
Mabry was charged with sale of cocaine, possession of cocaine, trafficking hydrocodone, possession of a controlled substance, and possession of drug paraphernalia, and held on $78,000 bond at the Flagler County jail, where he remains today. Mabry was arrested in Hillsborough County on charges of aggravated assault with a deadly weapon, shooting at or within a building, battery domestic violence and possession of a firearm by a felon. He was arrested in Volusia County five years ago on an armed burglary charge.