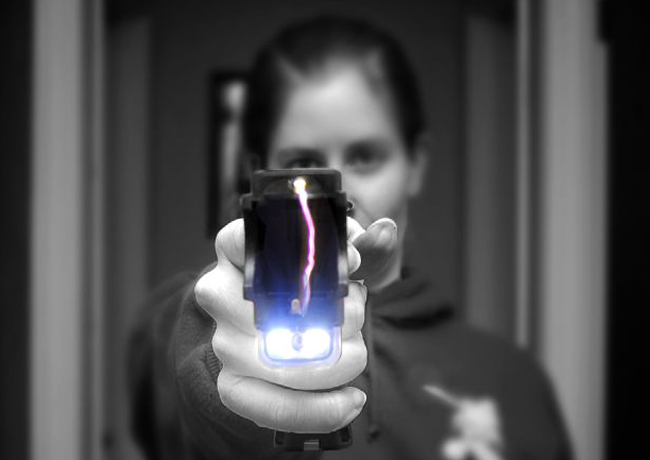 In what is likely to be the school year's most controversial initiative, Superintendent Janet Valentine next week will recommend to the school board that deputies–who carry guns and pepper spray–be allowed to carry Tasers on campus in the middle and high schools where the Sheriff's Offices school resource deputies are posted. At least three members of the five-member school board are ready to ratify the recommendation.
"I haven't made a recommendation at this point. I will," Valentine said earlier this week. "My recommendation is that we allow Tasers. I do believe that we need to allow officers to carry and have at their disposal whatever are the safest tools that they have to get something under control. Our priority and Number 1 goal is for the safety of our students and staff."
Sue Dickinson, who chairs the school board, has been in favor of Tasers going back to the times in 2005 and 2007 when the matter was discussed, and Tasers removed from campus–or at least prevented from being carried by deputies–at the board's urging. She is still the strongest advocate of Tasers at school deputies' disposal.
"It's a very difficult situation, but yet on the other hand a decision needs to be made," Dickinson said, "because at any given point in time we could end up with another brawl that gets totally out of control." She was referring to the Aug. 16 fight at Matanzas High School that's been the catalyst for renewed discussion–and action–on Tasers.
Board members John Fischer and Trevor Tucker are also leaning toward allowing deputies to carry Tasers. "It's a recommendation that would be positive at this time," Fischer said.
Tucker is cautious on two points: he would rather leave the decision up to the sheriff's office itself, not the school board, if that reduces the board's liability if and when a Taser is used. And he is uneasy about the so-called "force matrix" the sheriff's office presented the board–the gradual application of a specific kind of force calibrated to each individual incident, up to using a Taser. The matrix, Tucker said, doesn't differentiate between adults and students, or clarify what such things as "active physical" behavior that justifies using a Taser means. "That would be my only concern," Tucker said. (See the "Response to Resistance" report the sheriff's office uses when documenting and justifying the use of a Taser, at the foot of the article.)
Board member Andy Dance is still studying the matter. He said he's heard good arguments from both sides, but he still has meetings on the matter, and he is hoping to hear public views about it at next Tuesday's board meeting. "I'd like to hear from as many people as I can," Dance said.
Board member Colleen Conklin has been as consistently opposed to Tasers in schools as Dickinson has been in favor. "I can't believe we're having this discussion," Conklin said, "because in my mind it goes against students' safety in the sense that it creates a culture that is not what a true educational culture should be in the schools. The notion that Tasers is how you handle an oversize or large adolescent in an educational setting is not what a school site should be. We are all having an emotional reaction to a terrible situation that took place but the truth of the matter is that a Taser would not have prevented what had happened."
Many parents are concerned with Tasers' uses against students regardless. Parents have been especially vocal regarding special needs or special education students–for example, autistic students who don't have the same self-control as other students–against whom Taser use would, in their view, be inadmissible. It was just such an incident in 2007 (when a Flagler Palm Coast High School student was tased, though he was autistic) that led to the Taser's expulsion at the time.
---
The Fight at Matanzas[media id=252 width=300 height=250]
Sheriff Don Fleming, his administrative staff and some members of the school administration, including Buddy Taylor Middle School Principal Winnie Oden–the district's liaison for school deputies–have been pressing to let Tasers back in schools following a student's assault on Don Apperson, a school deputy, during the Matanzas incident on Aug. 16.
The student, who faces a charge of felony battery against a law enforcement officer, was reported to have head-butted Apperson, injuring him on the left temple, as Apperson was attempting to separate him from fighting with another student. A surveillance video of the incident was released by the Flagler County Sheriff's Office against Valentine's advice. Valentine says the video sensationalizes the issue.
"This individual got the best of the deputy," Maj. David O'Brien, the under-sheriff, told WESH-TV, "The deputy was actually attacked, he was actually head-butted by the individual, the deputy was then actually choked by this individual."
The video clip, a combination of two perspectives of the incident, doesn't catch the entire incident. It shows the student and Apperson dragging each other across the floor, upright, into a crowd of students, where, Apperson recalls, he was head-butted twice. The student and Apperson at one time end up on the floor, either through the student's force or Apperson's attempt to control the student by bringing him to the floor. Apperson says he literally lost about 30 seconds of his memory that day, at that moment, and cannot recall those specific moments. While he's on his back, the student is throwing punches, at least one of which appears to strike Apperson in the face, violently enough to cause the deputy's head to jerk back. Two other adults intervened, one of them a security guard at the school, who also fell to the floor, and whose back was hurt enough to warrant a trip to the hospital. Apperson at the time declined to go to the hospital.
In 11 years that he's been in schools, Apperson said in an interview Friday morning, "it's never been that bad."
Had he had a Taser, he might have had the option to disengage from the student when he initially confronted him and the student showed resistance, warning him that the use of the Taser might follow. Apperson in his 11 years in schools has never had to deploy any of his weapons–night stick and pepper spray included–because deputies are trained to de-escalate and control situations. "You can't train for very situation you're going to face in law enforcement," Apperson said. "You can train for 2,000 situation and walk down the hallway then guess what, 2001 jumps out at you."
The first Taser controversy took place in 2005, when, shortly after his election, Sheriff Don Fleming wanted to make Tasers part of his deputies' standard arsenal, including in schools. The board opposed the move. Fleming said he'd respect the board's wishes. But a deputy fired a Taser at the autistic student in 2007–an incident then-Superintendent Bill Delbrugge said should not have escalated as it did–again leading the board to reassert its opposition to Tasers on campus.
The board's make-up has changed, with three new board members.
Dickinson said it was time to make a decision on the matter.