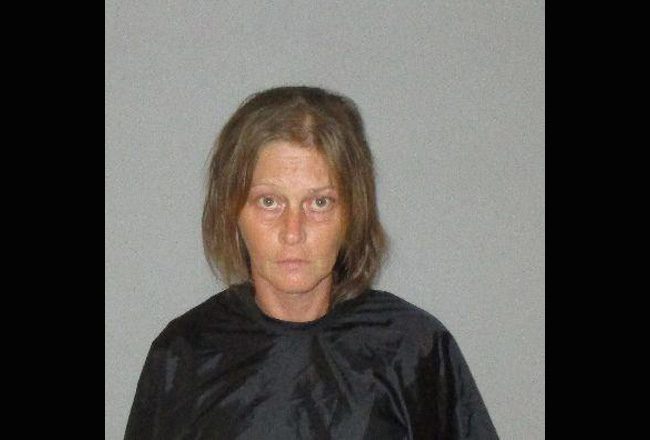 Tammy Almond, a 43-year-old resident of 12 East Palm Street in Bunnell, was charged today with manslaughter with a firearm in the shooting death Friday of Darryl Wilson at a North Bacher Street house.
Wilson, 56, who'd worked on and off for 10 years for Jimmy Flynt at Saxon's Towing, the Bunnell company, had been house-sitting at 705 North Bacher Street for a week. The house is owned by James and Angelina New. Angelina is Flynt's sister.
"My sister asked me if I thought he was worthy of house-sitting for two weeks while she went to the keys, I told her definitely," Flynt said this morning, assuring her that he'd keep an eye on him since Flynt was right around the corner. "And this happened."
Flynt described Wilson as "a low-key person" who never gave trouble to anybody. He was the father of a son and two daughters, and had two grandchildren. He was originally from Kentucky but had been in Florida for decades.
Almond and Wilson had been seeing each other on and off but wasn't considered his steady girlfriend.
The shooting took place at around 7:30 p.m. Wilson was shot in the head. Almond told police that she did not know the gun she had pointed at him was loaded.
Bunnell Police's Shane Groth was dispatched to the house at 7:37 p.m. He asked Almond to step out of the house and asked her whether anyone else was inside. "Just Darryl," she replied, according to her arrest report issued this afternoon. (The report redacted Wilson's name.) "He's lying on the floor and there's blood everywhere."
When the officer asked her if she and Wilson had been fighting, she replied: "I don't know. I just picked up the gun and didn't think it was loaded and it just shot." When Groth yelled out for Wilson just outside the house, there was no response. Once a sheriff's deputy arrived, the two cops walked in and saw Wilson in the dining room in a pool of blood with an obvious shot to the head.
A paramedic with Flagler County Fire Rescue pronounced Darryl Wilson dead at 7:45 p.m.
During the interview at the sheriff's investigative services division Almond said she'd been dating Wilson on and off for three years. She'd located a rifle behind the front door. She picked it up. She started "manipulating it while standing at the front door," according to the arrest report.
She raised the rifle. She pulled the hammer back. Just then, Wilson was walking through the kitchen and allegedly yelled "bang." At that moment, Almond said, she pulled the trigger. Wilson dropped to the ground. She ran to him, noticed the blood pouring out of his head, reached into his pocket to pull out his phone and called 911.
Investigators asked her if she was startled when he yelled "bang." She said no. She was asked if she intentionally pulled the trigger. She said yes. She also told the investigators that she was familiar with the firearm and that she "knew better."
The shooting death is almost identical to the killing of Stefanie Merrill by her husband on Feb. 21, 2012 at a Covington Lane house in Palm Coast. Then too Merrill said he had been pointing a gun at his wife, playing with an AK-47 and its laser pointer, and pulled the trigger, not thinking it was loaded. One shot in the chest killed his wife. As with Almond, he was charged with manslaughter. He was sentenced to 25 years in prison. He too called it an accident. Stefanie had two young children. The court separately withdrew his parental rights after they were adopted by Stefanie's parents. (He's continued to fight his conviction.)
Almond is being held on $250,000 bond at the Flagler County jail, where she was booked a little after 5 this morning. The Bunnell Police Department is investigating the shooting in conjunction with the sheriff's investigative services division and the State Attorney's Office.