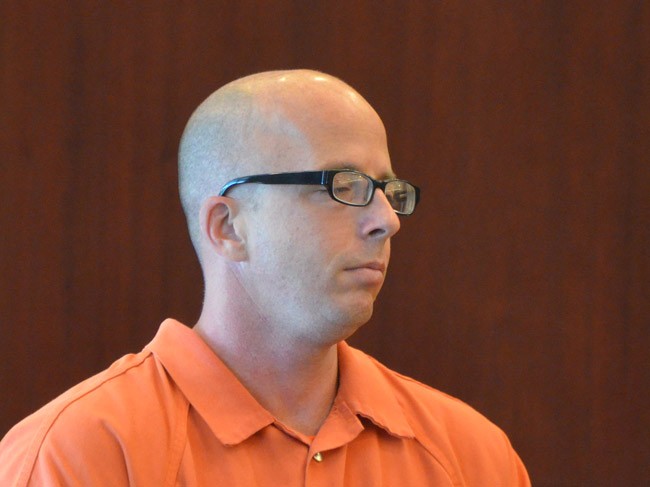 Last Updated: 2:49 p.m.
Until he was stunned by a 25-year prisons sentence for killing his wife with an AK-47 on Palm Coast's Covington Lane four years ago, William Merrill, a three-time felon, had been getting away with relatively light or no punishment for crime after crime, felony after felony, going back to his youth in Tennessee.
He'd had a felony drug conviction, he reduced a drunk driving charge to reckless driving, he was guilty of driving without a license, only to be arrested again several times on similar drug and lawless driving charges. That was before he moved to Palm Coast, where he was raising a family with his wife, Stefanie, who told police the time he head-butted her and threw her on the bed while berating her over money that he'd beaten her before. He managed to have her drop that charge, too. When two Bunnell cops caught him with firearms the next year, a felony since he was not allowed to carry guns as a convicted felon, that charge, too, was dropped. The same year he was found guilty of grand theft—yet another felony—when he stole from his employer. He avoided prison, and managed to end his probation early.
His obsession with guns never waned. (As a young man, a friend described firing a gun so close to Merrill's ear that Merrill went deaf in that ear.) Despite his arrest on the gun charge, he stashed 20 guns at his house on Covington Lane. He played with the guns, too: he was proud, or reckless, or stupid enough to take a picture showing a rifle's laser beam aimed at Stefanie's head, and keep that picture in his phone.
It was in a repeat of that scene—with Merrill aiming the AK-47 at his wife while she was giving their daughter a bath—that Merrill "accidentally" shot and killed his wife, though even then he never took responsibility.
"I didn't pull the trigger on the gun," Merrill said, recalling testimony he gave detectives during court proceedings last month. "I told them that the gun discharged while I was messing with the laser sight."
"While you were pointing it at your wife," Chris Miller, an assistant state attorney, said.
"No, not then," Merrill replied. "I told them about the pointing it at my wife, the laser itself, but when I was actually inspecting the laser it was, there was like a dead spot in the laser, it was a touch-activated laser, and it should come on whenever you touch it, wherever you touch on the pressure switch, and it wasn't, and that's where I was messing with the laser at that point, when it got discharged. At that point in time I wasn't focusing the firearm on my wife, no."
Yet somehow the bullet went through Stefanie's chest, and she was dead shortly after.
It's not clear when Merrill saved the picture of the laser pointing at his wife's head, or why he would do so, though he's exhibited the characteristics of a narcissist. (A tattoo on his chest memorializes not his vaunted love for his wife or God or his children, but his own initials.) What is clear is that, in a grim irony of his own making, he would end up using that picture, among others, to accuse the Flagler County Sheriff's Office of conducting an improper search of his phone in an attempt to throw out the 25-year verdict against him and call for a new trial: Merrill—who cries profusely and portrayed himself as a God-fearing loving father and husband at his sentencing four years ago–is not accepting that he could spend a third of his natural life in prison for killing the woman he claims considered him "the man of her dreams."
Even though he entered a no-contest plea to the manslaughter charge, he tried to have his sentence reduced. The court denied the motion. Six months after his sentencing he filed a belated appeal to the Fifth Circuit Court of Appeal. The court denied it. Last year, in July, he filed yet another motion, this one claiming on seven counts that his sentencing was improper because it was based on a series of errors, and warrants a new trial. Then-Circuit Judge J. David Walsh threw out five of the seven claims, calling them "meritless," but allowed two of them to be addressed in an evidentiary hearing.
The two claims are that Merrill tendered an involuntary plea, because he was under the impression that, based on his attorney's advice, he would only get probation, not 25 years in prison. And that deputies seized his cell phone containing incriminating images without his consent "despite," as the court wrote, "his written consent to a search of his home for any evidence that has a bearing on the investigation." Merrill claims his attorney did not object to the phone seizure, leading to Merrill's charge that he got ineffective counsel.
---
Arguing that his plea was involuntary, and that his attorney was ineffective.
---
Merrill was in court before Circuit Judge Matthew Foxman on March 21, and again last week, for a hearing on those two counts. The hearing took up some five hours, at the end of which Foxman took the arguments under advisement: his decision was expected any day.
Today, shortly after this article first posted, Foxman's order, which had been signed April 7, was posted on the clerk of court's website: both of Merrill's motions were denied. (See the full order below.)
The ineffective counsel charge came down to Merrill's word against the word of his attorney, Brett Kocijan (who'd been appointed by the court), though there was more to Kocijan's word: the attorney kept copious notes, which the prosecution used to undermine Merrill's claims to the point of portraying him as a liar.
"Did you ever promise Mr. Merrill that if he pled to the charge in this case that he would get a probation sentence?" Miller asked Kocijan in last month's hearing.
"Never," Kocijan said.
"Was probation ever even offered by the prosecutor handling at the time, Mr. Mathis?"
"Never. I will tell you, Mr. Merrill wanted probation, but it was never a consideration of the state as part of the resolution of this case," Kocijan said.
"So that was never an offer ever even contemplated to your knowledge by the state attorney handling the case at the time."
"Correct."
Kocijan's notes and correspondence with Merrill corroborate the account. From day one, Merrill had made clear he did not want a trial. He wanted to plea.
"Did you ever promise or tell Mr. Merrill that he would receive a downward departure or a probationary sentence?" Miller asked, referring to the legal term that gives a judge discretion to impose a lighter sentence. The sentencing judge was Raul Zambrano.
"No," Kocijan said, "I wouldn't with Judge Zambrano, just from experience with Zambrano, he's tough."
Merrill's current attorney, Rachel Bushey, tried to elicit more details from the way Kocijan had spoken of probation to Merrill. She did, but not enough to make Merrill's case.
"I know he'd asked me several times can we get a probationary sentence," Kocijan said. "Is it possible? Yes. Do I think you're going to get one in this case? No I don't. I think that in part of why I think he was looking at a split sentence, too, we understood there was going to be some form of incarceration. How much was the question. With the judge we had in the case and what the allegations were here, the seriousness of the charge, I would have and I did tell him that probation is not likely in this type of case."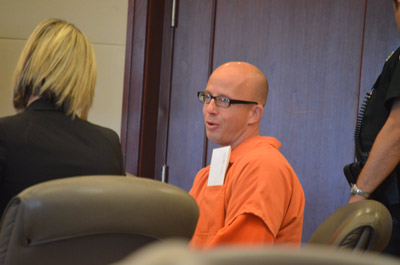 Merrill's testimony was diametrically opposed, though he had nothing to prove it—not even letters he'd written Kocijan, though he'd written him frequently.
"What ultimately led me to take the open plea, it didn't have to do with the downward departure, it was that the sentencing was completely up to the judge as far as sentencing to probation or 30 years," Merrill said. "I wasn't aware that the court had to go by the guidelines at all."
But that flatly contradicted what Merrill said during his plea before the judge, who had asked the prosecutor and Merrill at his sentencing if Merrill clearly understood what sort of sentence his open plea was potentially opening him to.
Thirty years, the prosecutor had said at the time.
"I just want to make sure," the judge had said, that "this was conveyed to him." Kocijan and the prosecutor assured him, with Merrill standing by them, that that had been the case. The judge then again posed the question to Merrill.
"Your exposure is anywhere between zero and the maximum of 30 years," Judge Zambrano had said to Merrill at that 2012 hearing.
"Yes, your honor," Merrill replied.
"And that is what you want to do?" the judge, who had earlier warned Merrill that "it's almost always unwise to do that, but it is your right," asked.
"Yes, your honor."
Given the record, it was very unlikely that Foxman would rule in Merrill's favor on that count.
But the second count—about the fact that Kocijan allegedly did not object to deputies seizing the cell phone and searching it—raised serious issues about police interpretation of and discretion with consents to search a home: does that consent extend to a phone, which normally requires a search warrant to be searched? Merrill's attorney argues that it does not. The prosecution argues that it does. Merrill says he never gave consent to have his phone searched.
Whether the phone search itself was legal or not is not central to the issue: the prosecution claims that the pictures were never instrumental in the case against Merrill, though the prosecution did describe the picture showing a laser beam on Stefanie's head during sentencing, thus potentially aggravating what sentence Merrill received. But evidence presented at sentencing doesn't have to meet the same high threshold of admissibility as it does at trial.
Regardless: Kocijan said he did not file a motion to suppress the evidence from the phone because Merrill had made clear he did not want to go to trial, making that evidence moot.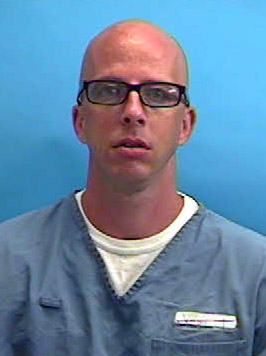 "The most compelling evidence that corroborates Mr. Kocijan's and belies Mr. Merrill's claim," Miller, the prosecutor, said as he closed his arguments last week, "is the letter that he wrote Mr. Kocijan the day after he got 25 years in prison, when anyone who had been promised probation would be furious. If they went into that hearing thinking I'm going home at the end of this year and they come back with five years shy of the maximum sentence, anyone , any rational person would be angry, and they would be writing an angry letter to their lawyer saying, what the heck happened, why did I not get probation as you probation. There would be some mention of that. Yet in Tab L, the letter written the day after, no mention whatsoever of probation. That's perhaps the strongest evidence that Mr. Kocijan is more credible, that there was never a promise of probation. A hope, but not a promise." He concluded: "This was a case of buyer's remorse."
Foxman ruled that even if a motion to suppress the pictures had been filed, the court would have denied it, "because law enforcement did not exceed the scope of [Merrlill's] consent."
Merrill, who was in the courtroom for both days' hearing and otherwise held at the county jail, was then returned to prison pending Foxman's decision. Since Foxman denied Merrill's motions, the sentence stands, and that's where Merrill will remain: at the 956-bed Avon Park state prison. If Foxman had granted one or both motions, the case would then have restarted from zero, with either a plea tendered or a trial.
Throughout the hearing, Stefanie's parents sat in the courtroom, watching. Merrill had claimed along the way that he was contesting his prison sentence because he wants to be a father to his two children. In fact, his parental rights have been ended, with Stefanie's parents adopting the two young children. Merrill's battle, the hearing made clear, is mostly about Merrill: he does not want to be in prison, though absent a successful appeal of the latest judgment, that's where he will remain until 2032, when he would have served 80 percent of his sentence and may be eligible for parole.
He has 30 days to appeal Foxman's judgment.


Click to access merrill-final-order.pdf