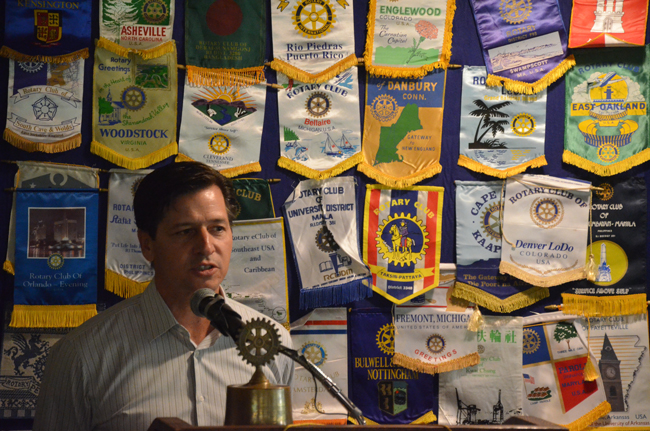 It was an unusual endorsement. And Gail Wadsworth, Flagler County's clerk of court, wanted to make it in front of her Flagler County Rotary Club Tuesday and a slew of guests she invited for the occasion, including current and former judges, Sen. John Thrasher and the entire board of the Flagler County Commission.
Wadsworth wasn't endorsing a politician or, as she has on recent occasions, new methods of processing court cases. She was endorsing a for-profit company, with whom her own office was about to partner.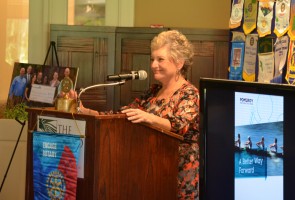 The company is Pomeroy Equitable Solutions, a start-up branding company barely a year old that's come up with what its CEO, Peter Riggio, describes as new and fail-safe way to ensure that youth sports and children's cultural programs survive through tight budgets, and possibly thrive. It's called "Swipe 4 the Kids." Every time you buy something using a credit card at a participating business, a portion of the credit card transaction fee ends up channeled to a local non-profit children's organization—a football team, an education foundation, a band or an orchestra.
It works this way: Pomeroy convinces a local business to switch to its own credit card merchant company (Eclypse Solutions). It won't cost the business to do that. The business' customers won't see a difference. Prices won't change. What will change is how the fees charged to all credit card transactions are processed, and where they end up. All credit card transactions have fees (the merchant fee and the interchange fee chief among them). If a business partners with Pomeroy's merchant service, Pomeroy will get 36 cents of every dollar in that transaction fee, Eclypse Solutions will get 40 cents, and Swipe 4 the Kids will get 24 cents.
"Pomeroy represents taking existing expenses of businesses, form partnerships, and then creating those into profit share with the local community," Riggio said. "Everything that we bring out to the business community and to the public is no cost, so it's a zero-cost solution. And some of you might wonder how would we be able to pay for this. The truth is that a lot of industries are really top-heavy on profit, and if you're just sharing that profit and sharing with the community, there's plenty to go around."
As Riggio addressed the members of the Rotary, he used language of traditional capitalism—focusing on bottom-line profits, ensuring that businesses are rewarded for their loyalty to community involvement—with the sort of communal idealism more often associated with the lingo of socialism: credit card merchant companies rake in so much cash that a company like Pomeroy can start a new business model from scratch, take its own generous cut from that cash, but also leave a very generous portion for worthy community  organizations always starving for cash.
"Collectively you represent an incredible fund for sustainable funding for the kids, to fill funding gaps and make changes," Riggio told the Rotary crowd. "It's a major goal for us as a company to make sure that those businesses are really getting rewarded to increase their bottom-line profit as a result of it and really connect the community with the thinking that if they're supporting the local businesses, they're actually teaching those businesses where to spend their money and where to put their time. So that's what Pomeroy represents, that's what Swipe the Kids represents, it's the connection between the business community and those kids that need the funds, and their parents who really want to know who can we trust, who's out for us, and if there's folks that are, then we want to support their business."
Wadsworth, Riggio said, took the lead with Pomeroy in Flagler County: the clerk of court's credit card transactions, which can add up to six or seven figures a year, will now have a portion of those transaction fees devoted to the Flagler County Education Foundation, the non-profit arm of the Flagler County school district.
"I don't know anything that Rotary does that doesn't involve our children and Flagler County's future. To me, it's a gift, it really is," Wadsworth said of the partnership with Pomeroy and Swipe 4 the Kids. She said the minimum the arrangement would bring to the education foundation is $20,000 a year.
"I'm banking on Rotary and Flagler County's business community to accept the gift and share it with other people," Wadsworth said. "There's so many things we can do, and there are so many ways that this is applicable to us, and it really is a self-sustaining legacy, and it is a method, truly, as I teased you last week, to remove the d from the word fund, and we can now have fun-raising." (The money Wadsworth raises, she says, will be channeled to Flagler Palm Coast High School's video production department, whose students were filming Tuesday's event.)
But it would first take a number of local businesses agreeing to switch credit card merchant (unless theirs is a partner with Pomeroy) and joining Pomeroy's venture.
Jason Bingham, Pomeroy's Florida "ambassador," said he'd be the one to work through the technicalities with any business interested in joining. He explains his own recruiting sales pitch: "I'll agree to doing whatever you're doing now, the way you're doing it now. If you have a website, if you have an iPhone with a square, if you have a store with the terminals, we'll do the same technology, the same security, the same equipment at the same rates, save you a little money if we can, and we'll give away the money to the kids, in your name."
Riggio says the company is currently handling $25 million worth of transactions, but expects to top $1 billion within 12 to 24 months. "Does that sound crazy? You come revisit me on that," he said.
It sounds too good to be true, and there is something odd about a start-up's executives—Riggio was accompanied by his national sales director, Joe Myerchin, and his Florida spokesman, Jason Bingham—landing before a Rotary club in Flagler County to make a pitch, all the way from Vancouver, Wash., when Pomeroy has yet to make a distinct mark: it's been written about in the Vancouver Columbian and a state university newspaper in Fullerton, Calif., and it's had some exposure in local television markets, including a few minutes on an Orlando station, but not much else (not counting self-generated press releases). The venture, in other words, invites as much skepticism as the enthusiasm of its CEO may seek to dispel it.
The too-good-to-be-true question is "the number one objection," Riggio said, having clearly heard it a few times before. "They say where is the catch. We say there isn't any catch, you know? It's really hard, when you're blazing a path." He described it as hacking one's way through the jungle with a machete. "An idea goes through four phases," he said. "First, it was ignored. Second, it was ridiculed. Third, it was totally opposed, and fourth, it was totally accepted. This is exactly the process that any great idea goes through, every time."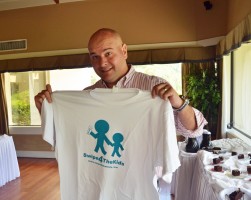 It's not too good to be true for Joe Rizzo, the owner of Woody's Barbecue, the restaurant in Palm Coast. Rizzo has also long been associated with fund-raising efforts for children's groups, and is a past president and current member of the Flagler County Education Foundation. He signed up with Pomeroy. Up to $200 a month from transaction fees at Woody's will now be channeled to the education foundation. That money will be matched (and therefore doubled) with state grants at the education foundation. To Rizzo, joining was "a no-brainer."
Myerchin, the company's national sales director, projected Riggio's evangelical zeal about Pomeroy and Swipe 4 the Kids, matched with his own personal stake.
"I have an 8-year-old daughter. She does really well in school," Myerchin said. "They cut the music program, and we know, statistically, that children that take music and learn how to read music, it stimulates that certain part of the brain for mathematics and science. That's a fact." But music, he said, is first on the list of things cut from school budgets. "Same thing with sports, same thing with arts. So we were sitting there saying, how can we fill in these gaps in education."