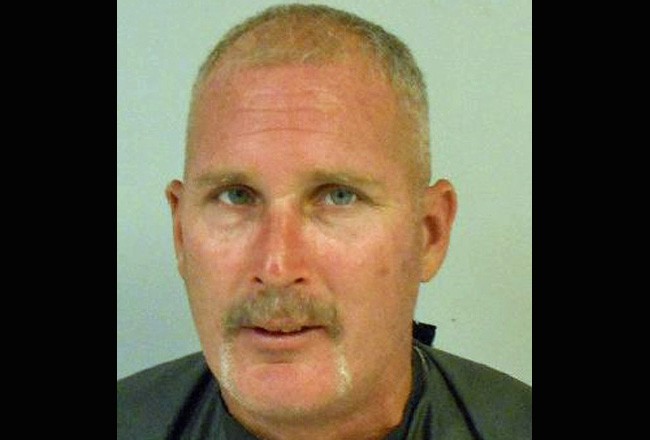 Charles Swindell, a 45-year-old resident of 7 Universe Court in Palm Coast, was previously arrested on an assault charge against his mother, threatened—according to her—to burn her and her house down, then violated a no-contact order to intimidate her against pursuing charges, resulting in a felony charge of tampering with a witness and resulting in probation. He tried to have that probation ended in March. Judge J. David Walsh turned him down.
On Sunday, Swindell was back in jail, this time on an accusation that he burned his girlfriend's 11-year-old child by branding his cheek—and possibly disfiguring the child permanently—with the metal logo of an eye-ware case that had been baking in the sun.
According to his arrest report, Swindell was loading his girlfriend's four children in the car so they could go see their grandmother. The children are between the ages of 1 and 11. The oldest was outside the car, holding his little brother. Swindell went to his truck and retrieved his glasses and black eyeglass case, which sports a metal "Revo" logo on the outside. To "play around," as he would later describe it, he pressed the logo onto the 11-year-old boy's cheek and asked him if it was hot.
The boy "began to cry in pain because the metal portion of the case felt like it was burning his face" the arrest report states. His two younger sisters didn't see the incident but heard him cry out ("ouch!"," they say they heard him say) then begin to cry.
The boy's mother was still in the house at the time. As soon as she heard him cry, she ran out. When told what had happened she immediately took photographs of her son's injury. When she confronted Swindell and asked him why he'd do such a thing, Swindell said the boy needed to just "suck it up."
The boy's mother was afraid to report the incident to police just then because "she was in fear of further acts of violence from Charles," the arrest report states. The family went to the grandmother's house for a party then returned home, at which point Swindell said he needed to go to the R-Section to pick up his children from a different relationship. As soon as he left at 3:45 p.m., the boy's mother took him and the other children to Florida Hospital Flagler.
The attending physician determined that the boy had sustained first-degree burns on his left cheek. The "Revo" logo and an oval outline could clearly be seen burnt into his left cheek, a deputy reported, "possibly leaving permanent disfigurement," according to the arrest report.
Swindell corroborated the account of the incident the deputy had heard from the family, and he "admitted to knowing that the sunglass case was hot and to pressing it against[ the boy's] cheek, causing the burn," his arrest report states. He said he did not intentionally harm the child.
Swindell was charged with child abuse, aggravated battery and violating probation.
The probation dates back to a pair of 2013 cases. On May 6, 2013, Swindell got upset with his mother, started yelling at her, and threatened to kill her, telling her she was "going to burn and die just like dad did." His father had died in a house fire. His mother told authorities that Swindell is a violent man and had been violent in the past, but she had not reported it because he is her son. Another man who lived at the mother's house witnessed the incident and corroborated the threats. Swindell was charged with assault on a person older than 65. That July, he was re-arrested after his mother charged that he'd violated an injunction and had been repeatedly threatening her to induce her into dropping the charges against him, again repeating threats similar to those he'd uttered before ("I don't want you to die like my daddy"). During those weeks he was also charged with—and found guilty of—disorderly conduct. He was placed on probation for the third-degree felony of tampering with a witness and the first-degree misdemeanor of violating an injunction.
On Tuesday Swindell remained at the Flagler County jail on $4,000 bond on the child abuse and aggravated battery charge, and no bond on the probation violation charge.