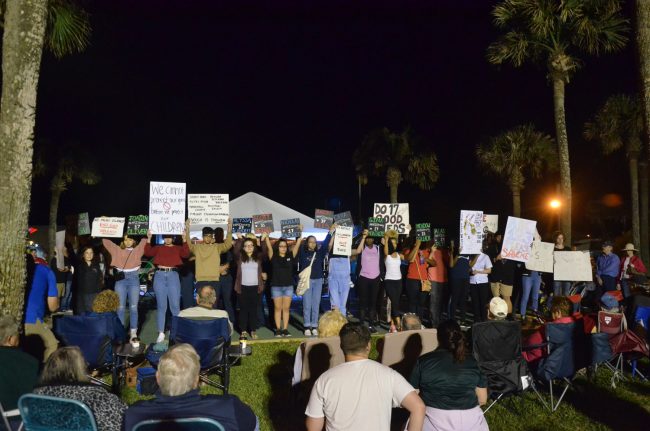 Not long after the march across the bridge had stretched about 200-strong as chants of "How Strong-Flagler Strong" rang out above the Intracoastal, not long after the marchers—students, faculty, administrators, parents, politicians—walked around the largest First Friday crowd to fill Veterans Park in Flagler Beach since July 4, and soon after the band played Santana's "Oye Como Va." Tyler Perry, a junior at Flagler Palm Coast High School, took the stage, thanked the organizers of the event for letting him speak, and spoke.
"As you guys know, on February 14, on Valentine's day, a gunman opened fire at Marjorie Stoneman Douglas High School, killing 14 students and three staff members," Perry said. "These 17 people were enjoying a peaceful day just as you are tonight when they were faced with the harsh reality of gun violence. This shooting hit incredibly close to home for many students of Flagler County who had friends and family at Stoneman Douglas High School."
As he spoke, students, most of them from Flagler Palm Coast High School, some from Matanzas High School, lined the front and sides of the stage, two or three students deep, standing ramrod and holding up signs: "We cannot protect our guns before we protect our children." "Enough is enough." "No more silence end gun violence." Perry wasn't visible anymore, but he wasn't there to be seen, just heard.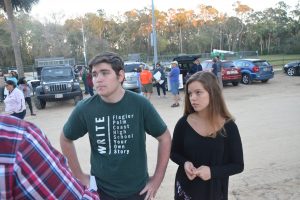 "The reality is that this could happen anywhere," he went on. "We need to be proactive. We need to work hard to foster deep and meaningful student-to-student connections so that no child feels socially isolated." The crowd had fallen silent but for the kid zone and the generators of light poles and food trucks, though Perry got cheers when he asked for more school-resource officers and more training for active-shooter possibilities. "Lastly, and perhaps most importantly, and this is the reason why we're here tonight, is we need to be a model of good behavior so that adults and other students alike will continue to spread our message of peace, love and positivity because what the world needs right now more than anything is love."
But it was when the students on stage lifted more uniformly sized signs, all of them black with red, green or white lettering, each naming one of the victims of the Parkland massacre, and when Perry slowly read out the names and ages of the victims, that the gravity of the moment silenced the crowd and provoked tears: Alyssa Alhadeff, 14. Scott Beigel, 35. Martin Anguiano, 14. Nicholas Dworet, 17. Aaron Feis, 37. Jaime Guttenberg, 14. Chris Hixon, 49. Luke Hoyer, 15. Cara Loughran, 14. Gina Montalto, 14. Joaquin Oliver, 17. Alaina Petty, 14. Meadow Pollack, 18. Helena Ramsay, 17. Alex Schachter, 14. Carmen Schentrup, 16. Peter Wang, 15.
It took just one minute to read the lives that collectively had added up to 334 years, and that had been stilled in a shooting rampage that lasted a few minutes.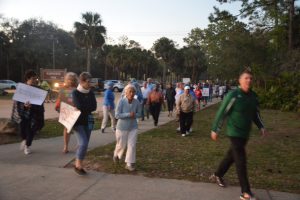 There was a moment of silence. Samantha Schumacher sang "God Bless America," and some people rose from their beach chairs as she sang, then the band played "Born in the U.S.A.," a somewhat discordant way to segue from the students' message, which had nothing of the bombastic or prideful about it: just a plea to be heard and a pledge to be accountable. "We need to be the generation that puts an end to bullying, suicide and gun violence, because students united can never be divided," Perry had said.
The march he led had started as errant discussions with fellow students, then administrators and others about how to make a statement with an impact before the end of the legislative session, where lawmakers and the governor are at loggerheads over what sort of gun-safety and school-safety legislation to craft, if any. (Legislators are in session Saturday to try to reach a compromise.) Perry, president of FPC's Student Government Association, devised the march with a few other members of the association, then got to work coordinating with officials and David Ayres, general manager of Flagler Broadcasting, one of whose radio stations sponsors the musical portion of First Friday. Culminating the march by taking the stage for a few minutes was the clincher: it wasn't a protest but stand, and by the time Perry was about to go on, those responsible for keeping the peace—the likes of Undersheriff Jack Bisland and Flagler Beach Police Chief Matt Doughney—were asking to have their picture taken with Perry.
The marchers had gathered in the waning dusk at Wadsworth Park on the other side of the Flagler Beach bridge, starting a little before 6, first in handfuls, than by the dozen, then in a throng that included County Commissioners Dave Sullivan and Don O'Brien, School Board members Andy Dance and Colleen Conklin, Flagler Beach Commissioner-Elect Eric Cooley, the school district's Lynette Shott (a former FPC principal, now in charge of the district's community outreach), FPC Principal Dusty Sims and many other members of the faculty, including Shoshanah Mercado, the FPC school psychologist, who was walking alongside history teacher Steve Von Glahn (whose last retweet was "Be More Kind," and who carried a sign one of his students had made: "Do 17 good deeds.").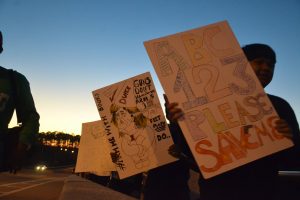 "I can't imagine why anyone would not want to come support something so incredibly important, not just as a country's movement but for our kids," Mercado said. "Our kids are out here getting ready to take over, and that's amazing. So we support that." As the psychologist of a school with over 2,500 students, Mercado is perhaps uniquely qualified to measure the mood of the school, which she described as "one of resilience."
"Even in the moment of intense fear and wondering: are we safe," she continued, "they know that they are," but they also want to take action. "They want to make change," she said.
Every student interviewed during the march was adamant about one thing: no arming faculty, as Florida legislators are proposing. "I might demonstrate against that too, I strongly disagree with it," was the way Palmer J. Guthrie, an 11tgh grader, said as he walked the bridge. "I don't think there's too many degrees of separation between a student being dangerous and a teacher dangerous. If you are a law enforcement officer you have an obligation to be armed and are trained to do that, but teachers aren't endowed with that responsibility when they become teachers."
"The idea of putting guns in their teachers' hands is terrifying for a lot of them." Perry said in an interview just before the march, when he was the center of attention, cameras clicking, a TV camera whirring, reporters interviewing him. Dusty Sims, his principal, who is usually at the center of all things FPC, stayed on the periphery, knowing this was his students' moment. But his pride in his students was just as apparent, as it was in the way other officials saw the event.
"I'm very proud of the students. I'm here to support the students and make sure that they know that the school board is behind them," School Board member Andy Dance said. "I spent Tuesday in Ms. [Diane] Tomko's class with two different freshman classes just talking about school safety. She was kind enough to let me come in and take a class over to talk about school safety. It was nice to be able to have an open communication with the students and find out their anxieties and thoughts about school safety."
To O'Brien and Sullivan, the county commissioners, the students' civic engagement was what they sought to celebrate and encourage.
At one stretch during the march, near the midpoint atop the bridge, a man walking the other way, whose appearance and voice seemed equally grizzled by well over half a century, blurted out to the marchers in clear derision: "How many people got shot at at a gun show this week?" A couple of students instinctively were about to react. A faculty member quickly jumped in: "Hey hey, don't give it back, give him love." By then of course the man was long gone, his hurry having signaled as clearly as his derision that he was not interested in a conversation. That was about the extent of the sniping along the march's brief route. If any disrespectful words were spoken from the crowd at Veterans Park, they could not be heard even in the relative silence of the students' seven-minute stand.
Conklin, the school board member, had marched then watched it all from a spot not far from the stage, filming it with her phone. "Very well done. Very moving. Very meaningful," she said when it was over. "It was very beautiful. They did good." Just about then a full moon, spotless and crisp, was rising over the Atlantic, bright enough to add a little white light for those making their way back across the bridge to Wadsworth Park.