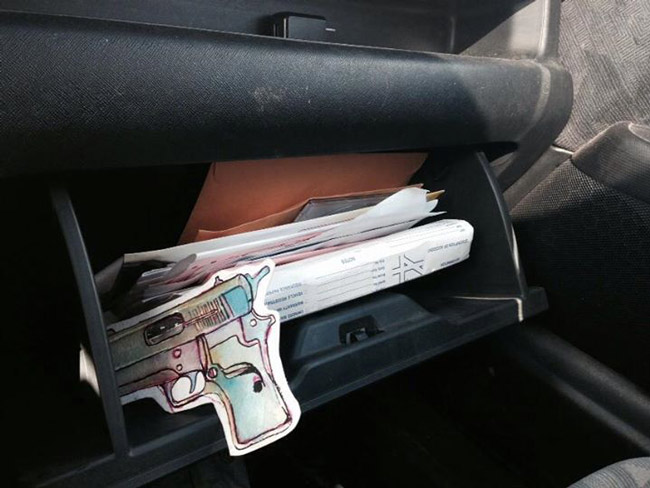 People want their guns, especially in Florida, a state that doubled its proportion of concealed-carry gun permits in five years, and that passed the 1 million mark in such permits three years ago.
But people don't want to be responsible enough with the guns to keep them safe, or to keep them away from criminals.
Since Jan.1, 2014, the Flagler County Sheriff's Office stated in a release issued today, 34 firearms were stolen from vehicles in the county. Of those, only seven have been recovered. The value of the guns stolen has been estimated to be more than $16,500. (An earlier version of this story incorrectly reported the time span as starting in 2015 rather than 2014.)
"More guns in the hands of criminals means more innocent people may be victimized," Sheriff Jim Manfre said in the release. "It also places our law enforcement officers at a greater risk."
The majority of car break-ins in Flagler County are crimes of opportunity: car owners leave their vehicles unlocked. Only a minority of break-ins involve the shattering of door windows or other violent means of gaining access. Most of the break-ins take place in residents' driveways or in commonly used parking lots.
The sheriff's office again reminded residents today to take the extra time to lock their vehicles, place valuables out of sight and remove weapons when the vehicle is left unattended for an extended period of time. Florida law, however, is weak regarding the safe storage of weapons.  The law requires that a loaded firearm be kept in a lockbox or secured with a trigger lock, but only if the gun owner "reasonably" knows that a minor could gain access to the weapon. The law makes exceptions if the gun owner is carrying the weapon, and is vague about vehicles, as it provides that the gun owner may keep the gun "within such close proximity" that he or she "can retrieve and use it as easily and quickly as if he or she carried it on his or her body."
The penalty for violating the law is also weak: it's a second-degree misdemeanor, but only if a minor not only gets hold of the weapon, but goes on to exhibit it in a public place or to use it in a threatening way. (Today, a usually staunch gun-rights advocate, Neil Combee, the Polk County Republican lawmaker, filed that could lead to misdemeanor charges for people who shoot guns recreationally, as in target shooting or celebratory shooting, in certain residential areas, according to the News Service of Florida. The bill, HB 41, could lead to first-degree misdemeanor charges for recreational shooting "in an area that the person knows or reasonably should know is primarily residential in nature and that has a residential density of one or more dwelling units per acre." But as with the gun-storage law, the proposed law comes with generous caveats: there is no punishment if, "under the circumstances, the discharge does not pose a reasonably foreseeable risk to life, safety, or property." It also includes an exception for people defending lives or property or performing official duties.)
The Flagler sheriff's office issued the following safety tips:
Remove all valuables from the interior of your vehicle. Cameras, computers, purses, wallets and other electronics should be locked in the trunk or secured out of sight. This includes the safe storage of firearms.
Always lock your vehicle and activate the alarm, if installed.
Park in well-lit areas when possible.
Join a neighborhood crime watch group.
Report suspicious activity immediately by calling 911.
For more crime prevention tips, call the sheriff's office's Community Outreach Unit at 386/586-2623. Residents with information about any crime in Flagler County may contact the Flagler County Sheriff's Office Investigative Services Division at 386/586-4801, or remain anonymous and be eligible for a reward by calling Crime Stoppers at 1-888-277-8477 (TIPS).