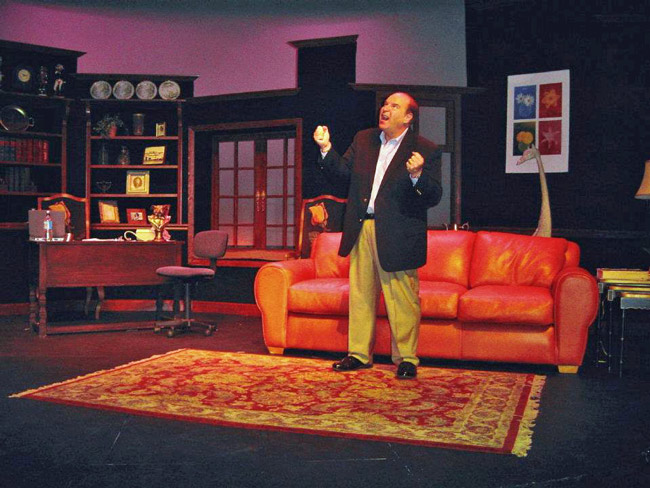 Here's one way to be a successful stand-up comedian: make sure you're born in Brooklyn. That's always a near shoe-in. (Avoid Queens like the plague.) When you're about 12, start by delivering Chinese food in Brooklyn. It's a plus if you're Jewish and pretend to speak Chinese on the intercom. They let you in every time. Then be a physics teacher for a decade. Then—for a punch-line—be an assistant to a school superintendent on Long Island. You'll get more material than you know. The bureaucracy does it. At that point, you're ready to strike out on your own as a comedian.
At the Flagler Auditorium
---
The Ten Tenors on Broadway at the Flagler Auditorium for two back-to-back performances, Saturday April 5, at 3 and 7:30 p.m. Tickets are $42 for adults and $32 for students. For more information, visit the auditorium's website or call 386/437.7547.
Click On:
---
That, anyway, is how Steve Solomon did it. The sound effects, the voice impersonations, the one-liners grafting Jewish humor on Italian hysterics—that was all part of the evolution of the comic who's now a favorite of the Florida circuit, a state that would have no tax base if it weren't for its Jewish and Italian retirees from the Tri-State area.
Solomon is making his fourth appearance at the Flagler Auditorium Friday with "A Night of Laughs with Steve Solomon," the mostly G-rated one-man show that verbally reincarnates his nutty family and all the other wacky characters he encountered growing up in Brooklyn. (Mostly, because some people born in previous centuries might still interpret any joke with the word genital in it as a bit coarse for dewy ears. A Solomon example: "What are genitals?" he asks as a younger Solomon studying for sex-ed. "Those are people that are not Jewish," his grandma answers.)
Based on the names of his award-winning Broadway predecessors— "My Mother's Italian, My Father's Jewish, and I'm in Therapy," "Still in Therapy," and "Home for the Holidays" —he appears bent on proving that humor is pain's most lucrative fallout, particularly family pain, though he virtually swears that he didn't have much of it. According to Solomon, he brings the best of these performances to Friday's show—with some added stand-up.
"It's amazing, I've done over 100 interviews, and I'm always asked how terrible it was growing up. But I had a great family! It was terrific, no chaos," he says. "The only time my parents argued was when it came to Christmas and my Mom said, 'We're celebrating Christmas until the Jews figure out how to spell Hanukkah."
It's a matter of perspective. "Look, you can either let your family kill you, or you can go to therapy, sit in a chair and have them tell you you're not crazy. Have a nice day.
"But it was a big happy family," Solomon says, walking the thought back. "We'd only eat Jewish food or Italian food, which is why no one in my family has a gallbladder."
Asked if that big loving family was capable of appreciating his on-stage impersonations of its various members, Solomon says—naturally, with Solomonic grace–they were generally supportive, with the exception of one "stupid cousin Kenny," who, whether he likes it or not, is also channeled in the show.  "My sister the smoker," he says of one of his most famous characters—the one who can't finish a sentence before drowning out in that characteristic lung-quake–coughs her way through saying, 'Well, at least you made me famous.'"
It wasn't a shock to them. Solomon had been writing comedy on the side for some time but, before he found his voice or voices with "My Mother's Italian, My Father's Jewish, and I'm in Therapy," hadn't been able to break into the ultra-competitive New York comedy scene.  "They knew comedy was my first love and I had always bounced material off them." That didn't mean, immediately at least, that they believed Solomon was putting forth accurate representations of them. "When I tell them about something, they say that never happened but then they see it on stage and they go, 'Yeah, I remember that.'"
Solomon also had some practice in stand-up, you might say, during his years as a science teacher and assistant superintendent in the New York school system, so his students weren't surprised, either. "I was a character in the classroom and I was a character as a superintendent." It's really a trip, when his former students come to his shows—with their own kids.
Solomon was surprised, however. "I never, ever, expected that first show to become such a hit," he says. Solomon recalls when he got the chance to work with one of his comedy idols, the late and definitely not G-rated George Carlin. "I was just in awe," Solomon says, when he got to stand on stage with him. "He was like Buddha."
It's an interesting question whether or not Solomon's comedy can be appreciated, or even understood, in a place where the demographics aren't so close to Solomon's home. It goes over well in Palm Coast because the town is a sixth borough of New York City. But how would he go over in a place as remotely Semitic as, say, the Nebraska Sandhills? According to Solomon, his brand of comedy resonates in places far more outside his perceived comfort zone than that. His shows have traveled well as far off as New Zealand and South Africa, he says.
The reason: Jewish and Italian personalities are only those depicting his family, but his shows also take in all the ethnicities he grew up with Sheepshead Bay, N.Y., which is to say virtually every ethnicity under the sun. All in all, he takes on almost 30 or 40 different personalities, dialects, and characters. The humble man isn't one of them.
"That's my hook. There's really no one else out there I know of doing such a broad range of accents and dialogues," he says. "People are blown away when they see this old guy on stage and he has ten different voices: Italian, Norwegian, whatever, coming out of his mouth."
Solomon says he really started developing his ear and mimicking what he heard as that Chinese food delivery boy in New York, when he was 12, and had to pretend to be Chinese to get people to open their door. "I want someone from England to think that I'm from England or someone from Germany to think I'm from Germany and be able to fool them. That's real pride. I got it down."
So Flagler audiences will encounter foreign cabdrivers, obnoxious airport employees, and the famous, recurring Dr. Asshole, accent on the 'e'. "Why, if I forget to say the Irish guy, some Irish guy reading this is going to get pissed and not see the show," he says. There are no boundaries in comedy, he says. "They don't exist. Political correctness doesn't exist in comedy. It's only the journalists who are scared about not being politically correct. If you're sensitive, go see a different show."
Which explains why his routine can occasionally come off sounding, between fart jokes, mean. So far, he says, he hasn't had any complaints. The purpose of the evening, as the show's name suggests, "is just to have a laugh." There's no deeper meaning than simply holding your aching sides.  "What is comedy? Comedy is being able to laugh at yourself. A guy pulling a zipper up too fast after he pees. Who's he going to blame? That's funny. That's comedy. Comedy is comedy."
An Evening of Laughs Starring Steve Solomon, one night only, April 12, 2013, at 7:30 p.m. at the Flagler Auditorium. Tickerts are $29 for adults, $18 for youths. Call the Auditorium box office at 386/437-7547 or visit the Auditorium's website.