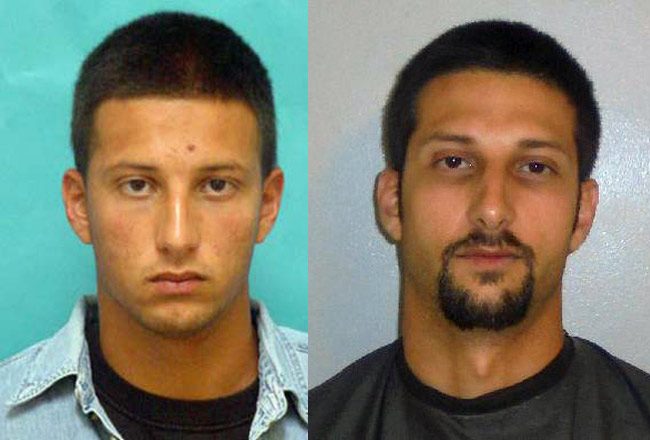 Stephen Goldberg, 32, has a history with the law in Flagler County, starting with his first felony charge in 2005 for assault and battery, when he was 20. It did not stick. The following year he was charged with burglary and larceny. The charges didn't stick: one was dropped, the other downgraded to trespassing. In 2007 he was found guilty of attempted burglary and attempted purchase of cocaine. That got him a nine-month prison sentence.
Since his release 10 years ago he made it through drug court and violated probation a couple of times but otherwise steered clear of the law.
Until today–a week after he was apparently told he could no longer have contact with his young son. ("I will stop at nothing to get you back," he posted on his Facebook page on March 7.)
"I have a guy here that is swinging a knife," Corporal Angela Camit tells colleagues on her COP radio in a relatively calm but alarmed voice. Camit is a member of the sheriff's C.O.P., the Citizen Observer Patrol, and she was driving through Palm Coast's E Section. "Can you please, can you please send somebody? I'm on Easthampton and Eric Drive."
Units tell her they're on their way. "Please," she says, "he's trying to open my door." She describes him: bearded, barefooted, wearing a gray t-shirt. The knife was 20-inches long, and the man tried getting in the vehicle from various doors. He did not succeed. He then took off. Camit followed him to Egan Drive, where he allegedly again ran towards her with the knife.
"She does a pretty good job on the radio," giving directions, Sheriff's Cmdr. Mark Strobridge said.

Deputies arrived at the scene and apprehended the man, who turned out to be Goldberg. (His address when last booked at the county jail a year ago on the DUI charge was 186 Eric Drive, though he faced an eviction notice from 6 Rosedale Place dated last Dec. 19.) He was still being processed and interviewed by deputies and detectives at the Sheriff's Office when the agency issued a press release about his arrest. His arrest affidavit was not yet available.
He was charged with attempted armed carjacking, aggravated assault with a deadly weapon and armed trespassing.
"Had he approached a Sheriff's deputy in this manner, it is likely that we would have had a different outcome," Sheriff Rick Staly was quoted as saying in a release issued by his office this afternoon. The implication is that a deputy might have shot at the man. "Our C.O.P.s are invaluable volunteers who serve and help protect this community alongside our deputies. We will not tolerate anyone threatening harm to them or anyone else." (The release noted that Goldberg's past included an armed robbery charge. While that is accurate in what appears at the jail's booking history, his court docket does not reflect that charge at any point. He was arrested on a DUI charge on March 17, 2016, but again, that charge is not reflected in his court history.)
The release included this note: "In light of this experience, the Flagler County Sheriff's Office will reevaluate the equipment issued to C.O.P.s for their protection."