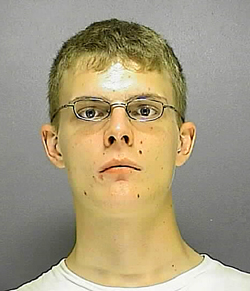 Jacob Penny, 23, a Daytona Beach resident, was arrested Tuesday evening (July 13) by the Holly Hill Police Department on a Flagler County warrant as a result of the July 6 Star Liquor robbery in the Town Center Publix shopping center.
Penny was picked up shortly after 5 p.m, the Flagler County Sheriff's Office reports. The sheriff reports Penny's address as 2552 Anastasia Drive in South Daytona, and says he was arrested by Daytona Beach police. Penny's booking at the Volusia County jail reports his address as 120 Carolina Lake Drive, and credits the arrest to the Holly Hill police.
Penny had entered the store at about 8:30 the evening of July 6, looking to buy liquor. But he had no identification. Store owner Prakash Patel would not sell him the liquor. Penny left, then returned shortly afterward, brought back the bottle of liquor and went through the whole routine of asking Patel to sell him the bottle. When Patel still refused, Penny implied he had a gun and demanded Patel's money from the cash register. Patel handed him about $200.
The entire incident was caught on Patel's surveillance video, which he turned over to the sheriff's office. That video was also turned over to media. (See below.)
"This case was closed through some good detective work and through the assistance of the public who gave us several tips as to Penny's identity," Flagler County Sheriff Don Fleming said. He also credited media for publicizing the video.
Penny was booked into the Volusia County jail on $20,000 bond. He does not appear to have a prior record. His arrest marks the third felony robbery case closed by the Flagler County Sheriff's Office in less than a week. Two Palm Coast brothers were arrested over the weekend in connection with the June 22 robbery of the Hancock Bank in Palm Coast.
---
Star Liquor Robbery[media id=221 width=500 height=400]