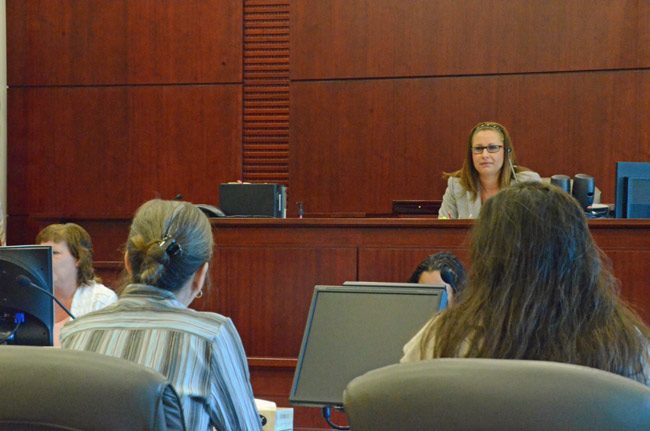 What started as an allegation of simple battery against Flagler Beach City Commissioner Eric Cooley is turning into a gorgon-headed case involving–instead of the three sisters–Sheriff Rick Staly, Cooley attorney Josh Davis and County Judge Melissa Moore Stens.
The sideshow is also turning into a duel between a county judge and a sheriff who twice in the past year has publicly criticized judges' decisions: his office's latest move makes it three times, just 24 hours before his attorney is scheduled to argue motions before the judge–and before Staly himself may have to appear in More-Stens's courtroom.
As the sun rose today Staly was set to testify at a 3 p.m. hearing related to the Cooley case Thursday before Moore-Stens, subpoenaed there by Davis to answer for what Davis considers prejudicial words the sheriff spoke about Cooley after his arrest: Davis was wanting the court to gag Staly, keeping him from saying anything about the case. Staly's office has been fighting the subpoena. His attorney filed a motion to quash the subpoena on Sept. 21. Moore-Stens denied it on Monday.
Later that day the sheriff's attorney filed another motion in county court, asking for a reconsideration of the denial. The court was supposed to hear the motion for a gag order. At 1:38 p.m. today the court docketed a hearing on the sheriff's motion for reconsideration for Thursday at 3 p.m., which means both motions will be heard in succession.
But the Sheriff's Office wasn't happy with Moore-Stens's decision, and has been frantically trying to keep Staly from being summoned to the witness box. At 10:29 this morning the Sheriff's Office attempted top file a stay of the judge's denial. "I am requesting a hearing on this matter today, as soon as possible," Kayla Hathaway, the sheriff's office's lawyer, wrote Nadine Kelly, Moore-Stens's judicial assistant. "I feel I must ask for hearing time today."
Moments later, Circuit Judge Chris France's judicial assistant wrote Hathaway that Moore-Stens would not have time to hear the motion for a stay today. "This motion will have to be heard at the hearing scheduled tomorrow," the assistant wrote. The sheriff's office interpreted that as a denial of its request.
Minutes after 1 p.m., the sheriff filed a civil action in circuit court, calling for Moore-Stens's decision to be reviewed–and to grant a stay. It did so in strong language, claiming that the court (that is, Moore-Stens) "departed from the essential requirements of law and abused its discretion by denying the motion to quash the subpoena" for Staly's personal appearance.
"An agency head should not be forced to testify over objection, unless and until the party seeking the testimony can show the agency head has particularized firsthand knowledge that cannot be obtained by another source," Staly's attorney wrote. In fact, Staly only has peripheral knowledge of the Cooley case, though what's at issue as far as Cooley's attorney is concerned is what Staly did say regarding it–not what he necessarily knows.
Staly was asked directly in an interview Tuesday whether, as matters stood then, he would testify. "I'm not going to answer that question right now," he said. "I don't think our legal tactics are done yet but I wills say this this tactic being used by the defense attorney in my opinion is designed to have a chilling effect on my speech."
Staly said he is an elected official who speaks on behalf of citizens, and that tactics such as the gag order have been used to keep an issue in the news and intimidate victims from coming forward. He sees Davis's approach in similar terms. "I'm just not going to allow that," Staly said. "The victim in this case is concerned about the media coverage, and [Cooley's] attorney is just creating more media coverage by doing this. So when you don't have a case to defend then you start attacking other people. The decision by the judge has far reaching effects in the community," if Moore-Stens were to grant the gag order. "This could be a tactic used in the future to stop information the community has the right to know."
It would be extraordinary if the judge were to grant the gag order, however, given Staly's distant role in the case, his elected status, the general terms he used in reference to Cooley, and the implications on First Amendment law, which sets an extremely high bar for such orders.
Hathaway argues that as a public officer the sheriff is entitled to an automatic stay. "The Order in question would set a potentially unfortunate precedent that would allow future criminal defendants to routinely file gag order requests and require the appearance of this Sheriff, as well as other law enforcement officers, to answer to nebulous accusations of unfair pretrial publicity," Hathaway wrote in her motion today.
Davis in his motion for a gag order argued that Staly had prejudiced a potential jury by saying that Cooley's arrest on a domestic battery charge "goes to show you that domestic violence has no boundaries."
Almost lost amidst all this is the Cooley charge that started it all. The state is prosecuting the misdemeanor battery charge. But the victim in the case has asked the state to drop the case. It's not clear whether the state will go forward at this point, but if it doesn't, the entire issue becomes moot. It's been unclear why Davis has essentially sling-shot the case back to prominence by filing his gag order, though lawyers' tactics are not always explicable.
Davis declined to discuss today's development. He was not aware of the sheriff's filing today–which does not, in fact, involve Davis: the named parties are the sheriff on one hand and, oddly, Cooley and the State on the other, even though Cooley and the State are adversaries in the battery case–and the sheriff's office and the State Attorney's Office are ostensibly on the same side.
As matters stood near the end of business hours this afternoon, the only scheduled hearing was still Thursday's at 3 p.m. before Moore-Stens.