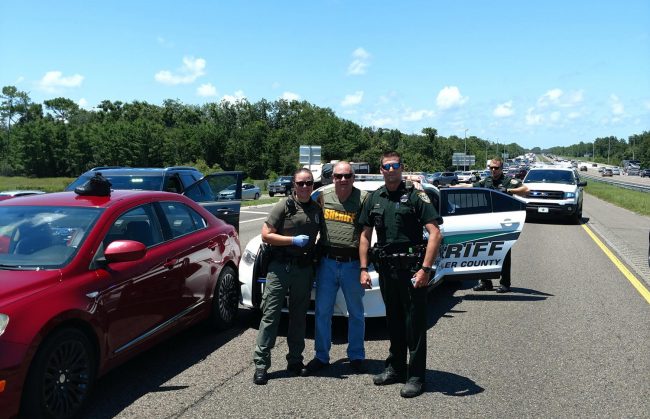 Flagler County Sheriff Rick Staly today pointed a gun at a suspect for the first time in his years as sheriff or undersheriff as he was directly involved in the pursuit and apprehension of two people who'd led Staly and two deputies on a high-speed chase on I-95 this afternoon.
One of the suspect, Tavarius Stokes, 23, had twice been involved in domestic altercations in Bunnell in the past 24 hours, had allegedly pulled a gun on the mother of his child, and was wanted on a warrant out of Volusia County. Stokes is at the Volusia County jail facing several charges.
According to Staly, Stokes initially caught the attention of Bunnell police Friday night when they were dispatched to a house in Bunnell in response to an allegation of domestic violence. Stokes was allegedly "threatening to kill the mother of his child over child custody," Staly said in an interview this afternoon. The Sheriff's Office assisted Bunnell and attempted to locate him. He was not found Friday evening. At around 2 p.m. today, the 911 center got another call in reference to the same house, with a report that Stokes had just been there again, pointed a gun at his child's mother, and fled in a red car.
"We knew from the earlier investigation he was either going to go back to Daytona or he was going to go back to a house in the U section" in Palm Coast, the sheriff said.
A sheriff's deputy around Bulldog Drive spotted Stokes on State Road 100 going east and started following him. Staly had been on State Road 100 himself at that very moment–he'd been on his way to his office to do a couple of things before heading to see a friend in Putnam County. He pulled over to put his bullet-proof vest on and joined the chase. By then Stokes had allegedly started eluding the other deputy who'd spotted him, making a U-Turn just before Old Kings Road, and getting on I-95 going south.
Staly was in the chase with deputies Crista Rainey, Brian Carter and, moments later, Sgt. Ryan Emery–four vehicles chasing a crimson Suzuki that was "driving very reckless," Staly said. "I authorized a vehicle apprehension because he was a known fugitive, violent tendencies, running with a gun, and we needed to apprehend him before he could carry through on his threats."
Stokes attempted to force the cops' vehicles off the road several times, Staly said. "We're up beside him or behind him, he slows down, hits the brakes, at one point we try to force him to the side of the road, he forces us back into the road," the Sheriff said. "He struck deputy Rainey's vehicle, which I witnessed." The fleeing vehicle reached speeds exceeding 100 mph. Seeing what was happening, traffic on I-95 started slowing down and give the pursuing sheriff's vehicles room to what became a tactical stop of the Suzuki right past the State Road 40 exit.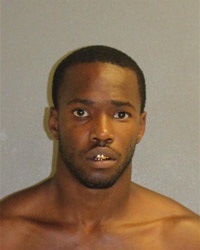 By then Staly had requested the assistance of Flagler County's Fire Flight and Volusia County's Air One, the emergency helicopters, letting authorities know at both ends that he and his deputies would pull back from the chase and let Volusia take over as soon as the helicopters had visuals on the fleeing car. ("We have the right as sheriff's deputies to pursue anywhere in the state of Florida as long as it starts in our county," Staly said.) Pulling back proved unnecessary: the Staly chase trio was able to apprehend Stokes before the helicopters' arrival.
"We were able to box him in where he was not able to go further," Staly said. "Two deputies were able to pull the driver out of the driver's side door at gunpoint, and I pulled the passenger out at gunpoint, put him down on the pavement." Stokes was driving. The passenger, whose identity has not yet been released, immediately told Staly he was not involved in whatever Stokes was wanted for.
"The passenger said he didn't know anything about it, of course he was a passenger in a car that turned out to be a stolen car that was traveling at over 100 mph," Staly said, "so we're still investigating if he was involved in any of the criminal activities of the driver."
And any firearms? "We did not recover a weapon at the scene but we know he threw something out on the Interstate during the pursuit and we've been searching the interstate to find out what that was."
Volusia County took Stokes into custody on their charges, which included grand theft and heroin possession, and Flagler filed charges of grand theft auto, aggravated fleeing and attempting to elude. Flagler is also working on charges of aggravated assault because of the alleged aggressions on the highway, and the Florida Highway Patrol is charging Stokes with leaving the scene of an accident subsequent to his striking Rainey's patrol vehicle, which sustained minor damage.
Initially southbound traffic on I-95 was at a standstill and was diverted onto Route 40 before the three lanes on 95 were gradually reopened.
"We were very fortunate in this that the drivers on 95 realized what was going on and really started slowing down" so there was no traffic in the area where the sheriff and his deputies executed the tactical maneuver on Stokes, Staly said. "We were able to apprehend a very violent fugitive that had no regard for anybody's life without any injuries to the deputies or to the citizens and only minor damage to the car. Suspects' actions dictate what we do, and vehicle apprehensions are extremely dangerous for everybody involved. Fortunately our deputies did a phenomenal job controlling their actions and ultimately apprehending this guy."
Staly has drawn his gun before on warrant searches and in situations where the suspect or suspects were not in sight, but since he's been undersheriff or sheriff, going back to 2012, today's incident was the first time he had to point his gun at a suspect. Staly in his earlier days on the beat was shot in the line of duty when he was reaching for his gun, an incident that marked its 40th anniversary last month. He was shot in the arm, and a bullet-proof vest he'd bought himself saved his life, as another bullet would have lodged in his chest otherwise: pulling over today to pull on a bullet-proof vest was not just to comply with Sheriff's Office policy but with personal memory.
As for the incidents at the Bunnell house that triggered the chase, that's Bunnell police's case. Staly, for his part, resumed his planned Saturday activities. In the back of his car he'd stashed his fast-draw gun and all the equipment that comes with it (Staly has participated in fast-draw competitions the last two years, winning two years ago and being the runner-up this year): he was planning to practice fast-draw with his friend in Putnam before dinner. Assuming he doesn't run into miscreants on the way.