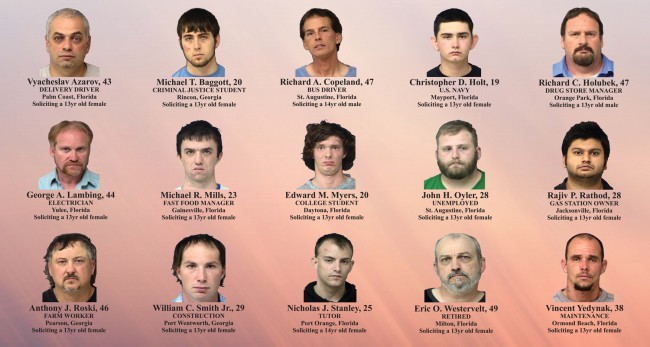 The St. Johns County Sheriff's Office arrested 15 men in five days last week in a sting operation targeting individuals soliciting minors for sex. The operation was called "Operation No Soliciting. Arrests included one suspect from Flagler County, Vyacheslav Azarov, 43, a delivery driver from Bridgehaven Drive in Palm Coast.
For the St. Johns Sheriff's Office, it is the second operation in two years designed to identify persons who use the Internet to sexually exploit children. Multiple agencies participated in the operation under the auspices of the North Florida Internet Crimes Against Children Task Force. Those agencies included the FBI, the U.S. Marshals' Task Force, the Florida Department of Law Enforcement, the State Attorney for the 7th Judicial Circuit, which includes Putnam, Flagler, Volusia and St. Johns counties, the Sheriff's Offices of St. Johns, Alachua, Volusia, Clay and Brevard counties and the Gainesville, Daytona Beach and Tallahassee
Police Departments.
The operation involved undercover detectives posing as juveniles or parents online to arrange for unknown suspects to meet with them at an undercover house that was located in the Northwest part of St. Johns. Between last Wednesday and Sunday, 15 individuals solicited a parent or guardian or minor online and traveled to the undercover home in an attempt to have sexual activity with children between the ages of 13 and 14. Once the suspects arrived at the home they were taken into custody.
Three of those arrested traveled to St. Johns County from different areas of South Georgia, three came from Volusia County, two came from St. Johns, Duval and Alachua Counties and one each came from Clay, Nassau, and Flagler. The 15 suspects range in age from 19-49 years old and each faces three to four felony charges such as using a computer to solicit a child, doing so with obscene communication, and using a two-way device to facilitate a felony. A St. Augustine bus driver also faces two drug charges. Bond ranging between $75,000 and $200,000 was set for each suspect.
The suspects, as provided by the St. Johns Sheriff's Offfice:
Rajiv Pravinkumar Rathod, 28, 6455 Argyle Forest Blvd., #906, Jacksonville (Service Station Owner)
Christopher Daniel Holt, 19, 7508 Wycombe Dr. N., Jacksonville (U.S. Navy)
Richard Charles Holubek, 47, 2890 Maricopa Ct., Orange Park (Drug Store Manager)
Nicholas Joseph Stanley, 25, 1391 Handen Rd. East, Port Orange (Tutor)
Richard Allen Copeland, 46, 1324 Pappy St., St. Augustine (Bus Driver)
Anthony Joseph Roski, 46, 2055 Antioch Church Rd., Pearson, Ga. (Farm Worker)
George A. Lambing, 44, 8650 Jake Carlton Dr., Yulee (Electrician)
Eric O'neal Westervelt, 49, 6928 Kapok Dr., Milton (Retired)
William Claude Smith Jr., 29, Pt. Wentworth, Ga. (Construction)
Vyacheslav Azarov, 43, 32 Bridgehaven Dr., Palm Coast (Delivery Driver)
John Houston Oyler, 29, 137 Buck Run Way, St. Augustine (Unemployed)
Michael Tyler Baggott, 20, Rincon, Ga. (Criminal Justice Student)
Edward Michael Myers, 20, Daytona Beach, Fl. (College Student)
Michael Roger Mills, 23, 2863 SW 38th Pl., Gainesville (Fast Food Manager)
Vincent Yedynak, 38, 955 S. Nova Rd., Ormond Beach (Maintenance)