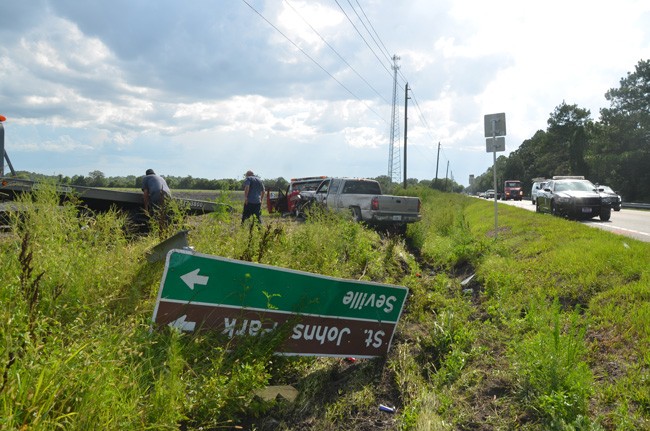 State Road 100 at County Road 305 was temporarily closed in both directions this afternoon following a wreck involving a pick-up truck and a sedan that sent four people, including a child, to hospitals in Palm Coast and Daytona Beach.
The identities of the victims are not yet known.
The wreck took place at 3:30 p.m. According to a Florida Highway Patrol trooper investigating the crash at the scene, a Toyota Camry and a Chevy pick-up truck were both heading west on State Road 100. Two adults were in the pick-up truck, an adult woman and a child were in the Toyota.
The driver of the Toyota had slowed to make a left onto County Road 305–which is under re-construction, but still open to local traffic. The driver of the pick-up truck attempted to pass the Toyota "in a no-passing zone," the investigator said. As the pick-up was attempting that maneuver, the Toyota, making the left, struck the Chevy, sending the pick-up truck into a ditch on the north side of the road.
The pick-up struck a culvert and felled a road sign, ending up in the ditch facing west. The pick-up was heavily damaged. The Toyota was not seriously damaged. It stayed on the road, but ended in the eastbound lane, facing west.
One of the individuals in the pick-up truck was transported by ground to Halifax hospital in Daytona Beach. The remaining victims were taken to Florida Hospital Flagler.
Saxon's towing of Bunnell had removed the wreckage by 5:30 p.m. By then, the road had been reopened. Flagler County Fire Rescue and the Palm Coast Fire Police responded to the wreck.