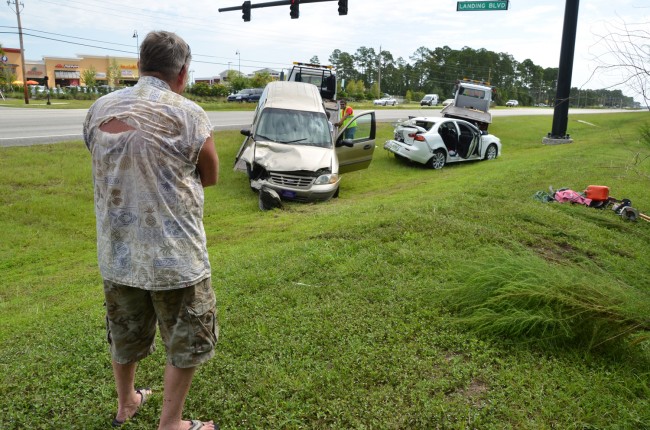 It was 10 o'clock this morning. A 50-year-old woman was at the wheel of her Mitsubishi, going east on State Road 100. She was stopped at the light at Landing Blvd., one of the entrances to the Town Center shopping mall, in front of Dunkin Donuts and Pizza Hut. She was in the outside lane. Jose Boirie, 51, and Felipe Casto, 20, were in their Honda on the inside lane, parallel to the woman in the Mitsubishi.
As soon as the light turned green, both cars started moving east when Bill Kinnell, 63, of Bunnell, driving a Ford Windstar LX van, slammed into the Mitsubishi from behind.
"The lady in front of me stopped, reacted sooner than I could and I hit her from behind," Kinnell said, his right wrist in a bandage from a gash he suffered in the wreck.
Boirie, owner of CompuTec Solutions in Bunnell, saw it differently. "You know when the light just turns green and you just start barely out? Man, he just came barreling out," Boirie said. "He was flying. He had to be flying."
"No brake lights. Just the crash," Casto said. "We can call it our lucky day. He just missed us by what, 10 inches?"
The woman in the Mitsubishi was not as lucky. She was able to walk and talk when paramedics arrived at the scene, but was taken to Florida Hospital Flagler for treatment. The Mitsubishi itself had been shoved to the shoulder, its rear end turned into an accordion-like mash. Kinnell's van veered into the wood-line from the force of the crash. There were no tread marks behind the stoplight, suggesting that the van hadn't applied its brakes before the crash.
Kinnell was removing light construction and maintenance equipment from his van–a saw, power tools, an electric cord–and placing them on the grass on the shoulder as a Florida Highway Patrol trooper completed his report. One lane on SR100 was closed for about an hour. The scene was cleared shortly after 11 a.m. when Roger's Towing towed the van.