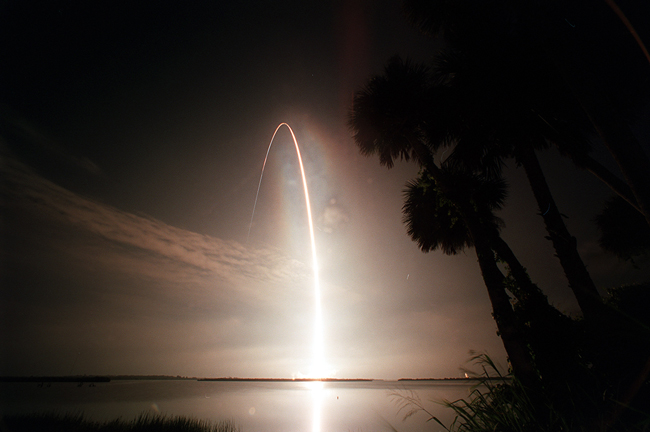 Last Updated: July 8, 9:08 a.m.
Space Shuttle Atlantis is scheduled to lift off from Cape Canaveral's Kennedy Space Center at 11:26 Eastern Daylight Time on Friday, July 8. That's still the scheduled time.
At 9 a.m. today, NASA reported: "All four STS-135 astronauts are now aboard space shuttle Atlantis. The Close Out Crew soon will prepare to close the hatch for flight and verify the integrity of the hatch seal before breaking down the White Room and departing the launch pad. Weather still is 30 percent "go" as forecasters watch a band of thunderstorms moving from southwest to northeast across Florida. While weather remains dynamic, Launch Director Mike Leinbach told the launch team earlier, "We do have a shot at this today." There are no major technical issues and launch remains on schedule for 11:26 a.m. EDT for the final flight of the Space Shuttle Program."
The 70 percent chance that clouds or bad weather would delay the launch until Saturday or Sunday.
Half a million to three quarter of a million people are expected in the area of the launch. Flagler's beaches, particularly in Flagler Beach, are expected to be heavily trafficked as well, so if you intend to watch the launch from anywhere near the pier, plan accordingly.
STS-135, a 12-day mission to the International Space Station. Atlantis will carry a crew of four and the Raffaello multipurpose logistics module containing supplies and spare parts for the space station. The STS-135 astronauts are: Commander Chris Ferguson, Pilot Doug Hurley, and Mission Specialists Sandy Magnus and Rex Walheim. The full NASA briefing on the mission is available here.
Read the mission's complete story here. You can watch NASA briefings and countdown video below.