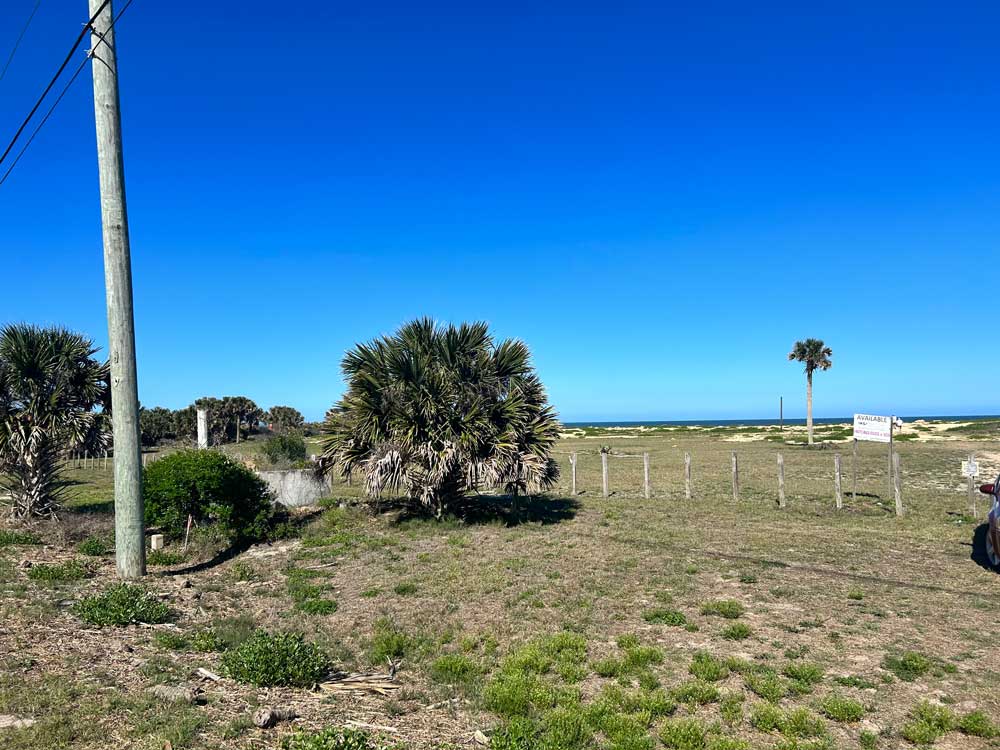 A seaside development just south of the Surf Club condos on State Road A1A gave residents and the county plenty of heartaches when it was first proposed almost 20 years ago. It's back, in different form. So are the heartaches.




One county commissioner was ready to kill the proposed Solitude at Matanzas Shores project outright at a hearing Monday before another, who was no less skeptical, threw it a lifeline. He's giving its developers 30 days to work out legal, density and geographical issues commissioners and neighboring residents find deeply troubling: the proposed development would be within a few steps of a duneless shoreline that has been eroding under violent and recurring storms. And it would be on acreage that, residents say, has been prone to torrential southbound flooding in recent storms.
Carol Scott, a longtime Lakeside resident across the street, simply called it a "disastrous plan."
Solitude Homes at Matanzas Shores would be built on 3.9 acres of vacant, all but tree-less land at 6645 North Oceanshore Boulevard (or A1A), between North Oceanshore boulevard and the ocean. It's catty corner, across the road from the rather dense Las Casitas development the County Commission approved in 2018, which abuts the older Lakeside By the Sea development to the north. It would be just south of Surf Club III, the condominium.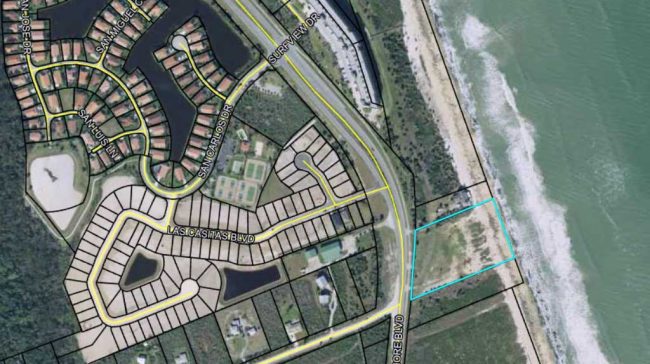 It used to be the Grenada Campground at the north end of Washington Oaks State Park, and had housed mobile homes and recreational vehicles for decades. The parcel was designated for apartment construction. There was a proposal to that effect in the middle of the aughts, which would have resulted in a 41-unit condominium project. The planning board recommended approval of the project, but a neighbor sued the commission. A settlement agreement cleared the way for 14 town homes split into two buildings, with conditions.
"This is a vested project," Mike Chiumento III, the land-use attorney representing the developer, told commissioners Monday. "This project right here does not need any further approvals from the county commission other than go in and do your site plan and your construction drawings. So this isn't a matter of, can we build something here. This is the project that is approved today, for 14 town homes."




The project was approved as a special exception, which enabled negotiated conditions. Three years ago the developer met with the county administration and with the Matanzas Shores Owners Association to connect the project to the association's sewer system. "We think the project that we're proposing is better" than the previously vested proposal, Chiumento said, "and I know some of the residents in the neighborhood felt that the project proposed is aesthetically better."
The developer's request is to amend the special exception to go from 14 attached town homes 16 detached homes.
Dunes fronting the ocean would be built by the developer. They would consist of 10 cubic feet per foot. "When the next hurricane comes and washes it out, will he have to restore the dune or will the county have to restore the dune?" a resident asked, referring to the developer.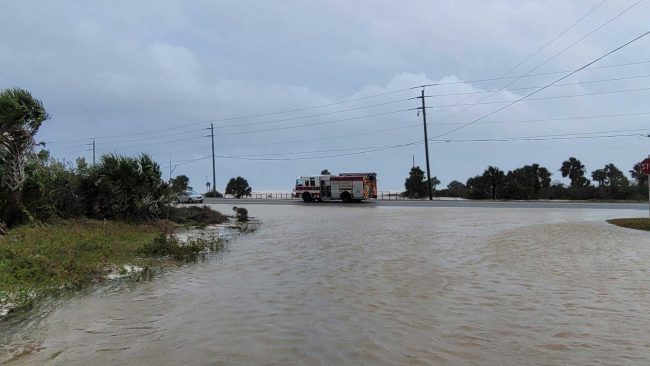 There would be a 6-foot-high natural vegetation barrier on the north and western perimeter of the parcel. A public walkover on an easement 15 feet wide would have to be provided at the south end of the development. But there would be no parking associated with that path.
The development itself would be a tight squeeze, relatively speaking: The 16 homes would be built along a roughly L-shaped lane ending in a cul-de-sac wide enough to allow for firetrucks to turn. The homes would be on 40-foot wide lots, with side set-backs between homes of just 5 feet, front yards of 20 feet, and rear setbacks of 10 feet. The homes would have a minimum living area of 800 square feet. They would connect to central sewer.




"I don't know legally how you can approve this project under the current RC zoning," said Dennis Bayer, the attorney representing the Hammock Civic Association. He was involved in the lawsuit almost 20 years ago, representing the man who sued. RC zoning is residential-commercial.
"If they had applied for single family residential like this, they would have had to put on 75-foot-wide lawns," Bayer told commissioners. "So I don't see how you can amend a special exception to allow multifamily, now to allow single-family that doesn't meet any of the space requirements for RC zoning. It's not PUD light, I just don't see legally how you can get there. Particularly where the lot square footage area of 2,800 feet is less than one third the requirement of the 9,000 square feet. The lot width of 40 feet is 35 feet short of the 75 feet required. The lot length of 70 feet is 50 feet shorter than the 120 foot required, and the front setback of 20 feet is also shorter so and your maximum lock coverage is 171 percent over the existing RC zoning that's allowed. So again, I don't know how you can get there from here."
He described the development as enabling urban density that, without a rezoning, "should not be allowed." Whether swayed by Bayer or by his own analysis, Dance, the savviest of the commissioners on land use issues, was equally critical, starting with the way Planning Director Adam Mengel had described the project in his own introductory presentation. Mengel had called it "PUD light."
The site is considered too small for a PUD, or planned unit development–the sort of development that enables more regulatory conditions–because it's smaller than 5 acres.
"Can you direct me to the place in the land development code where we define PUD light?" Dance asked Mengel.
"He just made that up," Commission Chair Greg Hansen said. That left Dance perplexed, though for Dance perplexity is often a mask for annoyance or exasperation he politely doesn't show. "There's no such thing as PUD light," he said later in the hearing. "Going to be really kind, but we're making things up as we go."




Dance was also unconvinced about either designs–the 14 or 16 units–that had been proposed. "I feel like I'm trying to fix a bad design with a terrible design and I don't think there's a legal basis for it either," he said. "I don't know how we transfer the density and the conditions from a multifamily project to a residential single family project. I have trouble with that translation when you can't permit a single family project in RC without meeting the lot dimensional requirements."
County Attorney Al Hadeed agreed, calling it "incredibly problematic" and a product of procedures from a previous era. "It's my opinion that they are not entitled to any number of single-family residential projects. And the board could make that conclusion. This is going to be a close one and a challenging question for the board. But it is a point well made."
Mengel, the planning director, pointing to the county code, to previous approval and the settlement agreement to justify his findings, which were kinder to the developer.
Chiumento had said that the new proposals had found support among neighboring resident. If so, they did not number more than one, among the dozen or so who addressed the commission that evening: Steve Geiger, a Surf Club condominiums resident, said he loved the concept. But he also had concerns about the traffic hazards on A1A and the turning lanes within the development.




Mengel had pointed out the potential traffic hazards ahead. "We're going to need to have a northbound deceleration lane to make a turnout into it, a right turn, and then we'll also need most importantly, a southbound left turn," he said. "We'll be talking with [the Florida Department of Transportation] about that, to the degree that we can influence that to happen. This is one that I think you'd want to do at the front versus waiting at the back and waiting for the crashes and accidents to happen."
Some residents addressed flooding. One of them showed a picture of water flowing south, through the property in question. Another recalled the recent storms that swelled water at nearby Washington Oaks, where the water was so deep, he said, "you could kayak" there.
Dennis Clark of the Hammock Community Association, and a member of the Scenic A1A committee, pointed to the county's comprehensive plan, which "dictates that properties between designated scenic roads and wetlands or open water shall be zoned to the lowest intensity allowed for the respective future land use categories. Now I know it doesn't say density, it says intensity, but you know what it means."
Scott, the Lakeside resident, said the beach in the area "has eroded so much, that Surf 3, which is the Surf Club closest to this site, cannot build a walkover. The ocean has eaten away so much of that area. Then this particular site," she continued, "there's quite a bit of leakage, of oil leakage from various things, probably the trailer park that was there for some years," with no documented clean-up. There's a lot of concrete surrounding the property, setting up flooding on it. "So I urge you so much to vote this down. It should never have been approved in the first place."
It was nearing 9 p.m. Hansen at one point had been willing to support the development if only the buffers were expanded to 40 feet throughout. But within the hour, he'd changed his mind: "I don't like it for several reasons. I don't like the 16 unit," he said. "I think we need to cut that off so we get at least a decent setback. I don't like east of the coastal construction line. I just don't like that. I don't think it's smart. Why should we approve this when it's going to create problems for us?"




Commissioner Dave Sullivan wasn't any more supportive, even questioning some of the setback calculations. Commissioner Leann Pennington, who likes to be deliberative, noted the hour as she spoke of the many questions she still had. She didn't want to prolong the hearing, and suggested it be continued to a later date.
"I'm willing to just say no, so we don't have to continue it," Sullivan said.
Dance was not willing to be that categorical. "Legal issues are still prevalent in my mind," Dance said. "Legally, I need clarification if this even comes back." He offered 30 days, and direction: "The starting point is mirroring the density of the prior development. I think if you're going to call it a PUD light, it needs to reflect more of the PUD requirements. You can't take the best of every option and try to create something, because there's reasons some of those are put in there." He added: "I'm not at an approval or denial. I'll second to table. But I think everybody should give the applicant some clarification."
The matter will return to the commission on April 17 at its 5 p.m. meeting. Sullivan voted against the motion, underscoring his opposition to the development.

solitude-backup(1)