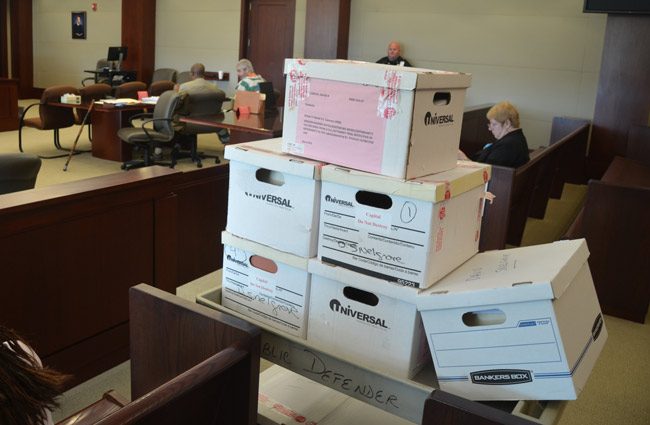 Seventeen years after the murders, 15 years after a jury found him guilty and sent him to Death Row since, many appeals and two sentences to death later, David Snelgrove's fate has yet to be decided. And based on this afternoon's hearing before Circuit Court Judge Dennis Craig in Bunnell, it may yet be a while: the case has become a rancid illustration of Florida's unsettling and often—judging from two recent high courts' decisions–untenable capital punishment law.
Snelgrove, 44, has already been sentenced to die twice for the double murders of Glyn Fowler, 84, and his wife, Vivian, 79, on Bannbury Lane in Palm Coast in June 2000. But the jury in one sentencing recommended death in a 7-5 split. The second jury recommended death 8-4.
Last year the U.S. Supreme Court declared Florida's method of sentencing people to death unconstitutional. The Florida Supreme Court followed suit last October. Earlier this year the Legislature approved a new law requiring unanimous juries when recommending death, and the Supreme Court swiftly rejected Attorney General Pam Bondi's challenge.
Then came the many Death Row cases affected by the new law. Some 400 people are on Florida's Death Row, perhaps half of them eligible for new sentencing phases. In May the Florida Supreme Court ruled that Snelgrove is among them. He had to be re-sentenced yet again.
"It's been a nightmare. I'd like to put it to rest, get it over with," Randy Fowler, 63, the son of the murdered couple, said in 2015, when Snelgrove was disputing a different aspect of his sentence. "The judicial system is taking way too long. Too many excuses. Too many appeals. But I guess it's our system."
Here's why it's about to take still longer.
Today's hearing had little to do with his next sentencing. It was a "status" hearing—basically, about scheduling the next hearing that is to decide whether to have a hearing about something else that still will not actually be his sentencing. The complications are due to the fact that it's a capital case, when every legal step, every legal standard, every procedural issue, is litigated then re-litigated every time a standard may have changed along the way.
And standards have changed in the decade and a half since Snelgrove was first found guilty. A lot. Which means that his third sentencing, if it even gets to that point, will be essentially like another trial, in front of a jury, with a series of pre-trials ahead of it to work out numerous complications.
The Florida Supreme Court could have ruled that given Snelgrove's past legal route, particularly the decidedly non-unanimous verdicts for death, his death sentence could be commuted to life in prison without parole. But if that decision is to be reached, the Supreme Court signaled that it would have to happen at the trial court level.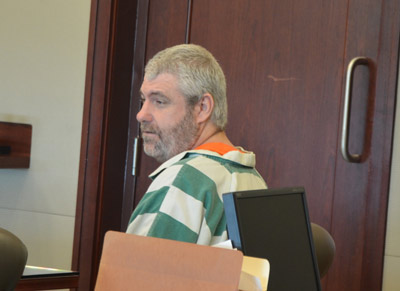 And so the wrangle began this afternoon between Jennifer Dunton, the assistant state prosecutor, and Matthew Phillips, the public defender representing Snelgrove.
Phillips hasn't defended him before, because the case was in the hands of what's called Capital Collateral Regional Counsel, attorneys who plead on appeal on behalf of Death Row inmates. The law bars those attorneys from representing a defendant at the trial court level. So Phillips has to start over with Snelgrove's case. It's no small task. There are 20 boxes of documents in the case, in a warehouse somewhere. Whatever happens, Phillips asked Craig today that he'd need at least until January to get up to speed. "I'm really not prepared to even offer an idea of when we could select a jury," he told the judge today.
The same is true of Dunton, at least in so far as her not having prosecuted the case before. When Snelgrove was last in court, contesting his previous sentence by charging improper representation, Assistant State Attorney Rosemary Calhoun represented the state.
But other things must happen even before the two sides get up to speed on the heart of the case.
There's the matter of Snelgrove's mental capacities, a question that may pre-empt getting to the sentencing phase, if it is decided in Snelgrove's favor. In sum, Snelgrove's attorney is arguing—or will argue—that Snelgrove's intelligence does not meet the standard required to make him eligible for the death penalty.
That, in fact, has been one of the main reasons juries have not been unanimous in recommending death. His mental capacities are not high. The question, however, has always been whether they are below the legal cut-off that makes executions permissible.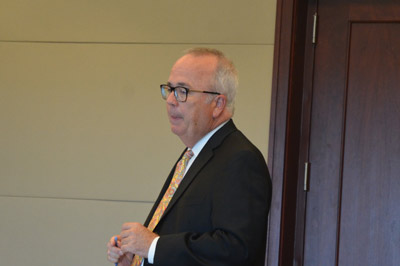 When he was convicted and sentenced the first two times, the legal standard was a hard number: if the defendant's IQ was below 70, he could not be executed. If it was above that, he could. (Snelgrove scored a 70 on a test administered during the second sentencing.) But in 2014, the U.S. Supreme Court made that cut-off less strict. The court recognized that there is no such thing as an unfailing IQ number. It is more of a range. It has a margin of error. That margin was placed at five points ether way. The court went further, establishing yet more standards that must be met to find an individual mentally challenged or not: functional intelligence must be taken into account. And if there was or is a "mental deficit," that has to be documented as having existed before the defendant was 18.
All those questions and standards can be argued in an evidentiary hearing, following which the judge will rule on this morbid irony: whether Snelgrove is intelligent enough to be executed, or not.
But deciding whether there should be such an evidentiary hearing must itself be argued before Craig first.
That's not what took place today. Rather, the lawyers and the judge today agreed to hold a hearing on whether to hold that evidentiary hearing. That pre-hearing is set for Oct. 27.
"I guess we need to take a look at that issue and probably decide exactly what they're telling us," Craig said, referring to the Florida Supreme Court decision that sent the case back to the trial court for a re-sentencing, though that decision seems to make it clear: "Snelgrove is not entitled to postconviction relief pursuant to the United States Supreme Court's decision in Hall v. Florida," a reference to the seminal 2014 U.S. Supreme Couyrt case on mental disability, continuing: "Snelgrove was permitted to present evidence of all three prongs of the test for an intellectual disability. The trial court considered each prong in tandem in determining that Snelgrove was not intellectually disabled; no single factor was considered dispositive."
What Craig was deferring to, when he acceded potentially to giving Snelgrove another hearing on his intellectual disability, was not the Supreme Court's controlling opinion, but to Justice Barbara Pariente's dissent on that score. Dissents don't carry the force of law, but they are not without force, and in fact often shape the evolution of laws to come. Pariente wrote: "I would remand for a new evidentiary hearing on Snelgrove's possible intellectual disability in light of the fact that the first evidentiary hearing on that matter occurred in 2009, prior to the United States Supreme Court's decision in Hall v. Florida."
Craig is doing what judges do: they don't want their proceedings reversed on appeal, so they cover every base they can to ensure that. He hasn't yet granted the evidentiary hearing. He's only giving the defense a chance to make its case for one. The state will most likely point to the controlling opinion by the Supreme Court to say that the evidentiary hearing is not needed. But whether Craig grants that hearing or not may set a tone for what would happen after that—it may indicate to what extent Craig is willing to hear the arguments about Snelgrove's mental capacities, which itself may point to whether Craig would end up pre-empting yet another sentencing phase by ruling Snelgrove incompetent to be executed.
Finally, there's the matter of Craig himself: he was in the State Attorney's Office from 1998 to 2011, though never in the Homicide Investigations Unit that prosecuted the Snelgrove case. "I'm not even sure who did it," Craig said. So he wants to hear from both sides whether he should recuse himself from the case. That too will be decided at the October hearing.
Snelgrove was not in court today. He asked not to be present for a mere status hearing. But he will be present in October. He is being held at Union Correctional Institution, the state prison between Starke and Raiford southwest of Jacksonville.