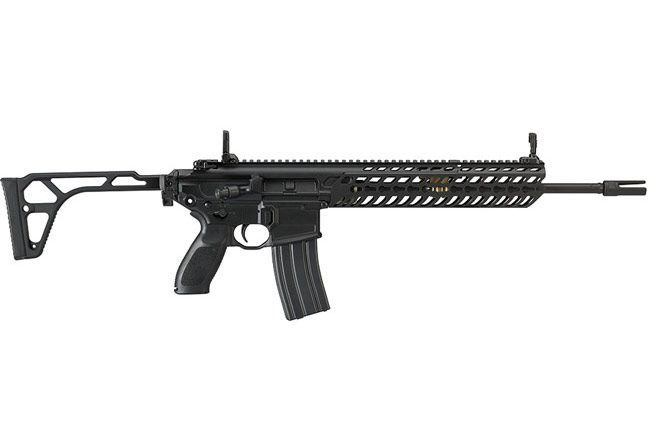 In the wake of mass shootings at an Orlando nightclub and at the Fort Lauderdale airport, the gun-control debate intensified Tuesday with Democratic lawmakers filing legislation to try to improve gun safety while an appeals court heard arguments about local-government gun ordinances.
Sen. Gary Farmer, D-Fort Lauderdale, and Sen. Linda Stewart, D-Orlando, announced they are sponsoring a proposal (SB 254) that would ban so-called assault rifles and "large capacity" ammunition magazines. Rep. Carlos Guillermo Smith, D-Orlando, is sponsoring the measure (HB 167) in the House.
The bills would specifically ban the ownership of Sig Sauer MCX semi-automatic rifles, which was the type of weapon used by Omar Mateen in killing 49 victims at the Pulse nightclub in Orlando in June.
"We cannot continue to say I'm sorry or let's pray for these folks. We do. But that's not what we need. We need gun-safety legislation," said Stewart, whose district includes the Pulse nightclub. "We've got to start talking about this and we've got to start acting."
Smith said banning military-style assault weapons is part of a "common sense" approach to gun control, while also urging lawmakers to improve funding for comprehensive mental-health programs.
"I think it is common sense, and Floridians understand that it is wrong and unacceptable for civilians to have access to firearms that can fire 30 rounds, like a Sig Sauer MCX, in a matter of seconds," Smith said.
In addition to the assault-weapon ban, Farmer said he is working on other legislation, including a measure (SB 142) that he said would eliminate "loopholes" in Florida's trigger-lock law, which requires guns to be safely secured when they are kept near children 16 or younger. Farmer is also working on a bill calling for broader background checks for gun purchases, although the measure has not been filed.
Farmer's district includes Fort Lauderdale-Hollywood International Airport, where five people were fatally shot Friday. He said if some of the measures had been in place, "perhaps" they could have prevented some shooting tragedies, although he said it would take a "concerted" effort by multiple levels of government to deal with the problem.
"But we must begin somewhere," Farmer said. "These are small yet important steps, if passed, will move Florida to a place where families can live, play and work and, yes, travel to an airport safely and without fear of being gunned down."
The gun-safety legislation is supported by a coalition of groups including the League of Women Voters of Florida, the Florida PTA and Equality Florida.
But the legislation sponsored by three minority-party, freshmen lawmakers will face significant opposition in the Republican-dominated Legislature, which has been more supportive of gun rights rather than efforts to curb guns.
In fact, a few hours before the lawmakers held their gun-safety press conference at the state Capitol, another group led by Tallahassee Democratic Mayor Andrew Gillum was at the 1st District Court of Appeal, urging the judges to find unconstitutional a law that preempts local governments from passing gun-control ordinances.
Under the law, Gillum and other members of the Tallahassee city government were sued by gun-rights groups, including Florida Carry Inc., because they refused to remove a decades-old city ordinance that prohibits shooting guns in a public park.
Gillum and other Tallahassee officials could be subject to a $5,000 fine and possibly removed from office under the 2011 law for defending the local ordinance, although the gun groups' lawsuit was rejected by a circuit court. The lawsuit is now the subject of the appeal.
"These kinds of pre-emption laws take power away from local citizens," Gillum said. "When the state overreaches, and takes away our ability to make decisions that we believe are in the best interest of the people who elect us, that is bad for democracy and that is bad for local home rule."
Eric Friday, a lawyer representing Florida Carry, said the Tallahassee officials "swore an oath, and took a job, to follow the laws of the state of Florida."
"They have chosen not to do so. They have stated here that they want to continue to regulate firearms, whether the Legislature tells them they can or cannot," Friday said.
Friday likened the pre-emption gun law to the uniform traffic code for the state.
"The city doesn't just get to do whatever they want, just because they want to do it or just because they don't like the law," he said.
The three-judge appellate panel will issue its opinion at a later date.
–Lloyd Dunkelberger, News Service of Florida