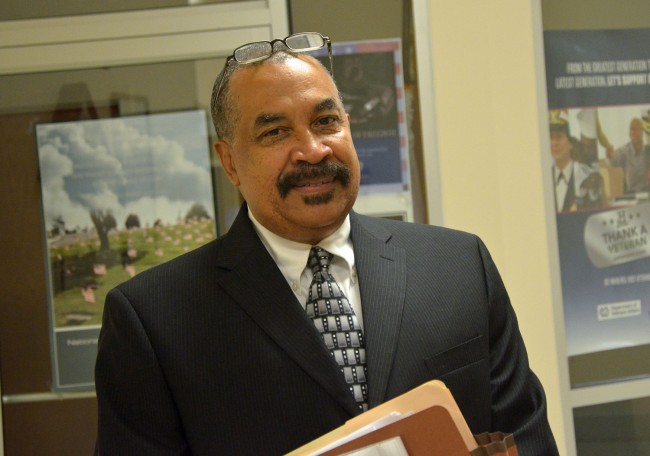 Sid Nowell, the city attorney for Bunnell for the past eight years, announced his resignation to top city officials today, citing health issues. Nowell intends to formalize his announcement at the Bunnell City Commission meeting Monday evening.
Commission meetings have lately provided more drama and entertainment than the stage of the nearby Flagler Playhouse.
Nowell, 62, is a partner in the Flagler Beach law firm of Bayer Nowell and McGuire, and it was the whole firm that the city commission hired when it renewed its attorney's contract in October 2011. The firm is itself resigning its services, Dennis Bayer said, along with Nowell.
"The firm is basically resigning and allowing the city to pick new counsel," Bayer said. "It has nothing to do with any of the recent headlines or news coming out of the city of Bunnell."
Bayer added: "It's a good time for a transition, and we're certainly going to stick with the city until they find a replacement."
At the April 22 meeting of the commission, City Commissioner John Rogers moved to fire City Manager Armando Martinez (the motion failed on a 3-2 vote), only to be upstaged by the public resignation of City Clerk Dan Davis, who said he could not work for Martinez anymore. Davis cited an affair that the police chief was allegedly having with the finance director, a case Nowell was involved in, telling the manager that there was nothing he could legally do about it.
The commission has also been convulsed by the latest election in March, which changed the balance of power in favor of Commissioner Elbert Tucker, and away from what had been the slim majority that had retained Nowell in 2011. At the time, Nowell and his firm were hired on a 3-2 vote, with Tucker and Commissioner John Rogers wanting Lonnie Groot as the city attorney. The March election of Bill Baxley, an ally of Tucker, gives Tucker an opening to hire Groot.
Tucker said late Friday that's just what he intends to do.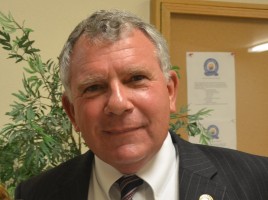 "I haven't changed my mind since the last time," Tucker said  of Groot. "He was the only certified city attorney." Tucker said he would put Groot's name forward again.
Politics may be playing a role in Nowell's decision to resign, but that role may in fact be more minor than other issues—Nowell's health and other involvements, professional, intellectual and civic, among them.
When Nowell's firm was hired in October 2011, the firm included—on an of-counsel basis–Jim Manfre, who has since been elected Flagler County Sheriff. Manfre re-hired Nowell as the sheriff's office's attorney, just as he had when Manfre was sheriff between 2001 and 2004. The job can be quite demanding on its own.
Manfre and Bayer had both sat in on a few Bunnell City Commission meetings since 2011, and until Manfre's election, but Bayer's firm has been rapidly picking up a heavier workload, making its commitment to Bunnell more difficult to sustain, and impossible without Nowell.
The city itself has important issues for the next attorney to negotiate, among them the acquisition of the Plantation Bay utility and issues surrounding the city's Community Redevelopment Agency (the redevelopment of downtown Bunnell). It is also unlikely that the friction over Martinez's tenure was terminally set aside at the previous meeting.  Martinez, usually prompt with returning calls, did not return a message left on his cell phone Friday evening. A call was not placed to Nowell, who was recovering from minor surgery.
Nowell, a native of the Bronx, moved to Flagler County in 1999 after a long career as an attorney with the U.S. Department of Labor, the National Labor Relations Board, the New York Housing Authority and several years in private practice. In Flagler County, he practiced with what was then the law firm of Chiumento & Guntharp, and at what was then Knight, Dwyer & Nowell, a firm where he worked with Marc Dwyer, who would become a rival in the two men's contention for a Flagler County Circuit Judge seat in 2010. The seat was won by Dennis Craig. Dwyer has since joined the Chiumento law firm, now Chiumento Selis Dwyer.
After 2004, and before he joined Bayer's law firm in 2011, Nowell had his own practice, Nowell and Associates, in Bunnell. He is a long-time high school basketball coach (it was on a basketball court, as he was coaching, that he suffered a heart attack two years ago), a volunteer attorney for the NAACP, a board  member of the Flagler County Education Foundation and the Flagler Hospital Memorial Foundation,  and an assistant professor of legal studies at Bethune-Cookman University in Daytona Beach.