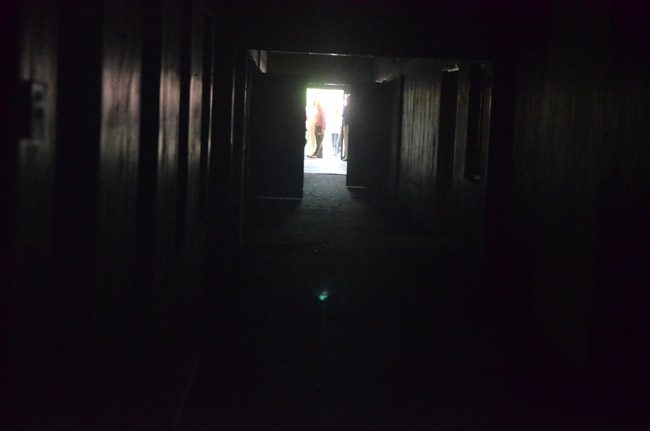 Last Updated: 6:48 p.m., with Sheriff interview.
Flagler County commissioners and the sheriff this afternoon heard from an environmental engineer the Flagler County government administration hired to test the possibly sick Sheriff's Operations Center, where the number of employees reporting health issues has risen to 27.
But the 135-minute workshop, hurriedly scheduled last week after the sheriff wrote the county administrator a stern letter and complained of the administration dragging its feet, achieved little.
"I'm really disappointed in this meeting because we seem not to have progressed," Commissioner Dave Sullivan said. "I just wish I had heard something that made more sense to me as a solution to this problem."
The expert's presentation mostly summarized analysis conducted so far, largely echoing County Administrator Craig Coffey's contention that what analysis done so far has "gone above and beyond" what was necessary, and that "right now we have no factual evidence to suggest there's anything wrong."
The expert, Zdenek Hejzlar, put it this way: "So far everything that I have seen, okay, I have absolutely no indication that there is anything wrong in the building," other than a lack of fresh air or other minor items. "I have no evidence that there is an immediate need to move everything out."
Sheriff Rick Staly in an interview later was disappointed by the workshop and pointedly noted that it had originally been scheduled with a special meeting to follow, so commissioners could take action on whatever they'd decided in the workshop. There was no special meeting because there was no action to take, Staly said. Of the hired expert, he said: "I think at this point they've hired this environmental scientist that I think has the ability to do the job as long as he's not throttled in what he's allowed to do."
But the fact that the sheriff is worried about the county's expert being "throttled" points to the distrust in play. Staly said he found the administrator's marginalizing employees' health problems "very disappointing."
If the county's next moves are blurry, Staly's seem not to be: ""If the county isn't moving fast enough to protect my employees, then I will, and I don't know what that's going to be yet. We're going to discuss it tomorrow," the sheriff said of his planned meeting with his command staff Tuesday.
Several discussion points on the environmentally suspect history of the building surprised Staly today for having not been disclosed before.
Hejzlar took his first walk-through of the building only today, with the sheriff, having until now only studied the reports. But from what he saw, he conveyed no significant concern. "Sometimes we tend to overreact to things we perceive that is happening," he said. "My wife is a good example of that, she will over-clean to the point where she becomes allergic to the cleaning ingredients, and one of the things I noticed this morning, there was a strong smell of Clorox, and that could be an irritant."
On the other hand, Staly said "Something is a trigger somewhere," words echoed by Commissioner Nate McLaughlin, who, at least today, took a more vocal lead in insisting that the sheriff's employees be heard and their safety be the priority.
Hejzlar also conceded that a lot more analysis can be done, including what could be extensive floor testing and more mold testing.
"We haven't done all that we can do yet," McLaughlin said, asking at least four times: "In the meantime, what do we do today?"
Eighty minutes into the early-afternoon workshop, Coffey said: "I'm not prepared today to tell you exactly what we're going to do. That's going to take some time." He again repeating that other than anecdotal evidence—he did not mention employees who've reported problems, some of them sitting behind him–there's no evidence that there's anything wrong with the building.
"I want to push back on something that you said, it's not anecdotal, we have employees that have something," Commissioner Don O'Brien said. "We can't lose sight of the fact that we have issues, we have health issues." If nothing can be found and problems persist, then the county has to still consider how to move out the employees.
O'Brien said he saw the issue going forward in only two ways: if there is a problem in the building, it has to be remediated first by being entirely evacuated. If the county concludes that there is no problem, then he wondered who among government officials would be willing to look at sheriff's employees in the eyes–employees who have been having health problems–and tell them they're imagining it.
Whether it's moving employees or explaining the type of testing that will take place, those details are not yet clear.
The Sheriff's headquarters off State Road 100 is of course exclusively a sheriff's operation, but the county bought the facility–an old hospital–in 2013 and rebuilt it, and still manages it: under Florida law, the county is responsible for providing constitutional officers all their space needs, and managing those needs appropriately and safely. The sheriff is, in essence, at the mercy of the county.
The engineer said state health officials should be brought in as part of the analysis. "This is a health problem issue, and we should reach out to them because we're paying them and they've always been helpful with me," the engineer said, "and they have people that can actually run those tests, so you don't have to trust me or trust that company."
Coffey on several occasions dismissed as armchair analysts people in the community who claim the building harbors serious issues, and several times dismissed with some impatience the allegation—put forth by the sheriff last week—that the county has not been acting swiftly enough. "Bottom line is we've taken this serious from day one," Coffey said.
Coffey also ruled out moving sheriff's employees into a triple-wide near the property, a proposal Staly talked to Coffey about last week. "Obviously he has the former facility that he can occupy as far as I'm concerned," Coffey said, referring to the sheriff and the old administrative building on Justice Lane, some of which has been converted into a video communications hub for visitors with jail inmates. "We're exploring options right now. Moving into a triple wide or something like that, that's not in the cards," Coffey said. The reason: logistics and amenities.
"I was really hoping that we would have more of a definitive answer to my letter rather than, 'I'm going to blow off your suggestion of a triple-wide because it needs power and sewer," Staly said in the late-afternoon interview. "Well, you could hook up the power and sewer. Those are not insurmountable obstacles."
During the workshop Staly said when he moved some of his employees to the old administrative space, "it dramatically reduced the efficiency" of the operation. He said he can decentralize the operation and make it work, but not as well as if the operation was cohesive. One option he spoke of is the future Palm Coast precinct off Old Kings Road, which could house the entire detectives' division. But the county just approved buying that facility and due diligence is still in the works. Plus: it was a funeral home, which may require further testing. McLaughlin quite seriously suggested that building should be leveled and the county should build new there, to avoid repeating any issues the county and the sheriff are now going through with the operations center. Staly replied that if that's what the county plans to do, he should be told now so he can prepare. (It's not what the county plans to do.)
That all still left the sheriff and McLaughlin wondering what happens in the immediate future. Many employees have asked the sheriff for "reasonable accommodations" to avoid contact with the building. "How can you say yes to one and no to another? You can't, and I won't do that," the sheriff said.
He was also insistent on transparency on the county's part. "Credibility is critical. Let's face it, we're dealing with cops and we're always skeptical because that's how we are," the sheriff said. He asked that when meetings are held, a union representative and a sheriff's administrative representative be included around the table.
Meanwhile a physician the sheriff hired will be conducting analysis and examinations and working jointly with the engineer on the findings.
The engineer said it could take "three, four days" to do some testing. "This has to be a team effort."
Coffey said that "At some point we have to say we have tested all we can test." But he cautioned against imagining that it could all actually get done in a matter of days, as one set of tests could then lead to further tests. But he said he won't schedule dates for follow-up meetings until there's substance to be presented at those meetings. "This is being approached in a very constructive way," he said.
McLaughlin, in what he termed a closing statement, defended the 2013 actions of the County Commission, saying "we were all for that new building" at the time (an exaggeration: none of the votes that eventually led to the building's acquisition were unanimous), and that all sides, including Coffey, acted out of good faith. He also suggested the Emergency Operations Center could be one of the buildings where sheriff's personnel could move.
During the public comment period, former Sheriff Jim Manfre addressed the commission and revisited the history of the building's purchase. "I was adamantly against this from the beginning," he said, believing that the building should be "knocked down" and a new building built in its place. He remembered hearing from employees in the old hospital who spoke of health issues there back then.
"If you have a shred of humanity, this building should be abandoned immediately," Manfre said.
Staly disputes the former sheriff's interpretation, saying he'd told Manfre–while Staly was undersheriff–that he should tell commissioners that he (Manfre) wanted a new building. "His response to me was, 'I'm not doing that,' that's his exact quote, and then I was told I was not allowed to say anything."
Joe Costello, a detective with the Sheriff's Office, said he had "a lot of frustration and anger" that he said he would try to control as he addressed the commission. The first employee reported symptoms in August 2016, he said, then several more did in November, when the county first conducted some remediation. He dismissed the engineering expert's review of reports as "shameful" without a more thorough investigation and contact with employees. "Something's got to be done and it's got to be done yesterday, even further back than yesterday," he said, referring to employees affected as having been "brutalized" by their illnesses. "Are we truly working together here or are we trying to cover up something, something larger?"