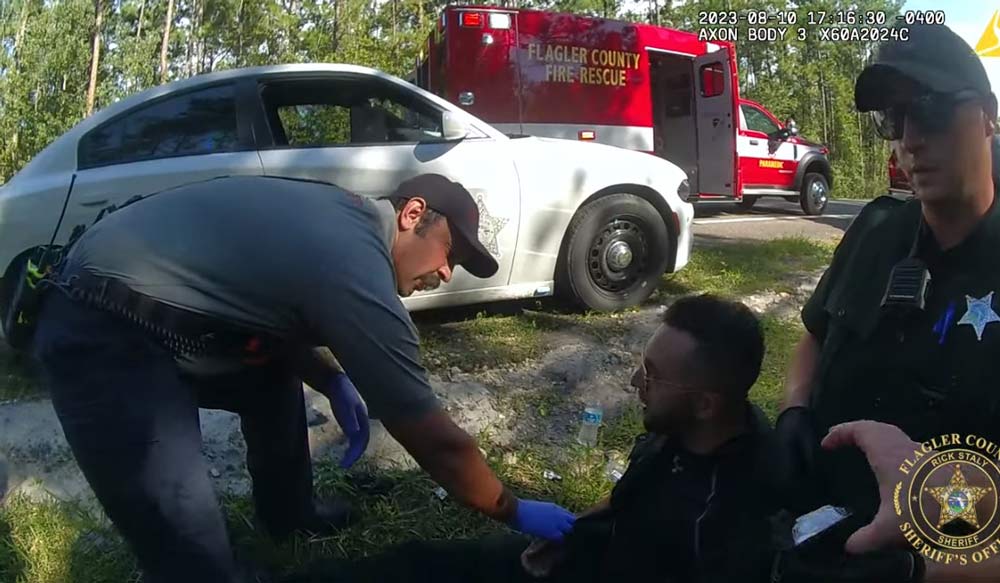 Thursday afternoon a hit-and-run crash was reported in Bunnell, followed by reports by three witnesses of a drunk driver weaving and almost causing multiple crashes, including with a school bus, on State Road 11.
Before long, sheriff's deputies were speaking with George Clemons, a 61-year-old Crescent City resident, who was at the wheel of the red Mitsubishi pick-up Bunnell police had described was involved in the hit and run, and that the witnesses had described on SR11.




The back seat of the car and Clemons's pockets added up to a drug bazaar: a sandwich bag of marijuana (later determined to be 7 grams' worth, according to Clemons's arrest report), a pipe, and an empty Bud Light can were on the back seat, a shooter bottle of alcohol was on the floor, a bag with a white substance that would later test positive for fentanyl was under the driver's seat, two pink pills of fentanyl were on the floorboard, and nine strips of suboxone were in his pockets.
Clemons twice declined to take part in field sobriety exercises. He was placed under arrest and was being driven to the county jail, but he became unresponsive, so he was turned over to paramedics, who took him to AdventHealth Palm Coast. There, he refused breathalizer tests, and was "checked out of the hospital against medical advice" and taken to the jail for processing. Authorities typically comply with medical advice, but if the patient himself or herself refuses to comply, it's a different story.
Wearing surgical gloves, Flagler County Sheriff's deputy Nick Huzior field tested the substances found in Clemons's car and on him. The substances were spread out on the hood of Clemons's pick-up. As Huzior was doing so, he took ill. He walked to deputy Kyle Gaddie's patrol car, knocked on the window, and told Gaddie: "I just got really light-headed. Call EMS." Gaddie called for paramedics and immediately took out a dose of Narcan, the neutralizing agent used to stabilize the breathing of an individual who may be overdosing.




Huzior had sat down. The body cam footage stayed on and showed Gaddie administering the dose as he told the deputy to breathe in. "It's not gonna hurt you if it's not it," Gaddie tells him.
"My heart is being crazy," Huzior is heard saying. "I feel really dizzy. My heart feels like it's beating really fast." His hands were shaky and he couldn't feel his legs. Gaddie undid some of the gear Huzior was wearing (deputies wear bulletproof vests), and noted that Huzior was sweating profusely.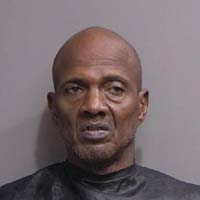 Speaking to paramedics, Huzior said he was testing marijuana and a white substance. "As I put it in the test kit, I got light-headed," he said. Bystanders provided water, which Huzior drank eagerly.
Huzior was transported by Flagler County Fire Rescue to AdventHealth Palm Coast, treated in the emergency department and released. A release the Sheriff's office issued this morning stated that Huzior was "recovering after being exposed to suspected Fentanyl while testing narcotics as part of a traffic stop investigation, despite wearing personal protective equipment."
A local ER physician who viewed the video, however, said he was "not convinced it was the fentanyl," seeing symptoms more typically attributed to "heat related illness." Fentanyl, he said, would have the opposite effect–no sweating, a lower heartbeat, diminished breathing. (The physician asked not to be identified.) The incident took place between the 4 and 5 p.m. hour, when the heat index was around 115 in the region. Only lab work can confirm what led to Huzior's condition. That lab work is not yet ready, a sheriff's spokesperson said.
Clemons was arrested on charges of Drunk driving, possession of fentanyl, possession of cocaine, possession of less than 20 grams of marijuana, possession of a legend drug without a prescription, possession of suboxone, and possession of drug paraphernalia.




Clemons was additionally charged by Bunnell police for leaving the scene of a crash with damage to property. Frank Santucci, a 60-year-old Grand Reserve resident, told Bunnell authorities that he had been rea-ended, but that the man who had rear-ended him agreed that they should remove their cars to a nearby parking lot and speak there. The damage was minor. Santucci "said the driver was nice, however he felt that the driver might be on something, possibly narcotics or alcohol," the arrest report filed by the Bunnell Police Department states.
The report describes Clemons "becoming aggravated" over having to wait for the police to arrive. Both drivers had gone to their respective cars to await police. Then Clemons put his vehicle in drive, struck a vehicle legally parked in the lot, struck a pole, and drove away. The vehicle Clemons struck belongs to Kirk Chong, who runs the gun store at that location (and is married to Christy Chon, the school board member). It's over that collision that Clemons faces the hit and run charge, a misdemeanor. Santucci did not wish to pursue charges over the collision involving his car.
Two of the drug charges Clemons faces are third-degree felonies. Clemons is being held at the Sheriff Perry Hall Inmate Detention Facility on $25,500 bond.
"What happened yesterday is a perfect example of the dangers law enforcement face each and every day from poison on the streets," said Sheriff Rick Staly was quoted as saying in the release, thanking "the Good Samaritans who stopped to check on [deputies] Huzior and Gaddie while they were waiting for EMS as well as Flagler County Fire Rescue and AdventHealth-Palm Coast for taking care of him."