Palm Coast government's contract with the Flagler County Sheriff's Office to police the city hasn't changed in eight years. When the last three-year contract was signed in January 2014, it was at a cost of $2.6 million a year to city taxpayers, essentially what the city has been paying since 2009
That contract called for a total of 23 cops, including 16 deputies, 5 supervisors, a commander and one school resource deputy. The contract is up at the end of September.
This time, it's about to change, says Sheriff Rick Staly, who will be asking the city for five additional deputies in budget discussions starting soon, for a traffic unit. That represents an expense of at least $563,000, or a 21 percent increase over the current city budget for policing, a substantial hit for Palm Coast. The actual figure is likely to be higher because sheriff's deputies won a new contract under the former Sheriff Jim Manfre that builds in annual pay increases (a combination of cost-of-living adjustments and step-raises that accrue with each year's experience, the combination working out roughly to a 4 percent average).
The community keeps growing, with more vehicles registered, Staly said, while his department persistently gets quality-of-life complaints related to traffic. "So what I have approached the city manager in Palm Coast with is that I'm going to come to them and ask for them to fund additional traffic enforcement deputies," Staly said. That would double the existing traffic unit.
The sheriff will almost certainly get some push-back.
Palm Coast Mayor Milissa Holland, fresh from a 10-hour ride-along on a shift with a sheriff's corporal (Jon Dopp), said she understands the need for additional policing, and has just seen first-hand the demands on deputies for a lot more than what people ordinarily associate with policing: deputies, because of the lack of social and psychiatric services in the region, are frequently responsible for addressing situations involving mentally ill individuals, runaways, and waves of domestic disputes, on top of regular crime-fighting and certain civil issues.
"It's a service we should be supplying to our residents but I also recognize the fact that we need to manage those dollars wisely and maybe phase it out over a period of time," Holland said of the coming increase, "so maybe not all five deputies in one year, maybe two this year, two next year." Holland added, of the request for five deputies: "It's a big hit to our budget in one year."
Flagler County Fire Rescue, the county's fire department, made similar demands on county government, arguing that its ranks were too thin for the responsibility. But rather than add the needed additional firefighters in one swoop, the department has been adding them at the rate of three per year.

Staly will be asking for additional deputies from county government as well. The county pays for all but $1 million of the rest of the sheriff's $26 million budget. The exact number of additional deputies he'll be asking for is not yet clear, he said, but chances are that it may be even higher than what he's asking from Palm Coast, if the presentation he just gave the city is any indication: that presentation portrayed Flagler County as significantly under-policed, and it portrayed Palm Coast as getting off cheap for the cost of its policing.
Palm Coast, however, may be in a stronger position to afford the cost of increased policing than the county, which has depleted its reserves because of costs related Hurricane Matthew and, so far, because the county miscalculated how much it will be reimbursed from the Federal Emergency Management Administration. Should FEMA not reimburse the county as the county expects, the county will be left with a financial crunch, making demands from constitutional officers, including the sheriff, difficult to satisfy, at least for the next year or two. County Commissioner Dave Sullivan told the sheriff as much 10 days ago as the sheriff was "arresting" Sullivan—it was part of a fund-raiser for cancer research—and Staly told the commissioner not to hold it against the sheriff at budget time. But Sullivan had just finished speaking on the radio about the almost certain budget crunch ahead.
"I'll put in the request I think is necessary and then we'll negotiate," Staly said, noting that he can always appeal his budget request to the governor if it's turned down locally. "I doubt that hat will be necessary but it's not something I would take off the table. But I think we generally have a city council and county commission that generally prioretize public safety."
Staly's relations with both governments have been solid, too. But he used surprisingly strong language as he discussed his intentions going into the negotiating period ahead: just as he has sought to portray himself as a strong backer of his deputies in the field, frequently going to live crime scenes and patrolling streets on a Friday shift weekly, he appears to be taking an equally committed approach advocating for the sort of budget he thinks the department deserves.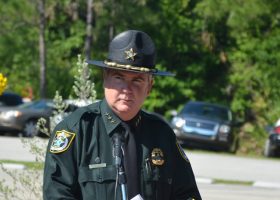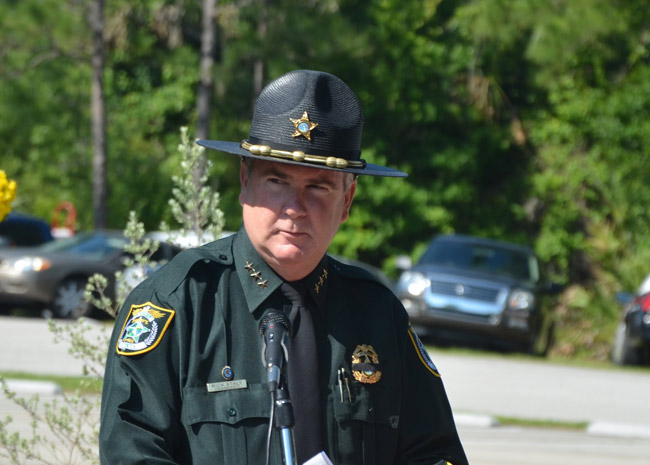 He used equally strong language regarding Palm Coast.
According to a chart the sheriff's office prepared, Palm Coast's per-capita cost for policing is $33.50. In comparison, Melbourne's is almost 10 times that, Bunnell's and Flagler Beach's per-capita costs are just under $270, and Fort Myers is close to $500. Those cities have their own police departments. Palm Coast does not. But for a more direct comparison, Deltona, which contracts with the Volusia County Sheriff's Office for policing, has a per-capita policing cost of $122. Deltona's population is comparable to Palm Coast's.
"That's a pretty good deal," Staly said of Palm Coast's comparative costs. He then went on to say that while he's heard city officials previously wish the county paid for all of Palm Coast's policing cost (including that $2.6 million the city now pays), the county, Staly said, is under no obligation to provide any policing services to the city absent a contractual obligation.
"In a lot if counties they would tell the city where to go: you pay it," Staly said. "Fortunately this county is not doing that."
Palm Coast isn't facing the sort of budget crunch the county is, but rather the usual balancing act of every budget season between priorities, needs and wishes. The council on Tuesday will discuss its mid-year budget situation, which will tie into the coming request by the sheriff, and its 10-year capital improvement plan, which does not.
Increases in the policing budget are likely. The question is by how much. "I do think the discussion is warranted and I believe we should be looking at it. I haven't made the decision as far as how much," Holland said, speaking as one member of the council. Tuesday's discussion, she said, "hopefully will give me a better grasp on what we can conceivably do this year."