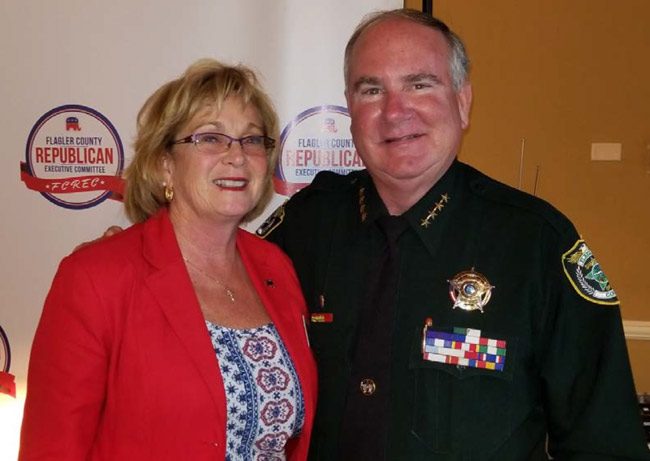 Last Updated: 2:31 p.m.
Sharon Demers had put in a full day before Wednesday evening's forum featuring candidates for Commissioner of Agriculture at the Pine Lakes Golf Club in Palm Coast.
Demers, an elected Republican state committeewoman and a former candidate for school board, had spent the day with two of the candidates–Baxter Troutman and Matt Caldwell–showcasing some of the best of Flagler County to them.
The agriculture commissioner's office, one of the four cabinet positions in the state, covers a range of responsibilities, from fire services to gun permitting to (of course) agriculture, so Demers figured she'd show the candidates some of Flagler County schools' related flagship programs: the agriculture program at Bunnell Elementary, the Fire-EMS program at Flagler Palm Coast High School. Ironically, the students there Wednesday were working on drills that included taking blood pressure and giving a mannequin CPR, though it doesn't appear as if the Heimlich maneuver was on the menu.
It soon would be.
Demers and the candidates also visited with Superintendent Jim Tager and Tom Tant, the district's finance chief, and with Flagler County Sheriff Rick Staly in the middle of the afternoon, to talk about Staly's innovative policing techniques. It was as if, between her encounter with the EMS flagship and the sheriff, Demers was subconsciously aligning the stars that would shine on her only hours later.
The candidate forum was the latest in a series hosted by the Republican Executive Committee, and like most such preceding forums, had drawn a crowd, though this one appeared to be even more considerable than previous forums: about 90 people, by Demers's count. She'd picked out her seat at a table early on.
The place had filled up. Forum host Ed Fuller had begun introducing the candidates. There were just two seats left at Demers's table. Staly and his wife Debbie arrived, and luckily for Demers, those are the seats they took.
Demers had had just a protein bar at noon. Nothing since. So when dinner was served, "I was starved," she said. "I took a bite of my sandwich and a big gulp of ice tea and it wouldn't go down."
There's been a lot of choking in Republican circles across the country of late, for obvious and understandable reasons, but this was different. There was a slight woman sitting next to Demers. She noticed something was wrong, asked her if she was all right, patted her on the back to help, Demers shook her head, signaling something was not going well. Staly noticed, got up, and went to work with the Heimlich.
Here's how Staly remembered it (he spoke in an interview from Ocala, where he was attending a state sheriffs' conference Thursday): "We got there just seconds before this meeting started. I kind of circled back looking for a vacant table and a place to sit at, and ended up in the very front at Sharon's table, but the opposite end, it's kind of a long table. I was sitting there and I noticed she just started looking funny, she had her napkin up by her mouth, so I immediately got up and went over there and said, 'are you choking?' She couldn't talk, she shook her head yes." Staly told her he would do the Heimlich, got behind her, and executed the maneuver once, twice, three times.
"I'm pretty calm and pretty level-headed, not much excites me if you will, where you get hyper," Staly said, describing his demeanor during the incident, "so I handle things in pretty good stride. So I felt completely calm, it was more, can I do it and make it work, and after the second time I'm getting concerned, the third time I'm really concerned, that's when I said [to his wife], call 911, and that's when I went as hard as I could on the fourth."
He said he was willing to apply enough force even if it broke a rib, figuring that a broken rib is better than something much worse. And that time, it worked.
It was only the second time he'd had to execute the Heimlich. The first was 37 years ago, in 1981, when he was a corporal and was having a meal at a Kentucky Fried Chicken in Orlando. A woman nearby began choking. It was also on a piece of chicken.
The culprit in Demers's case was a bite from a panini chicken sandwich.
When Staly pulled off the maneuver, the room erupted in applause.
"I'm so embarrassed," Demers said in an interview just before noon this morning. She doesn't recall being particularly scared. "It just never happened before, I just thought it would just go down. I'm glad I wasn't alone and there was someone there strong enough to do that because the lady to my left, she's tiny, she might not have been able to."
She spoke her gratefulness to Staly in a quote from a release the sheriff's office issued after the event: "He was in the right place at the right time. I don't think I would have survived if he hadn't been there. He was even kind enough to sit next to me for the rest of the evening to make sure I was okay."
"If anybody has a guardian angel it was Sharon Demers tonight and it came in the form of a Sheriff," Fuller, who's president of CrimeStoppers, said. "He saved her life; there are no ifs, ands, or buts about it."
"I'm just happy that she is okay," Staly was quoted as saying. "I would hope that anyone in my position would have done the same thing."
Staly, who's developed a reputation in less than two years as sheriff nearly consonant with the ability to walk on water, said in the interview today that if it appears as if he is repeatedly in the right place at the right time, it's because he's been putting in long days. "I'm a very active sheriff, I'm out in the community, I work probably at least 12 hours a day," he said, including his famed Friday evening patrols, when he is on the road like any other road-patrol deputy–and has made his share of arrests. "Yesterday for example I left my house at 7:30 in the morning and I got home at 9:30, a 14 hour day, that's my typical day, but the more you're out there, just like my deputies, the more things are going to occur."
The forum went on as scheduled. Demers did not touch the rest of her sandwich. "But I took it home," she said. Still, by noon today she still had eaten nothing, sticking to iced tea.