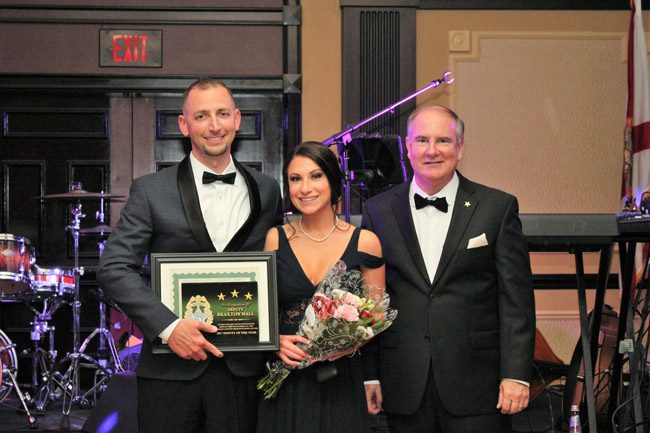 Last fall, as first responders worked to prepare the county for Hurricane Irma, then help it recover, some saw their own properties sustain damage from the storm, causing financial strains on their families. So the Flagler County Sheriff's Office devised a non-profit organization that would raise money and help its employees who are going through unforeseen difficulties, whether with storms or personal health matters not necessarily covered by insurance.
The organization, with a three-member board, is built around the Flagler Sheriff's Employee Assistance Trust Fund (FSEAT, Inc.).
The trust fund is controlled by a three-member board of directors that include community volunteers and the Sheriff's Cmdr. Mark Strobridge, ensuring transparency. As authorized by the Board of Directors, donations will support the well-being of sheriff's employees and provide immediate financial assistance in an emergency. Sheriff Rick Staly made the first donation last fall to jump-start the trust.
Saturday evening at the Hammock Beach Club, some 200 people attended the first annual Sheriff's Gala to benefit the fund, and the evening netted $70,645, a striking amount for the ratio of people to money raised. In comparison, last fall's Pink Army run to raise money for breast cancer awareness through the Florida Hospital Flagler Foundation, a month-long effort that culminates with a race and walk through Town Center that this year drew 670 people, raised $14,500.
Some of the top sponsors of the the gala included Caesar DePaco, the Honorary Consul of Portugal, The Douglas Family, Palm Coast Ford, and the Hammock Beach Resort. There was also a live auction for a Friday night ride along with the Sheriff, which included receiving the sheriff's personally autographed western hat and a day for two training and observing the agency's SWAT team.
"I can't thank the community enough for the support they have shown the men and women of the Flagler County Sheriff's Office tonight through their donations and sponsorships," Sheriff Rick Staly in a release issued today. "I am personally moved by the generosity of our sponsors and to all who have contributed to FSEAT and making the First Annual Sheriff's Gala a huge success. Thank you all."
Saturday's gala was also an occasion to recognize several sheriff's employees: Braxton Wall, the 2017 Law Enforcement Deputy of the Year, Brian Sheridan, the 2017 Detention Deputy of the Year, Crime Analyst Shannon Sandberg, the 2017 Civilian of the Year, Sonia Byrne, the 2017 Volunteer of the Year, and Ladena Rutland, the 2017 Citizen of the Year.
The 2nd Annual Sheriff's Gala is scheduled for January 26, 2019 at the Hammock Beach Club.