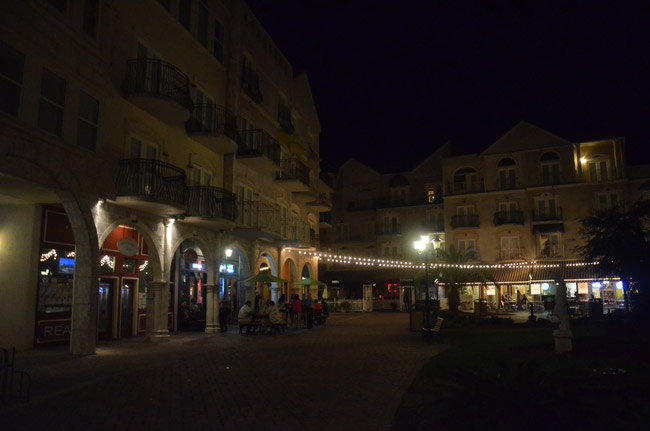 On June 10, Sheriff Don Fleming, his wife Stefanie and her 23-year-old daughter Kayla Bey, along with another couple, went to European Village for dinner at Mezzaluna, then to Farley's, the Irish pub a few steps away, for a drink. Samantha Rizzolo, 25, was sitting nearby with a friend. She was a waitress at Mezzaluna, but she was off the clock. She and Bey got into it verbally. The words exchanged were quite vulgar, down to crass suggestions about a dog's genitals.
"It wasn't an altercation. It was an exchange of words," Fleming said. "We got up and we left. Mike of Mezzaluna [Mike DiBitetto, the restaurant's co-owner] called me a few days later, turned out this girl and that guy worked for them. He says I'm going to fire them. I said I don't want you to fire nobody.  There's nothing to it. It was—my daughter, this lady, she was a little drunk, I said, 'let's get up,' we got up and we left. I told Mike not to fire them. I don't want nobody losing their job over something like that. It was nothing."
Rizzolo said she had no idea who the people at the table were, including the sheriff, only that they were acting pretentiously. Rizzolo was fired 16 days later, on June 26, as was her boyfriend, Jarrett Monforte, also a waiter at Mezzaluna, who was not involved in the word exchange between the two women, but who got violent later with the co-owner of Farley's, after the sheriff had left.
The firing started rumors that Fleming was retaliating. That does not appear to be the case at all.
Fleming has his issues as he battles for reelection. His judgments regarding various matters have come under withering criticism since late last year. There's his involvement in the hit-and-run fatality provoked by the wife of a school board member, his free membership to the Club at Hammock Beach, his refusal to fire a deputy who stole more than $8,000 by falsifying time sheets.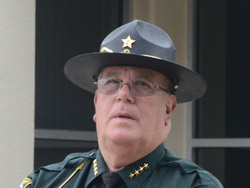 But there are also frivolous claims at his expense. Whether because opponents may be looking for more vulnerabilities or because the county's top cop may have a hard time enjoying a private moment with his family in public places, any incident where he happens to be present could be twisted to undermine him, even as he neither intended nor caused harm in the situation. This appears to be one of those cases. The incident may be illustrative of the break-down of propriety in public places, it may speak to the fluid boundaries between an employee's responsibilities to his or her employers, especially in a close-knit community such as European Village, and it certainly speaks to the power of unsubstantiated, one-sided rumors propagated by the internet's warped speeds. But it says nothing of Fleming as sheriff—other than of his desire to leave an uncomfortable situation and leave it at that.
There would be no story if the sheriff didn't have an incidental involvement in this one. But rumors can fester at the expense of just such incidental issues. They can also be addressed bluntly.
After the sheriff had left, Mort Duggan, a co-owner at Farley's and a friend of Fleming's dating back to before his first election in 2004, reproved Rizzolo for her behavior. Rizzolo didn't take it kindly. "I did not work for him, I was off the clock, so I didn't have to eat shit from anybody," Rizzolo said she told Duggan, though in her interpretation of the incident she said she was reproved severely enough to be upset over it to the point of crying. When Montforte heard of it, he confronted Duggan—"screaming in his face," as Montforte describes it. "I was a little angry about the situation because we know Mort, Mort knows Sam, and for him to make her cry is unacceptable."
"If somebody is talking to me and says F you three times, how do you think I feel?" Duggan said, noting that he himself never cusses. "I'm 70 years old. I don't have people talking to me like that."
As Duggan described it, Rizzolo was standing behind Montforte as Montforte was giving Duggan the third degree, egging her boyfriend to "punch him out, punch him out." Montforte then turned around and, in Montforte's own words, "kicked a few tables out of my way and stormed out the door."
Both waiters concede that the incident was ugly. There were other patrons in the place, which is literally a few steps from Mezzaluna.
DiBitetto, the Mezzaluna co-owner, was traveling at the time. When he returned, he was told of the incident. Duggan says he didn't tell him. The sheriff said he didn't, either. Nor did the two waiters. DiBitetto then called Rizzolo to hear the story from her as well. There's little to no disagreement about what had taken place that June 10, either when the sheriff was present or afterward, in the confrontation with Duggan.
"You understand the position you're putting me in?" DiBitetto said to Rizzolo. "You know what I have to do? She said yes." He tried to call Montforte twice but he didn't return the calls.
The conversation with Rizzolo was not angry. To the contrary. There's plenty of mutual love and appreciation, still, between DiBitetto and Rizzolo, and Montforte, both of whom he calls his best waiters of long date: she'd been there over five years, he'd been there three and a half, there'd never been any such incidents in the past, they trained other waiters, they did their work very well. But they had also, in DiBitetto's view, crossed a line.
"They put me in a position that I can't be put in," DiBitetto, who's also president of the European Village Association, said. "I run a business. I can't have employees going to another business in this community, which is a very small community, behaving in a very inappropriate manner."
European Village has not had an easy time of it, struggling through the recession but hanging on: the last thing it needs, from a merchant's perspective, is to send a message to customers—any customers—that they're not welcome there. "Jarrett and Samantha are my two best servers, the last thing I wanted to do was let them go, but they left me no choice," DiBitetto said. "This is the European Village. This is one big family. We all interact here with our businesses, we all help one another. It's just a very unfortunate situation."
DiBitetto repeatedly said that the sheriff was adamant against getting anyone fired, as was the sheriff himself in a separate interview. "On my mother," Fleming said of  DiBitetto , "he said I'm going to fire them and I said, they don't need to lose their job. On my mother. And I say to him, they don't need to lose their job, it was a verbal altercation, it was done, we left. I wouldn't wish on anybody losing their job. I wouldn't." Fleming added: "He said well, I have a reputation here in European Village, Don. And I said, Mike, she don't need to lose her job over a verbal altercation. She don't."
Fleming even remembered being waited on by Rizzolo previously. "I had no problem with that girl, but she was drunk. She was two sheets to the wind." (Rizzolo concedes that she'd been drinking, but says so had the sheriff's daughter.) "I wouldn't want anybody in this economy to lose their job," he continued. "I don't have a need to retaliate. You know me. I don't retaliate."
Fleming's wishes were not the issue, DiBitetto said. Nor is his friendship with the sheriff. "This," he said, "would have happened with anybody if one of my employees goes over to Europa or Farley's or anywhere and acts in a manner I feel is absolutely inappropriate, and I ask them about it, and they say yes, it was this, yes, it was wrong, then I have to do what I feel is correct for my business and for my people."
Rizzolo's history is not spotless: she was arrested in Volusia County in 2010 on a disorderly conduct charge, and two charges of battery on a law enforcement officer. But there'd never been an issue at Mezzaluna or at Farley's previously. When DiBitetto spoke to her about the incident, she thought she was going to get a warning, or a talking-to. She did not diminish her role in the altercation. "I understand that he was in a bad position," Rizzolo said of her  now ex-employer. But she did not expect to be fired. Although neither she nor Monforte saw him there, both claim the sheriff went to Mezzaluna afterward and spoke with DiBitetto. The sheriff said he didn't, nor that he'd suggested European Village would be off limits to his patronage subsequently.
These things happen, Fleming said, summing up the verbal altercation with characteristic precision: "It's all bullshit."