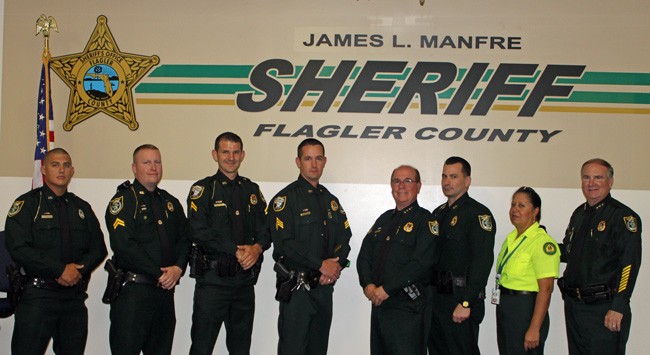 Sheriff James L. Manfre announced the first quarter award recipients and agency promotions during a Tuesday afternoon ceremony held at the Operations Center in Bunnell.
Deputy Erik Pedersen was recognized as deputy of the quarter after checking on a 94-year-old elderly woman who had not been heard from, as her phone was not working. Pedersen located the woman and had her use his personal cellular phone to call relatives to assure them that she was well. Knowing that the woman would still be without a phone, Pedersen went to the local hardware store and bought a phone for her, returned to her home and hooked up the phone for her.
Detention Deputy Ronald Ward was recognized as detention deputy of the quarter after he assisted an inmate who had tied a bed sheet around his neck in an effort to commit suicide. Ward was able to act quickly and cut the bed sheet from around the inmate's neck, saving his life (and sparing the jail a serious issue).
Joann Ramos was recognized as the civilian employee of the quarter for her dedicated duties and professionalism within the agency. She is known to always assist the Sheriff's Office, whether working in the Citizens Observer Patrol, working as a crossing guard at Belle Terre Elementary School or assisting with special events. Ramos has been a volunteer with the Investigative Services Division and has been instrumental with assisting the
Victim Advocates with their daily tasks.
Sr. Commander Jeff Hoffman was promoted to Chief Deputy earlier this month. Corporal Jason Neat and Corporal Jonathan Welker were both promoted to Sergeant. Ryan Emery was promoted to Corporal. "These individuals are generous employees who are truly dedicated to serving the citizens of Flagler
County," Sheriff Jim Manfre said in a news release announcing the awards and promotions.