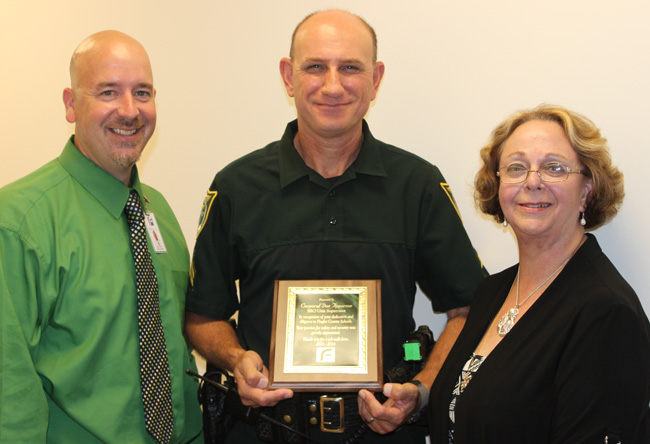 Superintendent Jacob Oliva and District Safety Coordinator Winnie Oden presented Corporal Don Apperson with an award Thursday evening at the Palm Coast Precinct in Palm Coast. Apperson served as the School Resource Unit Supervisor for the past 13 years. He was recently reassigned to the Neighborhood Services Unit.
"We have 13,000 children in our schools that we are responsible for," said Superintendent Jacob Oliva. "We often turn to law enforcement for guidance when it comes to keeping them safe and we could always turn to Corporal Apperson for advice."
Currently, there are five deputies assigned to two high schools and two middle schools. The deputies at the middle schools also cover issues at two nearby elementary schools. The fifth deputy is posted at Rymfire Elementary and is assigned to three elementary schools.
School Resource Deputies are responsible for handling calls for service within their respective schools, providing instruction and counseling on law related topics to students, faculty and staff.
"It was an absolute honor to serve 13 years with our school system," Apperson said. "I hope I made a difference in the lives of our youth."
"We appreciate the School District taking the time to honor one of our own and presenting him with an award," said Sheriff James L. Manfre.

Three Promotions at Sheriff's Office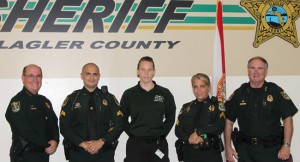 Sheriff James L. Manfre promoted three Flagler County Sheriff's Office employees Wednesday afternoon (Oct. 1).
Jen Taylor was promoted to Sergeant and will be assigned to the Neighborhood Services Division. Taylor has been employed with the agency since 2001. Taylor has served as a Corporal on road patrol and was a detective with the Investigative Services Division.
Bernie Woodward was promoted to Corporal and will be assigned to the Neighborhood Services Division. Woodward has been with the agency since 2004. Woodward worked for the Bunnell Police Department for two years before coming to the sheriff's office. Woodward served as a road patrol deputy and was a detective with the Investigative Services Division.
Laura Pazarena was promoted as the supervisor of the CSI/Evidence Unit. Pazarena came to the agency in 2013 after the implementation of the Crime Scene Investigative Unit. Pazarena is a former law enforcement officer and crime scene investigator. Pazarena earned a Bachelor's of Science degree from Purdue University in Interdisciplinary Science with a concentration in Chemistry and a supporting area of Forensic Science. She is currently pursuing her Master's of Forensic Science degree.
"It is particularly satisfying to promote these individuals as I initially hired Taylor and Woodward. I have watched these individuals work hard over the years," said Sheriff Jim Manfre. "Additionally, this agency has never had a certified CSI Unit before and we're now operating as a modern law enforcement agency. Pazarena is utilizing present technology which is fundamental in solving crimes."