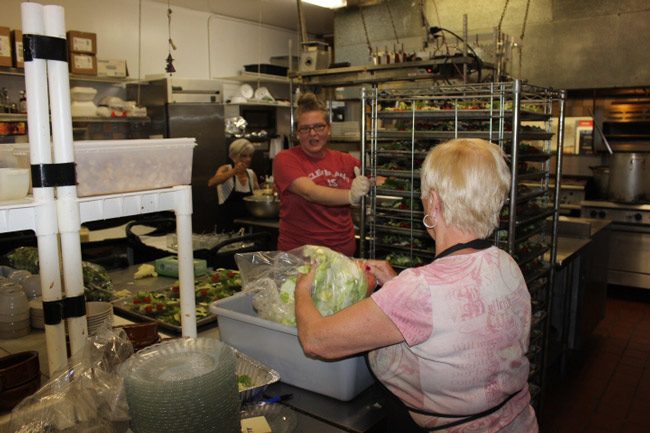 The Sheltering Tree, Flagler County's only cold weather shelter for the homeless, held its third annual fundraiser on March 10, a "Have a Heart for the Homeless" dinner and dance that raised $11,654 for the shelter.
The Sheltering Tree provides food, tents, sleeping bags, and clothing, as well as cold weather overnight facilities at Bunnell's First United Methodist Church. The Shelter also offers transportation services and support to reunite individuals with their families. It assists new, near, or chronically homeless individuals in Flagler County. Neither the county nor any of its cities have an actual homeless shelter.
Funds were secured by ticket sales, which sold out within weeks of the January announcement for the benefit, and from raffle donations from area businesses including Chez Jacqueline, Metro Diner, Carrabba's Italian Grill, Craig Flagler Palms Funeral Home, Verdego Garden Center, and Hammock Beach Resort. Entertainment was provided free by local headliners Debbie Owens and Tony T.
Organizers presented success stories about the Shelter, provided critical information about the homeless in Flagler County and the challenges they face, and explained how Sheltering Tree volunteers provide assistance and support to these individuals on a person-by-person basis every day. Volunteers are organized in teams from various churches and elsewhere, with teams taking turns staffing the facility when it's open. It opens for overnight shelter whenever the temperature falls to 40 or below.
With no paid staff, The Sheltering Tree has provided the homeless with food and extreme weather shelter since 2008. The Shelter is also dedicated to providing basic human needs to the homeless and assisting with emergency expenses and medical care while helping them make the transition to permanent affordable housing and preventing at-risk individuals from becoming homeless.
Financial donations are needed to offset the expenses to operate the shelter. These expenses include rent, insurance, food, cots, linens and towels, laundry service, and necessary toiletries for individuals and families. The Sheltering Tree is a 501c3 charity. Further information about The Sheltering Tree is available on Facebook and at www.flaglershelteringtree.com.