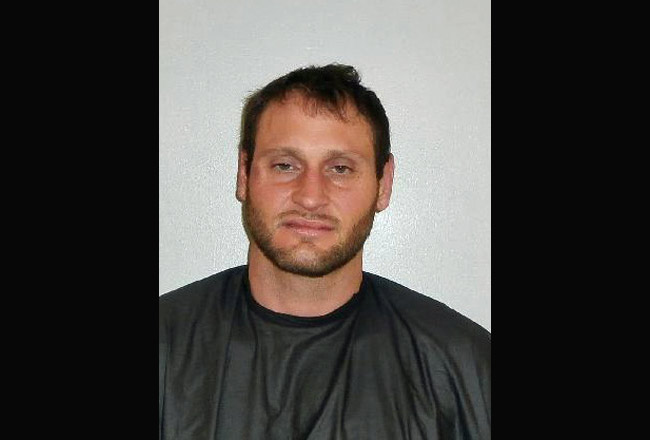 Update: The Flagler County School Board fired Shannon Diamond at its May 7, 2013, meeting. Related stories here and here.

For the second time in 13 months, Shannon Diamond, the assistant director at the Flagler County Youth Center, was arrested Sunday evening on charges related to drunkenly behavior.
Flagler Palm Coast High School principal Lynette Shott this morning told Diamond, 32, a resident of Palm Leaf Lane in Palm Coast, that he was on administrative leave with pay pending the results of an ongoing investigation—and the district's own disposition of the case. Because of the repeat nature of the alleged offense—and a pattern of arrests on similar and other charges dating back to when he was 18, in Marion County—the district may not be as willing to give Diamond yet another chance.
As the assistant director of the youth center, supervising the 80-odd students who use the center on a typical day is part of Diamond's responsibility. (The number falls to between 40 and 60 as the school year nears its end, center director Cheryl Massaro said.)
"We definitely have a concern about those kinds of actions and those individuals being responsible for programs with our students, so we will provide due process and move ahead accordingly," School Superintendent Janet Valentine said.
Last March, Diamond was arrested on a drunk driving charge, refusing to submit to alcohol testing (a second occurrence), and refusing to sign a citation. In a plea agreement, the second and third charges were dropped. Diamond pleaded guilty to drunk driving in early August. He was fined $500 plus $406 in court costs, and sentenced to six months' probation, starting on Aug. 3. The probation ended in early February.
Diamond moved to Flagler County about six or seven years ago. His record in Marion County includes several arrests on misdemeanor charges and one felony arrest, in 2002, on an aggravated battery and drunk driving charge. The aggravated battery charge was dropped. He was acquitted of the DUI charge. He was found guilty of a retail petit theft charge in 2000, adjudication was withheld on a marijuana possession charge (less than 20 grams) and he was found guilty of resisting or obstructing an officer, all in the same year. The following year he was found guilty of disorderly conduct. In 2005, a battery charge against him was dropped.
Last year, the clerk at a Kangaroo convenience store reported to police an apparently drunk man trying to buy beer. The clerk refused to sell the beer. It was Diamond, who then drove on Old Kings Road, Royal Palms Parkway and Belle Terre Parkway, weaving and triggering several 911 calls by others who saw the car's maneuvers. After his arrest, Diamond tried to leave the police cruiser.
His latest arrest on Sunday evening  took place at McCharacter's, the bar at St. Joe Plaza. By close to 2 a.m., he had run up a $26 bill, according to his arrest report. "Upon McCharacter's staff requesting Shannon pay his bill," the arrest report states, "he became rude, aggressive, clenching his fists, then caused a disturbance with McCharacter's employees and in the [presence] of approximately 30 or more customers."
Diamond, the report continues, "then attempted to run out of McCharacter's and was stopped by employees. Employees on scene had the belief that Shannon was going to cause a physical disturbance/fight within the establishment." Staff kept control of Diamond until Flagler County Sheriff's deputies arrived. When deputies tried to handcuff him, Diamond "resisted/refused to follow our numerous verbal commands, attempting to pull his hands away," the report states. "Shannon was redirected to the floor and secured due to his height (6'7'') and build."
He posted $2,000 bond.
"At this time, he was advised to not report to work," School Board Attorney Kristy Gavin said. "He would be basically just like our other employees on paid live pending an in investigation of the matter, and a notice to appear regarding it will be issued for him to meet with his administrators regarding the matter."
Speaking of his prior record in Marion County, Gavin said: "As far as his priors and the information, when he applied, all employees go through a background check, and it would depend on what came up in this background check."
Massaro was aware that Diamond had a youth record previously, but was not aware of his adult arrest record in Marion. "He'll be given due process, and we'll move from there, with the recommendation from the superintendent and the school board." Massaro said.
"He does handle kids well, but if these allegations are found to be verified, that's not a good role model," Massaro added, clearly disappointed.
Diamond and Massaro are the center's full-time employees. Diamond was paid $27,000 last year. Massaro has three part-timers "who will be working a few more hours" to compensate for Diamond's absence, Massaro said. But all operations at the center will carry on normally, with the center keeping its regular hours from 2 to 7 p.m. every weekday.
"Sometimes you just don't win," Massaro said. "Whatever you try, it just doesn't work."