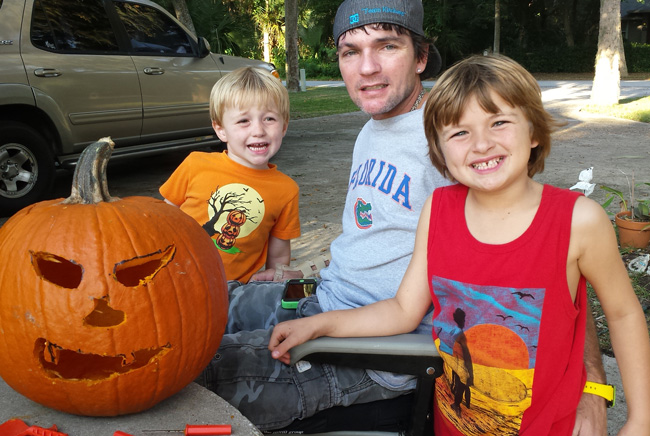 Motorcycles have always to some degree been part of Shane Kitchens' life. They were always in the background. At the time he met his wife Kattie, Shane was a motocross racer. Orlando's Supercross was one of their first dates nine years ago. Kattie's parents also own Tri City Cycles, a motorcycle shop in Flagler Beach. Shane helped out there a few years back, notably when the economy tanked, causing him to close his screening business. When the economy improved, he was able to reopen Platinum Pool and Patio Screening.
Then a motorcycle took center stage in his life, in the worst way. It was just past midnight the morning of August 3, a Sunday. Kitchens was crossing State Road A1A near South 16th Street, a few blocks from his home in Flagler Beach.
A 1996 Honda Shadow struck him as if he weren't there. He was evacuated by air to Halifax Hospital in Daytona Beach, in critical condition. He would be in a coma for a month. Brian Freedman, the 24–year-old Ormond Beach resident who struck him, was also injured, but less seriously.
Kitchens had a traumatic brain injury. He had a broken tibia and fibula, a broken pelvis, sternum, coccyx, broken ribs on both sides, and kidney and liver lacerations. He doesn't remember the accident. He doesn't remember the day before the accident.
He remembers waking up in the hospital, full of hardware, with lots of questions. "Will I ever get back to work" was one of them. Then there was the near-$1 million in hospital bills: the cost of the helicopter ride to the hospital alone was $24,000, he says.
"And then to find out I got hit by a motorcycle was unreal."
Florida roads are reputed to be the most dangerous for pedestrians in the nation. A study released by Smart Growth America three months before Kitchens was hit found that 5,189 Floridian pedestrians were killed in the 10 years ending in 2013, yielding a lethality rate by far higher than the next-most dangerous state (Alabama), with Orlando, Tampa, Clearwater and Jacksonville topping the list of the nations's most dangerous cities. Flagler Beach didn't make the list. But as far as Kitchens is concerned, Florida's culture of hazard for pedestrians was enough.
---
What happens after the headlines and the shock fade, and the struggle for recovery consumes each day.
---
Traffic accidents inevitably draw attention. The story reporting Kitchens' accident rapidly drew close to 1,400 Facebook recommendations. But the press, including this news site, usually move on, scarcely following up on the victims' fates. Kitchens' story is illustrative of the way a single instant turns a person's life into a colossal, ceaseless struggle, far from the attention and sympathy of immediate reactions.
Right now, Kitchens is confined for the most part to a wheelchair. Last week he took his first steps with a walker. He still can't use his right arm, now host to about 15 screws and a plate. He also has titanium going down his right leg.
It's all about learning how to do the small things again. "It's tiny steps," he says, like learning to walk and do everything with his left hand. "Stuff that I thought was so easy before is so hard for me." For a man as technically gifted and handy as Kitchens, just turning on a light is a struggle. And just getting out bed "hurts bad."
"It was surreal, I guess you could say," Kattie says. "It was like a dream. It seemed like it wasn't our lives, like it shouldn't have been happening to us."
Though faced with what looked like the possible death of her husband, Kattie somehow—magical thinking or not—never gave up hope. "Even from the night of the accident, I always thought he was going to be ok," she says.
Part of that was self-preservation. "If I started thinking negative, it would be like a downward spiral," she says. But it was also just knowing Shane. He'd overcome a lot in his 37 years, such as a confusing early existence. He wasn't adopted until he was four years old, but he always managed to, and the irony here bites, land on his feet. He became a responsible and happy family man. Then there was the tepid economy, but he didn't let that stop him from becoming a successful small business owner.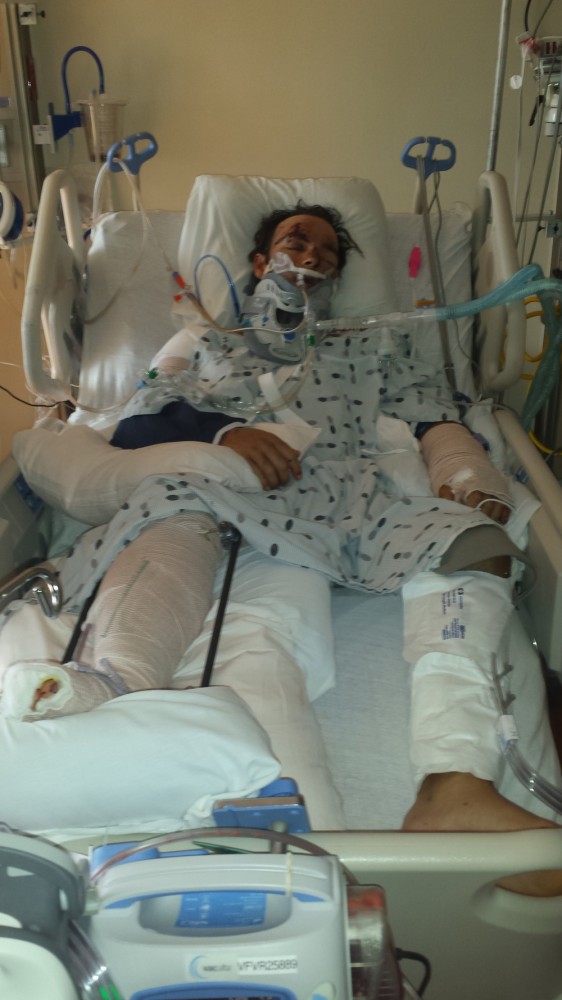 "Anytime we've been down and out or any time we've needed anything done, Shane always found out how to fix things and make everything right," Kattie, 31, says. Ironically, she adds, the fact that everything was going so well made her feel vulnerable and in a way prepared her to have her life upended.
For a few years, after he gave up his screening business the first time, he worked for Sea Ray Boats, but he knew he preferred being his own man and working for himself so he used some of his retirement fund money to reopen. The accident came at a time when things were going very well for the Kitchens, both in their personal lives and their business. "We were getting different jobs everyday," he says.
While Shane was in a coma, Kattie says she constantly played videos of their children on her cell phone for him.
Shane never knew his real father. "All he's ever wanted was a family," Kattie says. "I just knew once he heard the kids' voices he wouldn't stop fighting."
Of course, there were moments when keeping the faith was hard. Once, while Shane lay unconscious in the Intensive Care Unit, their 7-year-old son Gavin called from Kattie's parents' house, after his first day of school. (Her parents had been keeping the boys some 40 days straight, while Kattie stayed with Shane.)
"He said: 'Mommy, in school today, everyone told me they were praying for my Daddy.'" Kattie asked Gavin what he said when they told him. He said he told his class that his daddy was getting "better and better everyday."
In reality Shane had stopped responding that day. He had actually declined. Doctors were just realizing that Shane had more of a brain injury than they had realized. "So I had to lie through my teeth to my kid and tell him that Daddy was ok and he was getting better," she says.
But Shane made good on Kattie's faith. He started to come out of the coma, though with some amnesia. One day, when Kattie visited him while he was undergoing physical therapy, he told her: "Babe, did you know that I missed my contractors' exam?" He had been scheduled to take it 10 days after the accident. Shane had failed the test a few months earlier by just three questions, after he was sent the wrong books to study. "He's really, really smart," she says.
She told him that he had been in a coma and had surgery that day. She laughs, recalling that he told her she needed to call the exam board and tell them so they wouldn't be charged again.
While his condition seemed to be turning around, everyone, especially the doctors—or "dream killers" as she and Shane call them—kept telling her the same thing: "I don't know how many times I've heard 'It's going to be a long road.'" She already knew that.
Shane had always been the type of hands-on father to come home after a long day of work and play with his children, surfing, skating, or whatever. Shane recently asked Gavin, as they were picking him up from school, if he was embarrassed that his Dad was in a wheel chair. Gavin said he wasn't bothered at all. It hasn't been as easy for their 4-year-old, Kaine, who told Kattie the other day that he wished everything could just go back to normal, though both sons love to play in his wheel chair.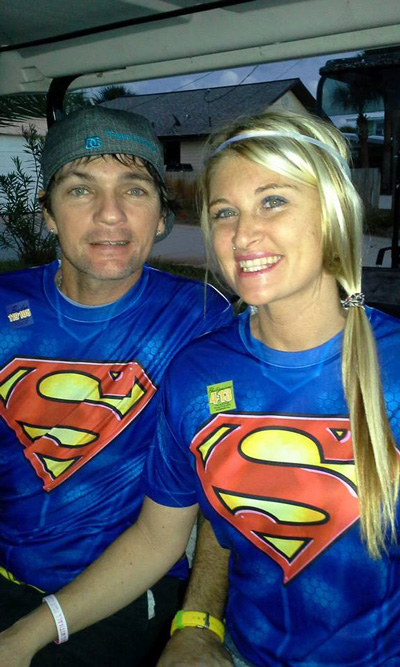 The business is obviously at a stand-still, though a number of Shane's competitors have pitched in to help him finish some outstanding projects, giving the Kitchens the profits. But business is currently curtailed, to help Shane with his recovery. It's too much to stay on top of everything, Kattie says.
The Flagler Beach Shell Gas Station and Dollar General Store, among others, put out a donation plate. An online fund-raising page and Take Them A Meal page were set up after the accident by friends. Gas gift cards have also helped them make the constant two-hour drive to Jacksonville to the Brooks Rehabilitation Neuro Recovery Center, among others. People who Kattie hadn't spoken to for years reemerged, offering to help however they could.
But Kattie isn't as worried about this year as next year, she says, if they're unable to get back to work. "Everyone wants to help at first, but then they kind of fade off. I'm just worried about what's going to happen."
It's been difficult because the Kitchens have always taken pride in being self-reliant. When hospital officials first mentioned Medicaid and food stamps, she started crying. "We've always done everything for ourselves, so it was really hard to get help or take help from other people."
But her friends reassured her that "you get what you give in life," because the Kitchens had always been there for everyone else. (They were denied food assistance because of the donations they'd received.)
"Shane's always in so much pain and he's always feeling like he's a burden and he hates having the help. All I can say in the back of my mind, and tell him, I don't think he understands it yet, I just feel like he's so lucky to be alive," Kattie says.
Laureen Kornel and her husband Bill are life-long friends of Kattie's parents, Scott and Judy McNitt. Laureen saw Shane in the hospital two days after the accident. "It's pretty remarkable how he's recovering and how he lived to tell about it," she says. But because he is such a mobile human being, not much for talking, and never one to sit still for long, she knows his current condition must be particularly trying. "He's the type that uses his body to its max potential, almost like a marathon runner," she says. "Shane is the type of person who goes to work when the sun goes up and doesn't come back until the sun goes down."
For his part, Shane's met a lot of people in rehab whom he'd never have encountered otherwise. "There's so many people out there worse than me. I have to just be positive and overcome as much as I can. Being here in rehab has changed a lot for me."

To help the Kitchens, the fundraising page is here, the Take Them a Meal page here, or people can also stop by Tri City Cycles, the motorcycle shop owned by Kattie's father, Scott McNitt, at 308 South 2nd St. in Flagler Beach.