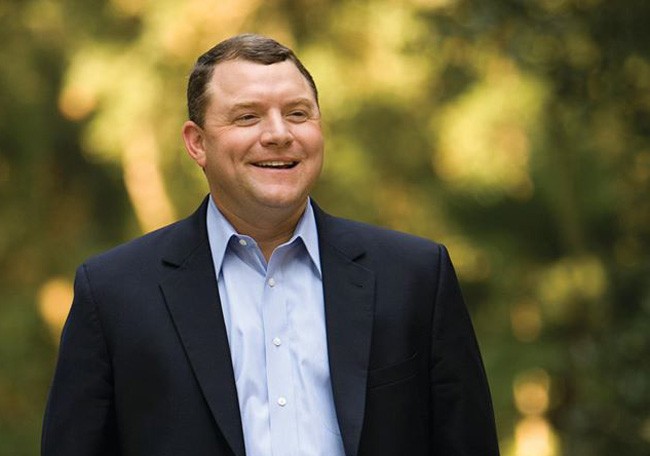 Pension reform. Gambling. Pot. Alcohol wars.
Many of this legislative session's thorniest issues — and more — rest in the hands of Sen. Rob Bradley, a laid-back junior legislator and chairman of a committee dubbed by Senate President Andy Gardiner as the "Thunderdome."
Bradley, 44, chuckles when asked about the Regulated Industries Committee's moniker, a reference to the on-screen arena for post-apocalyptic steel-cage brawls.
"There are a lot of strong personalities on the committee. And it's kind of a bare-knuckles political discussion about a lot of issues with a lot of people involved in the issues that have been in this process for a long time," the Fleming Island Republican said in a recent interview.
It's no accident that Gardiner tapped Bradley to oversee some of the most complex and contentious subjects facing the Legislature during the session that kicks off Tuesday.
Bradley, a lawyer who specializes in advising local governments, has earned a reputation in two short years in the Legislature for his political and policy acumen, and his willingness to tackle tricky items many wish would just go away.
"He's one of the most capable legislators I've ever seen. It's kind of scary sometimes," said lobbyist Travis Blanton, who is close to Bradley. "You have some people who come in who are uber-smart. They don't understand the political dynamics of how to do stuff. Then you have some that are really good at the politics. He's got a perfect mix of both."
Bradley's talents as a mediator will be put to the test as he tries to reach consensus in a high-stakes gambling debate starring out-of-state operators, the Seminole Tribe and Florida pari-mutuels. Also, he will oversee a throw-down over beer and booze and a re-examination of the non-euphoric cannabis bill approved by lawmakers last year but yet to be implemented.
"I just have a tremendous amount of confidence in Sen. Bradley," Gardiner, R-Orlando, told The News Service of Florida. "There really isn't much that I wouldn't give to Rob and not have complete confidence that he's going to figure it out. I think that's a universal sentiment of Rob. He's a good negotiator. He's fair. And in Thunderdome, you've got to be fair. I think he's going to do pretty well with it."
Elected in 2012, Bradley already has racked up a boatload of "legislator of the year" awards from organizations including the Florida Sheriffs Association, the Florida Clerks and Comptrollers Association and the Florida Alcohol and Drug Abuse Association, as well as other top recognitions from the Florida League of Cities and the Florida Association of Counties and others.
Behind Bradley's boyish charm and dimpled smile lies a no-nonsense negotiator who cut his teeth as a prosecutor before going into private practice, where he specializes in brokering complicated disputes involving local governments.
"He has an unbelievable demeanor and is one of the fairest and most considerate people, whether you agree or disagree. We should clone him," said Tallahassee lobbyist Gary Rutledge, whose clients include a variety of gambling operators and other regulated businesses under the auspice of Bradley's committee.
Right out of the gate in his first session in 2013, Bradley was named chairman of the Senate Criminal and Civil Justice Appropriations Subcommittee, in charge of billions of dollars in spending for prisons and courts.
Bradley has also played a major role during the past two years in crafting a pension reform plan that would have changed how cities can spend insurance premium tax money that funds police and firefighter pensions. The legislation failed, but Bradley has taken up the pension reform mantle again this year.
Sen. Joe Negron, a Stuart Republican who recently succeeded Bradley as chairman of the Criminal and Civil Justice Appropriations Subcommittee, has made Bradley the lead in trying to resolve a long-running and vitriolic dispute between the state and counties over how to share juvenile-detention costs.
"Whenever I see a problem that needs to be addressed or an issue that needs to be resolved, I gravitate to it. I enjoy tackling complex problems where there are many competing interests and trying to find solutions that everyone can live with," Bradley said.
Last year, Bradley was instrumental in drafting and pushing through a measure that legalized marijuana that is low in euphoria-inducing tetrahydrocannabinol, or THC, and high in cannabadiol, or CBD, for patients who suffer from severe spasms or cancer. His committee is poised to take on the issue again to consider modifications to the low-THC cannabis law. He has been openly critical of a measure proposed by Sen. Jeff Brandes, R-St. Petersburg, that would open the door for "traditional" medical marijuana.
Of the myriad items on his plate this year, Bradley cites the pot issue as the one that resonates the most for him.
"I've found the whole discussion about where we go as a state on cannabis issues to be very interesting. I feel so strongly that other states have botched it that I really think it's important that Florida gets it right. We're now the third largest state in the union. We owe it not just to the people of the state of Florida but to the rest of the country to show that you can do this right. I just don't want to see us repeat the mistakes that I've seen in Colorado and some other places," he said.
Away from the Capitol, Bradley says he likes to chill out with a slice from Decent Pizza, a popular locals' spot not far from downtown, with friends and colleagues.
His roommate, Rep. Travis Cummings, is also his best friend. The two men are the fathers of three children each and both hail from Clay County, where they sat on the county commission, although not at the same time.
Cummings credits Bradley, who was appointed to the commission by former Gov. Charlie Crist, for schooling him after Cummings was elected to the Orange Park Town Council while Bradley was the town's general counsel. Bradley helped him navigate not only the intricacies of municipal governments but also more basic subjects like how to run a meeting, Cummings said. He also learned from Bradley's "liberal stance of hearing from the public," Cummings said.
"There's a lot of dynamics up here, an awful lot of egos. But I think that the manner in which he has arrived at becoming a legislator, his experience to that point has been perfect. To me the most effective legislators have another life. He's been successful. He's a businessman. He's an attorney. He likes policy. And he's a good person. … He truly in this role is able to give back and it's rewarding to him. He can be successful at anything he sets his mind to. I think the more we can attract people like that to Tallahassee makes it a better place," Cummings, R-Orange Park, said.
In contrast to his blunt bearing, Bradley — who has degrees in journalism and law from the University of Florida — is known in Tallahassee for an almost goofy sense of humor.
Sen. Dorothy Hukill, R-Port Orange, regularly hangs oversized posters around the Senate Office Building "welcoming" various groups to the Capitol.
"He thought it was the funniest thing. So he made up a bunch of them. 'Sen. Hukill, welcome to the second floor.' Or 'Sen. Hukill, welcome to the women's room.' It's very subtle but he's very funny," Blanton said.
–Dara Kam, News Service of Florida