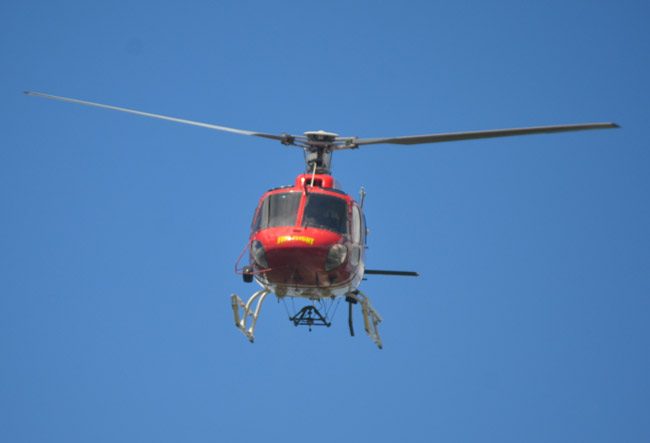 Last Updated: 4:52 p.m.
A high-speed chase that went into Quail Hollow south of State Road 100 turned into an extensive search on foot and by air in Palm Coast's Z-Section as a suspected car thief ran into the woods this afternoon just before 3 p.m.
The pursuit,which lasted an hour, led to the shut-down of portions of Belle Terre Boulevard and to the diverting of school buses from the area. The buses were on their afternoon run, dropping off students.
At 3:42 p.m., the suspect, identified as Matthew Scott Nesbitt, 44, was in custody after being secured from behind a house on Zelda Court–and after the sheriff said he threatened his deputies with a knife. It was a situation where deputies could have fired at the suspect, the sheriff said, but "showed great restraint" instead.
After his arrest Nesbitt was taken to Florida Hospital Flagler "probably for some stitches for a dog bite," Sheriff Rick Staly, who was at the scene, said.
"I'm glad we were able to get him," Staly said. "We hunkered him down and he couldn't move too much in thick underbrush." Nesbitt is expected to face several charges, including fleeing and eluding, grand theft and a charge related to his alleged knife-wielding at deputies. "He was bitten in his right leg, thigh area and his right arm," the sheriff said.
Deputies also fired a Taser dart at him but missed.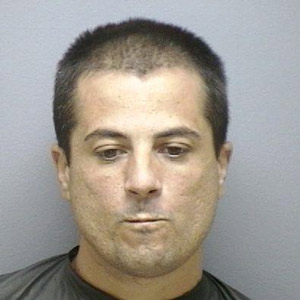 "I don't know his criminal history but he was known to us, he had been on our radar screen for some time," Staly said.
The incident developed around 2:30 p.m. when the Sheriff's Office got a report of that a vehicle that had been reported stolen had been located. The suspect had allegedly stolen a vehicle from his former place of work several days ago. As deputies begun following the car, the driver went into the Quail Hollow area then, at Zebulah Trail, jumped out and ran into the woods.
He had last been seen jumping over a fence in that area as Flagler County Fire Flight, the emergency helicopter, was brought in ti aid the search. A Code Red was sent by phone and text to residents in the area "to shelter in place, keep your door locked, that sort of thing," the sheriff's spokesperson said.
The school bus depot was notified of the emergency at 2:50 p.m. The issue affects just one school bus, a district spokesman said. That bus was held at Bunnell Elementary, where it would have been leaving from, until the emergency cleared. Students were then dropped off.
The stolen car was a tan GMC. There was no description of the man evading deputies, but a spokesperson said at the time "he may have a weapon, but not a firearm." As it turned out, he had a knife.
Staly arrived at the search location around 3:10 p.m.
"They had him cornered in the woods, he kind of popped up from the brush holding a knife over his head, threatening to kill my deputies, as I understand it," Staly said. "He was very boisterous as to what he was going to do, and making movements with the knife. The deputies showed great restraint by not shooting him." When he tried to run again, "the K-9 took a bite out of crime."
Staly commended his deputies both for the swift arrest (that's not been uncommon recently, with several such chases ending quickly with an arrest) but also for not firing their weapons when confronted. "We train our deputies a lot to deescalate, the use of force is the last resrt," he said, citing many such cases in recent years that have ended with "no one being shot and successful outcomes ultimately, like today."
He added: "We've been fortunate and I hope that continues."