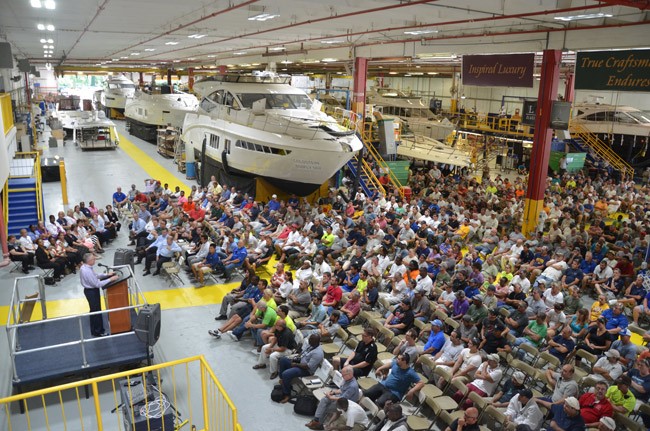 Most of Sea Ray Boats' 650 employees gathered in a manufacturing hangar near noon today to hear parent company Brunswick Corp. CEO Dustan McCoy describe the plant as "without a doubt the safest boat plant in the world," and put some substance behind the words: he awarded the plant a $10,000 gift, which plant employees immediately donated to Vitas Community Connection, the hospice company. McCoy spoke to the gathering in the shadow of an L650 Fly yacht, a $3 million, 65-foot boat that's part of the Flagler Beach plant's new L-class products.
The Chairman's Safety Award is nothing new for the Flagler Beach plant: it's the sixth time in seven years that it's received it, and six such awards were presented at Brunswick's other plants for safety records in 2014 (Brunswick has 13 boat manufacturing plants and 18 marine engine manufacturing plants in the United States and 11 other countries). But today's award was a chance for company officials to boast a little about what's made the Flagler Beach plant stand out in the company, and to do so post-recession, in what amounted to an exhaling of relief, and a record stock price, after several difficult years.
After peaking at 24,000 employees, McCoy said, the company shrunk down to 12,000 (it's now back up to 14,000), closed two-thirds of its plants, and quit building a third of its boat brands. Somehow, the Flagler Beach plant, despite experiencing its share of layoffs during the toughest times, weathered the recession better than other plants. Its saving grace: its safety record. The plant has had just one accident in 10 million work hours.
"The fact that you are so safe says a couple of things," McCoy remembers telling the employees several years ago, from the same spot where he stood today. "But the main thing it says is, we are going to bet on you in the future, this plant and those of you who work in this plant, and the bet is going to be a big one. Well, we made the bet. You're now, on a dollar basis, the largest boat plant in the world. And we've given you more opportunity to succeed." The closing and consolidations of other plants meant that the Flagler Beach operation had to adapt to building smaller and bigger boats at the same time. "We put a lot of product into this plant, and we did it because you're so special, and we know you're special because of the marvelous safety record you put together," McCoy said.
---
Telling Sea Ray employees that their plant stayed open thanks to its exemplary safety record.
---
Sea Ray is the county's third-largest private employer after Florida Hospital Flagler and Palm Coast Data, though average wages at the manufacturing plant are significantly higher than at Palm Coast Data. The plant, according to McCoy, is the biggest sport yacht builder in the world, putting "more sport yachts through this line and out these doors than any other plant in the world."
The company does not provide plant-by-plant figures. In 2014, Brunswick had revenue of $3.8 billion, down from $5.7 billion at its pre-recession peak, but its gross margin of 27 percent was its largest annual margin since 2000, and its stock price, at over $50 a share, has exceeded the 2005 peak.
"We will continue to introduce new products into this plant," McCoy said in a brief interview after the presentation. "I think we've said we won't increase the number of boats that go out the door, but we will increase the number of products that this plant deals with, and as a result this is going to be a big employer in the county for a very long time, and a very stable employment base."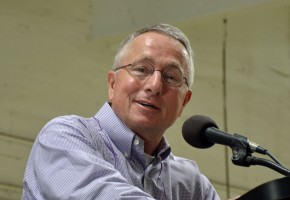 Sea Ray last made headlines for reasons it didn't wish to—from opposition by some residents in Flagler Beach to the company's plan to build a large parking lot south of its existing property. For now, the plant's employees' vehicles spill over onto grass shoulders across the company grounds, narrowing roadways and making them more difficult to navigate, especially for larger delivery trucks. The Flagler County Commission in mid-March, at the end of a meeting that drew a large number of opponents and supporters of the plan, approved a zoning change that largely opened the way for the lot. The plan must still go before the county planning board and the commission again later this month (the planning board meeting is next week) for site-specific approvals. Craig Wall, the operations manager at the plant, expects again a degree of opposition, but the commission is expected to clear the way. Wall hopes to break ground in July.
On Wednesday, Sear Ray employees also heard from Mark Schwabero, Brunswick president and Chief operating officer, who'll be stepping in the lead role when McCoy retires later this year.
The final highlight today was McCoy's passing the $10,000 check to Vitas, which Vitas General Manager Shanda Nobles-Milton accepted.
"Those proceeds," she said, "allow us to be able to help someone pay their light bill in their time of need, which can be quite challenging if you have a loved one who right now is going through any type of illness. It may help us put a kid through camp so that they can have some kind of normalcy within their life while their family is experiencing the illness. It can also help us help someone keep their rent paid. So I just want you all to know that through your diligence of safety, you're able to give us this award, and we're able to put that money back into the community."