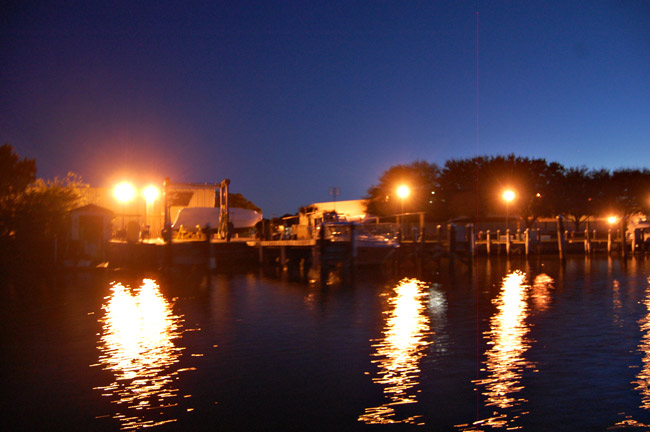 Brunswick Corporation, parent company of Sea Ray boats and Meridian Yachts, announced on Monday that it was closing its 40-year-old Sykes Creek plant on Merritt Island at the end of June, consolidating that facility with the Sea Ray plant in Palm Coast. Some 200 people are losing their job at Sykes Creek. Some may be able to work in Palm Coast. The Palm Coast plant was also the beneficiary of consolidation after a Knoxville, Tenn., plant closed in late 2012.
The Sykes Creek plant manufactures Sea Ray and Meridian yachts and motor yachts from 51 to 61 feet in length. The company is helping Sykes Creek employees transition production to Palm Coast or to other Brunswick manufacturing, at least for those able to relocate or commute.
 The development is a mixed blessing: it's a blow to workers in Brevard County, but a boon to workers in Palm Coast on two counts. The consolidation will likely add to the payroll in Flagler County, where the unemployment rate is still the highest in the state, and do so with well-paying manufacturing jobs. The consolidation also puts to rest, at least for now, any rumors or worries that Sea Ray's local plant would either close or consolidate elsewhere. But because of the Great Recession, higher taxes on the rich and the compounding effect of poorer economies overseas (Europe, a major Brunswick market, is again in recession and mired in record unemployment), the company is being very cautious in its outlook.
In a move that may affect Palm Coast further down the line, Brunswick is also actively expanding manufacturing facilities elsewhere, namely in Brazil, where a new, 150,000 square foot facility began building Sea Ray and Bayliner boats in the third quarter of 2012, and where the company expects to employ 150 people.
Company officials defended the closure of the Sykes Creek plant. "This action allows us to reduce production costs and shorten production cycle times of yachts," Brunswick President Andy Graves said. "Further, the transition is planned so that we can take full advantage of initial retail demand for our new yacht models that we are bringing to the marketplace over the next two years. Concurrent with the transition, comprehensive marketing materials will be provided to our dealer network to support the pre-sale of the new yacht models under development. We can still support significant sales growth in these segments, as our post-consolidation manufacturing footprint will retain capacity to compete in a market in excess of 2.5 times current worldwide demand for yachts and motor yachts."
"Difficult as it was, this action was a necessary step to match capacity with market demand, position Sea Ray for success with new yacht product development programs, and work toward our near-term operational and financial objectives," Brunswick Chairman and Chief Executive Officer Dusty McCoy said.
The Brunswick Boat Group's Product Development and Engineering center,  adjacent to the Sykes Creek plant, will remain in operation. BBG will also  continue to utilize the existing customer reception facilities, sales and customer service offices, and wet slips located on the Merritt Island campus. Brunswick is headquartered in Lake Forest, Ill.
 When the entire consolidation is completed, the Company estimates that it will yield annual savings of $3 million to $5 million beginning in 2014. Restructuring and impairment charges of $6 million to $8 million are expected in 2013. The company's boat group reported $21.3 million in such charges in 2012, and $47.3 million in the two years previous.
Florida Today reported that "Sea Ray opened its first plant on Merritt Island in 1972, employing about 1,000 workers. The company grew to three plants on Merritt Island and was producing, at one point, about 20 sport yachts a week valued between $200,000 to more than $500,000." But the soured economy and higher fuel prices meant that fewer people could indulge in luxury boats.
"The vast majority of the company's products are used for recreational purposes, and demand for the Company's products can be adversely affected by competition from other activities that occupy consumers' time," Brunswick noted in its last annual report, "including other forms of recreation as well as religious, cultural and community activities. Additionally, the decrease in consumers' discretionary income as a result of the recent economic environment has influenced consumers' willingness to purchase and enjoy the company's products." It was only one of a series of cautions to investors, regarding the economic headwinds the company faces. Another was a warning that higher tax rates could also adversely affect the company's bottom line. Tax rates on the wealthiest Americans–those who buy boats most–have since gone up for the first time since the early 1990s.
Yet Brunswick announced the consolidation at a time when its stock price–trading at $35.50 on Thursday–was at or near a seven-year high. It last traded above $35 in June 2006, peaking around $49.50 in December 2004.
Brunswick's Boat Group, which includes Sea Ray, had net sales of just over $1 billion in 2012, "the largest dollar sales and unit volume of pleasure motorboats in the world," according to the company's annual report. That was sluightly down from 2011, but up from 2010, when sales were $916.5 million. The boat group recorded an operating loss of $28.5 million in 2012, compared to an operating loss of $27.3 million the previous year, and $110 million in 2010.  Brunswick overall had net sales of $3.7 billion in 2012, down from $4.55 billion in 2008.
"Boat segment net sales decreased slightly when comparing 2012 with 2011 despite experiencing an increase in wholesale unit shipments," the company said. "Increases in wholesale unit shipments reflected strong growth in retail demand for aluminum fishing and pontoon boats and U.S. outboard powered fiberglass boat products, which was mostly offset by continued weakness in global large fiberglass sterndrive boat products and European outboard powered fiberglass boat products and the associated reductions in pipeline inventories. The unfavorable revenue effect of this shift in boat mix, along with the impact of weak European markets and the absence of $37.2 million of 2011 net sales associated with the Company's former Sealine boat brand, which was divested in August 2011, were the main factors contributing to the decline in net sales.
According to its annual report, the company "expects that 2013 revenues will grow 3 percent to 5 percent when compared with 2012 with all four segments experiencing growth. In the marine segments, the Company expects to benefit from the continuing, albeit uneven, recovery in the overall U.S. powerboat market. Solid growth is expected to continue in the outboard product categories while weak market conditions may continue to challenge the sterndrive engine and fiberglass sterndrive boat products. Positive health and fitness trends have positioned the Company's Fitness segment to continue to deliver excellent results as the segment will benefit from the full year effect of 2012 product introductions. Additionally, the Company's Bowling & Billiards segment will benefit from increasing investments to modernize existing bowling centers while exploring new concepts and formats to drive sales in an evolving bowling retail market."
The Boat Group includes Sea Ray yachts, sport yachts, sport cruisers and runabouts; Bayliner sport cruisers and runabouts; Meridian motoryachts; Boston Whaler and Lund fiberglass fishing boats; and Crestliner, Cypress Cay, Harris FloteBote, Lowe, Lund and Princecraft aluminum fishing, utility, pontoon boats and deck boats. The Boat Group has active manufacturing facilities in Florida, Indiana, Minnesota, Missouri, Tennessee, Brazil, Canada, Mexico, New Zealand and Portugal, as well as additional inactive manufacturing facilities in Florida, North Carolina and Tennessee. The Boat Group utilizes contract manufacturing facilities in Argentina and Poland.